Bent across the front of car - bondage photos
Free bondage photos blog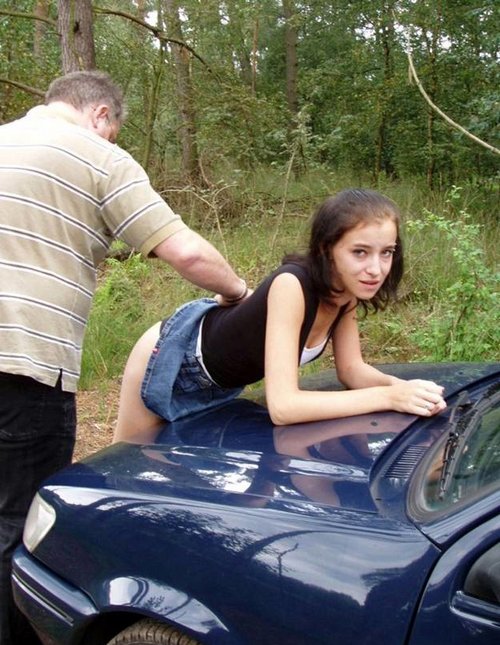 She's forcefully bent across the front of Jonathan's car, and as her denim skirt is raised she looks at you and pleads for you to do something. After Jonathan pulls her panties down to her ankles with one severe tug she looks at you again and pleads for you to at least turn your head and not watch her shame. After the first spank she gets a shocked look on her face, then sees you grinning mockingly at her as you rub at your crotch through your thin pants.
After the first six spanks she tries to hold on stoically, then gets angry at you still rubbing your crotch with your palm as you continue grinning at her.
"I'll get even with you for this, Dan. I swear to God, somehow, someday, I'll get YOU like this only there'll be a lot more than just one person witnessing your spanking!" Then she glares at you as her body heaves from the force of the slaps that rain down upon her reddening ass.
You gulp because you and she both know that she always follows through on a promise, or a threat. The grin is wiped off your face, but your palm seems to speed up on its own as it continues to rub at your cock which now seems so hard it is almost tearing a hole through your pants! In spite of her own pain, she sneers at you with a terrifying look of confidence and conviction. That's when your teeth begin to chatter...
spanking
humilation
punishment
Similar bondage
Giving herself away in slavery
Poor Mrs Miller in stocks
George and Lenny
No third warning
Smile with each camera click
She was warned
A Year In The Life
Addiction