Femdom (humiliating) bondage without restraint
articles and tutorials
Femdom bondage tutorial, how to tie a man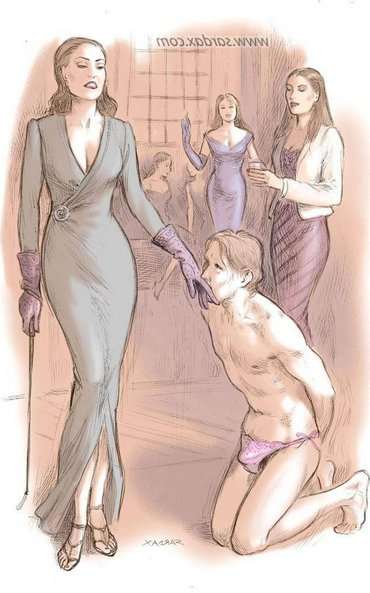 While to some the motivation of bondage is surrender, to others embarrassment or humiliation is the most provocative aspect of bondage. Humiliating bondage would be any bondage that "forces" the submissive to expose his genitals to his mistress. A verbal domina would tease her slave about his vulnerable position—his exposure to her for her pleasure and amusement. This type of "bondage" doesn't need any equipment, like leather cuffs or rope, to enact. Humiliating bondage is just as satisfying when no physical restraints are used. Physical restraints free one from responsibility by rendering struggle futile; mental bondage, or "invisible ropes," requires that the submissive use his mind and his willpower, to keep himself in position, making him a co-conspirator in what is to come.
One evening my slave and I played this very game. The rules were simple: I taught him two positions he was going to assume. Position one was bent over the spanking bench with his hands over his head gripping the front of it. Position two was crouched at my feet. He was to stay in position one and submit to me: my use of the flogger, the canes, my hands, dildos, whatever, until he couldn't bear any more. At that time, he was to assume position two and l would stop. Then things got really interesting. I told him that "when he had had enough of a rest, he was to reassume position one to show me he was ready for more punishment and usage."
How lovely it was for him to decide when he was ready for more hard strokes of the cane, more torture and use! How deliciously humiliating he told me it was to rise and splay himself over the spanking bench, to deliberately spread himself for my gaze knowing what would happen next. He said he willed himself to the spanking bench, motivated by lust and the desire to submit to the pain and to me—to feel and absorb the pain and humiliation and let it wash through him and transform him. The strength and desire in his mind gave power to his limbs, the courage and beauty of his actions exploded in his brain as he bent over the spanking bench and grasped it. One thought repeated itself in his head: no ties to bind me except those of my own free will.