Femdom bondage - Safety Tips
articles and tutorials
Femdom bondage tutorial, how to tie a man
Safety in BDSM and bondage play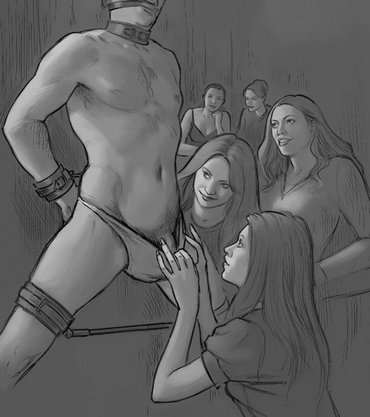 Before embarking on your journey into real rope-bonded bliss, I want to remind you of the safety factors involved in engaging in romantic bondage. I will not go into great detail here because this is information you should already know from your previous reading and prior playtimes. If you have not previously read anything, please go do so now. If you are not adept at simple bondage, please do not use the techniques illustrated later in this chapter until you have become proficient in the basics.
Bondage, by definition, is restriction, but in real life we donít want to restrict anything important! In general, and applying to all forms of restraints used in bondage, you should be able to insert two fingers snugly between the limb and the bonding material. The wrists, when bound together, should have at least a few inches of rope or chain (if cuffed, a couple of double-sided clip hooks) separating them. While the restraint that is fastened too tightly presents the danger of loss of circulation, or possible nerve damage, the restraint fastened too loosely can slip when heóin a welter of passion, pain, and pleasureótugs on them. Additionally, the cuff or restraint should not press against the wrist or the nerve at the bottom of the thumb; the nerve can become pinched before the hand falls asleep. This is where your two-finger fit is a sensible move. If you are using rope, make sure it does not pinch the skin.
Never hang the weight of his body from his wrists because they are delicately boned, filled with nerves and veins, and were not designed to take the bodyís weight. Nor are ankles designed to take the bodyís weight when hung by them. For upside-down suspension, the use of gravity boots or boots made to distribute the weight and protect the ankles is strongly urged. If all you wish to do is tie up his feet while he is lying on his back, the above is not a real concern, but he will be more comfortable, and his feet will be more safe and secure, if you tell him to keep his boots on. Lying down or standing, if you tie his hands over his head, make sure you leave at least a few inches of rope or chain between the restraint and whatever you have tied him to so that he can hold on to it. This piece of rope is not only comforting, but it gives him something to pull on during those delightful moments of agonizing ecstasy.
The neck is also a very delicate part of the anatomy. Never put the neck at risk by putting ropes, especially with slip knots, around it, pulling or tugging on the back of a collar, or attaching the collar to a stationary object.
Standing bondage, while undeniably erotic, is a demanding position and some people cannot "stand" it for very long. How long is very long? For those with low blood pressure or poor circulation, five minutes might well be too long, And a point like this is obviously not negotiable. The safest standing position is with his arms out at shoulder level, with his elbows comfortably bent. In this position, his hands are never above his heart, so the risk of dizziness or worse is decreased. But still . . . what if there is a problem? Letís consider this, using one of my experiences as an example: Hereís this two-hundred-pound man, passed out, and hanging forward by his arms from a stationary X-frame or St. Andrews Cross. Hereís one-hundred-and-ten-pound me to the rescue. What rescue? I canít cut him down because I am too small to catch him without getting squashed, so all I can really do is use my body to prop him up. Once propped up, I can cut whatever ropes it is safe to cut, smack him, pour cold water on him, put ice on his balls, or hold smelling salts under his nose. When he begins to come around, then I can start to really cut him down.
But if you really want to do this, you can install an automatic suspension system, firmly mounted and bracketed into the beams of the ceiling, and use this for standing bondage. Because it is automatic, you can gently control his descent to the floor, making sure soft things are there to catch him. Or you could put a couple of well-mounted eye hooks into the ceiling at the side or end of your bed. This way, if he goes out, your nice soft bed, being right there, will catch him and help you control his fall. By far, the most comfortable position for bondage is lying down, but he should not be left unattended if he is face down on a soft surface. Even if a gag is part of the fantasy, he should not be gagged if he has sinus problems, a stuffy nose, a cold, flu, cough, or respiratory problems.
Wherever the nerves run close to the surface of the skin, it is important to protect them from damage. Prolonged or extreme pressure (as in hanging without the proper equipment) should not be applied to the underside of the thumb, the inside of the wrists, the crook of the elbow, the joint of the knees, on the ankle bones, at the groin, and, of course, at the neck. The rope entertainment tricks I demonstrate here are not for suspension.
Restraints should be checked every ten to fifteen minutes or so until you discern if he can safely stay in bondage longer. After you have released him, "order" him to shake his hands and wiggle his toes, and to rotate his ankles and wrists, to help normalize circulation.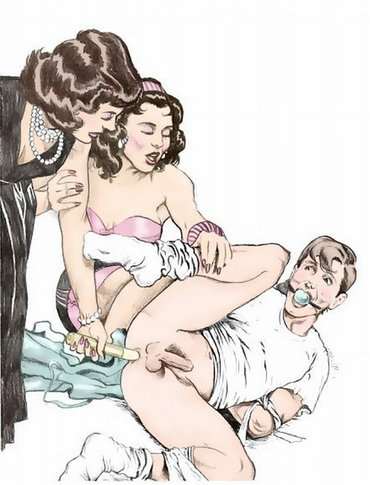 In bondage, many scenes are a collaboration, because putting him into bondage safely requires cooperation from him while it is happening. After he is suitably trussed up, you may start playing other scenes with him that include his struggling and straining against the restraints, begging and pleading most eloquently for his release; foot worship and leasing, trampling and stomping, and CBT, if the position allows, and other delights found behind the veil. But from its inception, bondage is, more so than some other BDSM games, a mutual effort. As a submissive in bondage, it is his responsibility to keep in communication with you, telling you things you will not be able to perceive or see without his active help, such as whether he is experiencing dizziness, light-headedness, numbness, nausea, or anything else unusual. A safe signal, like a red bandana or anything else that is likely to catch the mistressís eye, should be given to him in the event he becomes unable to say the safe word discussed in the last chapter.
Often when someone is removed from bondage, he is giddy and a little unsteady on his feet, like walking on land again after having spent two weeks on a sailboat at sea. This is a common phenomenon. Some submissives actually fall down! And they go down like a sack of potatoes, too. Be prepared to help him stand or support him until he can reorient himself and get his legs back underneath him.
Someday maybe you will be curious enough to want to see what bondage is about from the other side. This doesnít mean you are any less dominant, it just means you are more curious. Curiosity is good. Curiosity is what got you this far in the first place. And what if someday he gets curious? Did I mention that bondage is the one aspect that two dominants will practice on each other? That is the preferred love-style of millions who donít even think that they are into BDSM? Stay curious.