High heel training diary, day 48
articles and tutorials
High heels training, shoes fetish
Finally...some uncomfortable shoes! Not that that's something I want, but it just seemed odd that every pair of shoes that chooser program picked for me for the last week or so were really surprisingly comfortable.. more comfortable than 5-inch heels should be perhaps. :-) Today's shoes are pinching my toes though, and I know I will not be able to sleep in them. I spoke to Mistress Phoenix earlier tonight, and she asked me how my shoes felt. I explained to her that they were pinching my toes and that I would not be able to sleep through the night in them. She simply replied, "then wear them for as long as you can tonight." So I know that I must at least try to go to sleep in them, and keep them on until the pain becomes unbearable to me. It should be an interesting night.
I went grocery shopping after work tonight, and bought quite a bit of groceries and such. If you've been reading along you know that Mistress Phoenix's rules require me to wear high heels whenever at home, but also that I must take my shoes off and go barefoot whenever I must go outside to the car for anything in the cold. I had to make no less than six trips back and forth to the car through the cold, wet snow. My feet were so cold that my toes and soles started to feel numb and then actually began to hurt. Phoenix said that she was greatly amused by my pain and suffering however, so all is well with the world. Of course as soon as my feet were dry and I began to regain feeling in my toes, I had to put my pantyhose and high heels back on. Never any rest for my poor feet. :-( (That's ok though of course, I live to suffer for Mistress Phoenix's amusement.)
Tomorrow is finally Saturday, and I won't be working, so I will be spending quite a bit more time in my shoes. I hope the chooser picks something at least moderately comfortable for me tomorrow. Ahhh, the anticipation...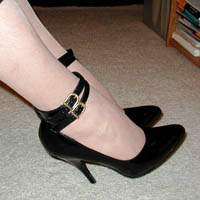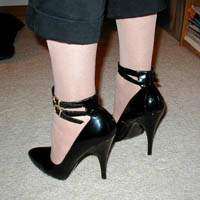 GO TO TRAINING DAY 49