High heel training diary, day 66
articles and tutorials
High heels training, shoes fetish
I didn't have time to update my shoe training diary last night, and I think my chooser program knew, because it picked an excruciatingly painful pair of shoes for me to wear today. Actually, in truth it was probably the best day it could have picked for them, since I got home from work really late tonight, and thus only have to wear them for a few hours before bed time, but still, these hurt. At bed time I will be putting on more comfortable 5-inch sandals to sleep in. There is simply no way I would even be able to fall asleep with these shoes on, let alone stay asleep through the night. Like many of my shoes, I bought these on-line without trying them on because I just loved them, and although they are the right size, they just don't fit well - there's just no room in the front for my toes, even though the shoes are the right length and width. Sigh. My poor toes, being painfully crushed yet again.
They are very cool shoes though, complete with little black chains. I suppose to some the chains would just be a fashion statement, but to me they symbolize my bondage and slavery to Mistress Phoenix.
Only 14 pairs of 5-inch heels left in my training, that's just two weeks and then I'll be moving on to even higher heels!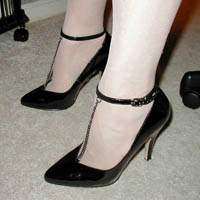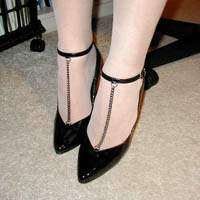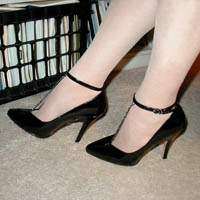 GO TO TRAINING DAY 67