free rope bondage Bondage stories 2011 archive

There`s a curve on the same old line. Not how many disappear, or get sold, but
how many sell themselves per year?
It was a question I had reason to ask myself as I crossed over the Texas state
line and into Louisiana. Liang, the trainer Frakie had suggested to help me
recuperate from my many recent wounds, was still asleep in the back seat of my
box-like sedan. The consortium, RBS Inc., the three men responsible for
kidnapping three cheerleaders, were still secured in the trunk (and
anybody who knows Tyler`s auto, knows
that
when he says "secured," he means secured-G.M.).
Dancers, actresses, now models and cheerleaders. How many women sell themselves
a year? First blessed with genetic beauty, then enhanced with exercise, diet,
costuming, makeup . . . and training. It had to be; a decision had to have been
made, somewhere along the line, by someone, to go for the short hairs.
Part of it is natural, no doubt. Just as male hormones demand attraction, no
doubt female hormones demand attractiveness. And it is not just that the female
seems to possess more willpower than the male, since the female seems able to
ignore nature`s call better than the male, it is also the fact that the
female`s
hormones have a lot more on their minds . . . like premenstrual, menstrual, and
post-menstrual stress.
I`m certain if the male was forced to bloat and bleed and give birth every once
in awhile, they would be far less inclined to chase women constantly.
So ... how many women sell themselves a year? You`ve seen them . . . the ads
hawking everything from perfume to diet soda. What are they actually selling?
Eyes and lips and hair and teeth and tits and waist and legs and ass. They
dance
and writhe and pucker and leer, all for you. Look, but don`t touch in paradise.
Was it any wonder WSN business was booming?
No, not because of the photos and film itself, but because too many made
believe
that it wasn`t natural to lust after beautiful women, and then, the powers that
are refuse to do anything about those who can`t handle the images.
How many women sell themselves a year? They`re in the magazines, in the movies,
in the videos, and on television. How many? I can`t count. There are more every
day, every week, every month, every year.
But maybe my part in it was over. Miz Liz had kidnapped dancers and models. I
had beaten her. All her family was killed. She was blown up.
The three bozoids
on their way to Brucedom.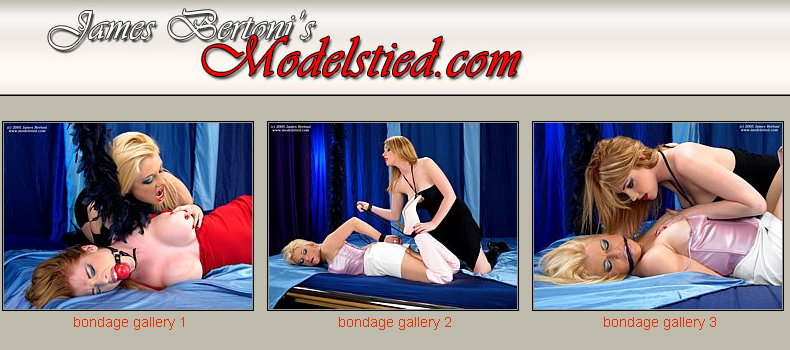 The Procurer had kidnapped movie and television starlets. The Procurer....
T. P. Masters, the Procurer . . . my Professor Moriarty, my own Doctor Doom, my
personal Ernst Stavros Blofeld. Son of a dead multimillionaire real estate
magnate, he had taken whomever he wanted with the help of various perverted
assistants. But he had fixated on one Michelle Barnes, a beautiful teenage
blond. He had wanted to wed her in a mockery of the marriage ceremony, to make
her his bondage bride... . to love, rule, and keep captive till death do they
part.
I had taken her from him. I had given her to another. I had guessed that once
she was married and consummated with another, he would consider her "tainted."
I
had been right.
I had also saved the actresses from him. I had also taken his eye from him. I
would have been able to kill him except that he had just shot me in the
shoulder. My aim and knife-throwing power had been abated somewhat. Ahem.
The Procurer... He was still out there somewhere.... Waiting for me....
Rebecca Alien`s black, shiny, high-heel pumps clacked across the marble floor.
She walked in beauty, like the night, the pulsating tacking of her three-inch
heels in rhythm with the swish of her stockinged thighs and ripple of her tight
black skirt.
She was every inch the efficient businesswoman, all five feet, four inches of
her (five-seven in the shoes). She looked as if she belonged in the handsome
lobby of the deluxe hotel. It was dark, all burnished, rooms almost as tall as
they were narrow. It was an old-world hotel, nestled on a side street in the
French Quarter, dramatic as it was traditional. A flickering fire in the lobby
fireplace heightened the mood.
Rebecca brought the report to the man sitting in the comfortable, high-backed,
winged easy chair . . . one of two on either side of a lovely marble table
before the fireplace. She leaned down, from the waist, her legs straight, to
give it to him.
She even smelled beautiful. It was not only her lightly perfumed skin which
held
aroma, but her thick, luxurious mane of dark, dark, scented red hair as well.
It
tousled in loose curls, down her shoulders.
Rebecca`s face was . . . generous. Dark, dark green eyes, a fine, slightly . .
. ever so slightly . . . turned-up nose, and . . . well, generous red lips over
a chin that was slightly, ever so slightly cleft.
Her body? Not ridiculous, but tightly female. Erect, strong, with just enough
muscle-to-fat-ratio to make her chest strain beneath her starched white shirt.
The white shirt unbuttoned to make a V neck to mid-chest, showing off a single
gold strand around her slim neck.
But when she leaned over, the man taking the report from her could look down
her shirt. Oh, the frilly white 34-B bra, cupping the round breasts perfectly.
The man inhaled deeply, drink ing in her magnificence: the seemingly perfect
combination of the modern and old-fashioned woman.
"Here you are, sir," she said. "I`ll be in my office if you need me."
"Thank you, Ms. Allison," the man said. He subtly shifted in his chair, in
order to watch her retreat in the tilted mirror above the fireplace. He smiled.
She must be very proud of herself, he thought. Why else would her clothes be so
tight? Why else would she walk with such strength, yet such grace? Why else
would she have no visible panty line as he saw her rear move handsomely beneath
the black cloth.