Free bondage stories - leather, collar, heels



Some Original Bondage Stories.

The works listed below are original writings on a bdsm theme. They are offered for your reading pleasure.



B&D ACADEMY , part 1 - free bondage story
... The first girl quickly and efficiently inserted the Ben-Wa balls and then pressed the crotch of the britches into place to insure that the balls wouldn't pop out. The other two redoubled their efforts at pulling the pants into place ...

B&D ACADEMY , part 2 - free bondage story
... Allison ran the rope end through the clip holding her hands and pulled the end down between her feet catching the shortened hobble that pined her feet together and pulled back. Courtney looked like a pretzel as her feet were pulled up within inches of her bound hands ...

B&D ACADEMY , part 3 - free bondage story
... A wide studded leather belt wrapped around her hips and was held together by a pair of handcuffs. The belt did nothing to add to her restraint but it did wonders for the punk illusion. She wore a matching, studded leather collar around her neck and from this hung a thin leather leash, similar to Mariko's. Courtney was held silent by a tight black leather strap pulled cruelty across her mouth and sunk deeply into her cheeks ...

B&D ACADEMY , part 4 - free bondage story
... The woman briskly set about removing the chains that pinned the girl's wrists to her thighs. One chain was looped once around her waist where a padlock was threaded through both ends closing the chain tightly around her waist. Before the lock was closed she clipped one end of the other chain to the piano bench and then attached the free end to the girl's new belt, and only then closed the lock ...



B&D ACADEMY , part 5 - free bondage story
... she found a pair of white cotton panties and a bra. The panties were frilly and much too small for her, as was the training bra they gave her but she struggled into them anyway. Next she found a white cotton blouse. Around the collar was a blue and gray striped necktie. Mariko sighed and despondently buttoned the blouse up and put the tie on. She looked around for the stockings but all she found were a pair of gray knee socks ...

B&D ACADEMY , part 6 - free bondage story
... First they unbuttoned her blouse and pulled it back to the struggling girl's cuffed wrists. They produced a set of velcro cuffs that they attached to her elbows, pulling them together behind her back. When they touched, the girls removed Mariko's steel handcuffs and pulled the shirt from her hands. The steel cuffs were discarded in favor of a set of velcro ones identical to the ones on her elbows. They made short work of her skirt and stockings, leaving Mariko to stand before them tied, gagged and nude except for a pair of red high heel pumps ...

B&D ACADEMY , part 7 - free bondage story
... In her hand was a complex leather mask of sorts. Allison held the strap up to Mariko's face and buckled the straps at the back of her head. The front of the mask was about 2 inches wide and fit tightly across her nose ...

B&D ACADEMY , part 8 - free bondage story
... had used a roll of 4 inch wide, white adhesive tape as a tactile aid in her instruction on gagging techniques. Each girl had a wad of cloth stuffed in her mouth and had their lips sealed with the sticky tape. Mariko chewed on her wadding, trying to work it into a more comfortable position ...

B&D ACADEMY , part 9 - free bondage story
... Dressed short, tight skirt, matching high heel pumps and a white silk blouse that was barely visible under her jacket. They had meticulously bound her with thin white cord at the wrists, elbows, knees and ankles. They had also wound some cord around her body with three passes above her breasts and the same number below. This pined her arms securely to her back. She was a little afraid that these ropes would wrinkle her suit but no one else seemed terribly concerned ...

Casino Night, part 1 - free bondage story
... Slick helped the naked Flora to dress. First, there was thigh high black leather boots with six inch heels. Next, there was a black leather corset that Slick tightened as best he could. Very long leather gloves were the last thing that he had her wear ...

Casino Night, part 2 - free bondage story
... She was wearing a black leather head harness with an attached red ball gag. A thick leather posture collar held her neck up high, and a lock was conspicuous on the front of it. Below that, the woman wore a steel studded black leather corset with attached cups for her breasts. From the heaving of the breasts and the narrowness of the waist ...

Couple Therapy, part 1 - free bondage story
... Her head was covered in a heavy steel cage that mimicked the job of the box. A crank at the top of the cage pushed sharp spikes into the face and scalp. I could see that she was wearing the spike gag as well, a large, soft ball that fit between the jaws, then pushed similar spikes into the soft tissues of the tongue and mouth ...

Couple Therapy, part 2 - free bondage story
... She barely noticed as I attached a set of steel cuffs to her ankles, chained her ankles to rings in the floor, then removed her collar and replaced it with a posture collar attached to the cuffs by a short steel bar. Her arms, still bound at wrist and elbow, tried to struggle as I locked the collar on and began turning a crank on the pole that now ran behind her back ...

Couple Therapy, part 3 - free bondage story
... the last few clicks brought her wrists level with the back of the collar. A lock was placed through the collar ring and connected to the ball socket on the cuffs, locking Lisa's arms off. I could see the twinkle in my wife's eyes as she produced an additional strap, just as Lisa was coming to terms with the pain in her arms. The strap circled Lisa's elbows and was pulled tight, forcing her lower arms closer together and wrenching her shoulders impossibly back ...

Caught En Femme! | panties gag, latex, bound bondage story


...Bobbi started to drift into fantasy. She was a kidnapped latex maid, and her captor was forcing his manhood into her ass while she was bound tightly and gagged so as not to make noise and blindfolded so as not to see her captor. As the fantasy continued, she felt her cum starting to build to an explosive orgasm. Tightening and shuddering, she came full and hard into her panties, trying to scream in orgasm through the gag but managing only a muffled "UUUUUNNGHH!!" instead....



Birthday Dare bondage story | cage, present, cuffs


...Part One of an ongoing series. A husband teaches his wife that her place remains at home...



Beautiful but Dumb bondage story | chair, straps, clamps


...Part Two of an ongoing series. Michele discovers how truly handicapping bondage can be...





Bound for dinner bondage story | table, harness, straps
...Part Three of an ongoing series - Michael and Michele host an unique dinner party!...
The Borg bondage free story | drone, bed, pain
...Michele explores a brave, chimeric new world of absolute bondage and domination...
Chicken Dance bondage story | cuffs, police, prison, prostitutes
...Chicken Run was never this much fun! A silly chook called Julie has her feathers ruffled when she accepts a dare...
Crossword Bondage story | box, chair, rack
...A interactive story readers can also join in as they attempt to outdo Anne while she attempts to complete the special bondage crossword appearing in a well-known Harmony magazine...
Girls can do anything bondage story | naked rope tied together
...Two young women discover how strong the bridge of friendship can be...
Kidnapped free bondage story | victim, chain, toilet experiment
...Some people will do anything to obtain what they want... A tale with a twist...
Lycra Prisoner bondage story | women tied, burqua
...Michael is captured by the Taliban and unmercifully interrogated before escaping...
Safe Word bondage story | spread, stakes, clamps, ropes
...Only the threat of the worst punishment possible can force Sue into reluctantly using the safe word...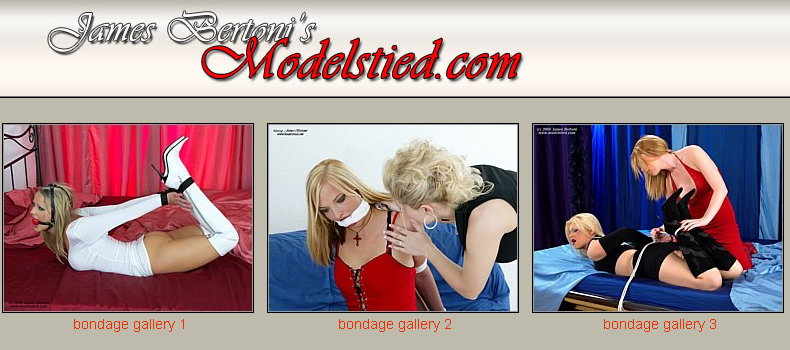 Amy - free bondage story
... Another chain was stretched from her collar to a ring in the floor beneath her, forcing her to stay in her bent position. Her arms were cranked skyward more, until Amy screamed from the pain in her shoulders. Satisfied, her captors removed her ball gag and slipped a finger through her nose ring, yanked up. As her mouth flew open in reaction, a man slipped rubber blocks deep into her mouth, between her teeth. Her mouth was now forced open wide and she could not close it. Her hair was tied into a pony tail with a strand of leather laced in as well. The strap was connected to her elbow strap and pulled taught, forcing her head back hard ...

Ascension, part 1 - free bondage story
... we were out in the wilderness, living in a tent, exploring ways to tie a girl to trees. As the afternoon dimmed, I thought it was time to launch my newest invention. I had Kate stand in front of me. Starting off with a few standard precautions, I tied her wrists palms together behind her back. I also secured her elbows, her ankles and knees. The blindfold went on, as did a large ballgag with a leather seal covering her mouth ...

Ascension, part 2 - free bondage story
... to add weights to the bottom of his message, which I detached and tied to the other ends of the fishing line. This made it easy to toss them over the beam. Two knots later, her nipples were straining skyward while the weights swung near her navel ...

Chinese Puzzle - free bondage story
... We laced her into the 20" black calf corset, and then put her into her rubber corselet. This has molded-in cups and functions quite nicely as a bra, and extends down just to the bottom of her corset with suspender grips for her stockings. I then locked on her chastity belt, with only the butt plug vibrator humming merrily away. The key went under one glove, which was locked on, followed by the other glove, followed by the stockings and locking shoes ...

Cold Storage - free bondage story
... I could see the tension in her jaw from the huge gag. Already she made humming, throat clearing noises as she tried to control the uncomfortable feeling of the gag pressing against the soft, slippery tissue at the back of her throat. Lying on her back, all she could do was swallow the saliva that formed around the mass of the gagging plug ...

Sound of Bubbles free bondage story | pool, helmet, cuffs
...

Rainy day fun in a swimming pool... it's a wet, wet world!






No Safe Word bondage story | chain, gagged, handcuffs
...

What does it feel like being bound and helpless without any option of escape or release? One girl wants to find out but her boyfriend's not so keen


Hoist by... free bondage story | chain, box, stage girl, gag
...

What the magician saw... what goes on behind the scenes revealed!


The Highwayman bondage story | ponies reins, mistress
...

Medieval hi-jinks of yore.


Treasure Hunt free bondage story | chain, belt, slave island
...

Yo ho ho and a bottle of rum... Piracy isn't dead these days, it's still alive and well


Pleasure Recaptured bondage story | rope tied escape
...

When a retired old salt receives a request from his friend's daughter, it rekindles old memories


Ghost free bondage story | collar, chains, castle
...

Ghosts don't exist - or do they? What if they're not just old wive's tales


Getting The Angles bondage story | chains, ball gag
...

When restraint becomes art, she can be sure she won't be escaping anytime soon.


Airtight bondage story | tubes, escape
...

When all else fails, practically anything can be utilised to create really effective bondage - as one imaginative enthusiast proves


The Baby-sitter free bondage story | chains, tied, ball gag
...

Tying up your bossy minx of a babysitter is great fun but what about the retribution after? - which has life-changing consequences


Surprise bondage story | chains, master, slave, gag
...

A tradesman sees all manner of oddities during his rounds but nothing can possibly prepare him for what he encounters one day


The Teleport 4 free bondage story | dungeon, cuffs, gag, hood
...

Richard and Bessy discover a group of white slavers and put their machine to good use