Free bondage stories - leather, collar, heels


B&D ACADEMY , part 1 - free bondage story
... The first girl quickly and efficiently inserted the Ben-Wa balls and then pressed the crotch of the britches into place to insure that the balls wouldn't pop out. The other two redoubled their efforts at pulling the pants into place ...

B&D ACADEMY , part 2 - free bondage story
... Allison ran the rope end through the clip holding her hands and pulled the end down between her feet catching the shortened hobble that pined her feet together and pulled back. Courtney looked like a pretzel as her feet were pulled up within inches of her bound hands ...

B&D ACADEMY , part 3 - free bondage story
... A wide studded leather belt wrapped around her hips and was held together by a pair of handcuffs. The belt did nothing to add to her restraint but it did wonders for the punk illusion. She wore a matching, studded leather collar around her neck and from this hung a thin leather leash, similar to Mariko's. Courtney was held silent by a tight black leather strap pulled cruelty across her mouth and sunk deeply into her cheeks ...

B&D ACADEMY , part 4 - free bondage story
... The woman briskly set about removing the chains that pinned the girl's wrists to her thighs. One chain was looped once around her waist where a padlock was threaded through both ends closing the chain tightly around her waist. Before the lock was closed she clipped one end of the other chain to the piano bench and then attached the free end to the girl's new belt, and only then closed the lock ...



B&D ACADEMY , part 5 - free bondage story
... she found a pair of white cotton panties and a bra. The panties were frilly and much too small for her, as was the training bra they gave her but she struggled into them anyway. Next she found a white cotton blouse. Around the collar was a blue and gray striped necktie. Mariko sighed and despondently buttoned the blouse up and put the tie on. She looked around for the stockings but all she found were a pair of gray knee socks ...

B&D ACADEMY , part 6 - free bondage story
... First they unbuttoned her blouse and pulled it back to the struggling girl's cuffed wrists. They produced a set of velcro cuffs that they attached to her elbows, pulling them together behind her back. When they touched, the girls removed Mariko's steel handcuffs and pulled the shirt from her hands. The steel cuffs were discarded in favor of a set of velcro ones identical to the ones on her elbows. They made short work of her skirt and stockings, leaving Mariko to stand before them tied, gagged and nude except for a pair of red high heel pumps ...

B&D ACADEMY , part 7 - free bondage story
... In her hand was a complex leather mask of sorts. Allison held the strap up to Mariko's face and buckled the straps at the back of her head. The front of the mask was about 2 inches wide and fit tightly across her nose ...

B&D ACADEMY , part 8 - free bondage story
... had used a roll of 4 inch wide, white adhesive tape as a tactile aid in her instruction on gagging techniques. Each girl had a wad of cloth stuffed in her mouth and had their lips sealed with the sticky tape. Mariko chewed on her wadding, trying to work it into a more comfortable position ...

B&D ACADEMY , part 9 - free bondage story
... Dressed short, tight skirt, matching high heel pumps and a white silk blouse that was barely visible under her jacket. They had meticulously bound her with thin white cord at the wrists, elbows, knees and ankles. They had also wound some cord around her body with three passes above her breasts and the same number below. This pined her arms securely to her back. She was a little afraid that these ropes would wrinkle her suit but no one else seemed terribly concerned ...

Casino Night, part 1 - free bondage story
... Slick helped the naked Flora to dress. First, there was thigh high black leather boots with six inch heels. Next, there was a black leather corset that Slick tightened as best he could. Very long leather gloves were the last thing that he had her wear ...

Casino Night, part 2 - free bondage story
... She was wearing a black leather head harness with an attached red ball gag. A thick leather posture collar held her neck up high, and a lock was conspicuous on the front of it. Below that, the woman wore a steel studded black leather corset with attached cups for her breasts. From the heaving of the breasts and the narrowness of the waist ...

Couple Therapy, part 1 - free bondage story
... Her head was covered in a heavy steel cage that mimicked the job of the box. A crank at the top of the cage pushed sharp spikes into the face and scalp. I could see that she was wearing the spike gag as well, a large, soft ball that fit between the jaws, then pushed similar spikes into the soft tissues of the tongue and mouth ...

Couple Therapy, part 2 - free bondage story
... She barely noticed as I attached a set of steel cuffs to her ankles, chained her ankles to rings in the floor, then removed her collar and replaced it with a posture collar attached to the cuffs by a short steel bar. Her arms, still bound at wrist and elbow, tried to struggle as I locked the collar on and began turning a crank on the pole that now ran behind her back ...

Couple Therapy, part 3 - free bondage story
... the last few clicks brought her wrists level with the back of the collar. A lock was placed through the collar ring and connected to the ball socket on the cuffs, locking Lisa's arms off. I could see the twinkle in my wife's eyes as she produced an additional strap, just as Lisa was coming to terms with the pain in her arms. The strap circled Lisa's elbows and was pulled tight, forcing her lower arms closer together and wrenching her shoulders impossibly back ...

Island Pleasures, part 1 - free bondage story
... At that point into the trip your bikini will be taken from you. A thick collar will be placed around your neck and the buckle will be secured with a bolt which is only accessible by special wrench. Your wrists will be likewise adorned. We will then attach them to the sides of the collar so as to train you to where to keep your hands. Your lips will be spread wide and a custom made combination phallus and bit will enter your mouth. We will measure for this device shortly ...

Island Pleasures, part 2 - free bondage story
... The ankle strap had a catch on it and fit into a small lock. When the strap was put on, Ally wouldn't be able to remove them without a key. Susan found the key attached to a long chain in the box. She took the key and put the chain around her own neck. On the back of the shoe was a loop of leather which held a small metal ring. .Susan took Ally's feet and put the 7.5 inch heels on her. The ankle straps slipped into their latch with a distinct click ...

Island Pleasures, part 3 - free bondage story
... and pulled out a pair of four foot long gold chains and two nipple clamps. The nipple clamps were attached to Ally. Then the chains were attached to the clamps, fed up through the loop in the chain running into the ceiling and brought down and attached to the ring on Ally's bit. Susan stood by Ally as Alex went to a wall switch and pressed it. The chain began to rise into the ceiling, pulling both on Ally's nipples and her bit. Ally could relieve the strain on her nipples only by lifting her head higher. When Ally could no longer fully release the tension on her nipples ...


Island Pleasures, part 4 - free bondage story
... The screw went through the buckle, capturing the loop on the end of the spike. He then took an Allen wrench and screwed the cap screw into the buckle, the head fitting into a recess. Thus the screw could not be removed by hand. Only a wrench of the same type could remove the screw and thus allow the collar to be removed. The buckle was placed behind Ally's left ear. On the front, back and both sides of the collar were embossed, gold plates with a heavy metal ring attached ...

Island Pleasures, part 5 - free bondage story
... She is blindfolded, gagged, and has the plugs inserted in both sex and anus. From the gold egg at her rear hangs a dark blonde pony tail. She is wearing hip length boots with six inch heels. She is also wearing a tight, black, leather corset. Around her neck is a thick collar with gold plates and rings at front, back, and both sides. Her wrists have black leather cuffs also. These have one ring each as well. Ally wears bells on her nipples and a strap type harness on her head ...

Island Pleasures, part 6 - free bondage story
... These slaves then had their arms bound behind them and were penis gagged. The female wore bells on the nipple rings and the male wore one on his cock ...

Island Pleasures, part 7 - free bondage story
... Alex connected the clips to Ally's wrists. Her wrists were now attached to her collar and she would remain like this until someone released her. She could not reach the clips with her hands ...

Island Pleasures, part 8 - free bondage story
... They were no longer bound, but the cages were locked securely. Both girls were gagged with ball gags however, and the gags were locked in place ...

Island Pleasures, part 9 - free bondage story
... Her mouth holds a ball bridle with straps encircling her head. The pony girl wears a wide collar around her neck. On the front of it there is a gold plate that has her name embossed into it. Wildfire's arms are folded behind her back. They have been placed into an arm sleeve. The sleeve runs from armpit to armpit, and is attached to her collar by two leather straps that run to the ring on the back of her collar ...

Island Pleasures, part 10 - free bondage story
... Now he took the hood. The hood had openings for the mouth, nose, and eyes. The eyes had cups on them to limit the pony's vision. They were blinders. At the top of the hood was a hole for Wildfire's pony tail. At the back, the hood was zippered. Alex placed the hood on Wildfire, guiding her hair through the hole, and zipped it closed ...

Island Pleasures, part 11 - free bondage story
... Alice had picked a leather corset affair that left the tops of her breasts exposed from just below the nipples to just under her neck. The corset was made of red dyed leather as Alex had instructed. She added a black leather cape. On her legs were fishnet stockings that covered her from the knee to the crotch. A pair of garter straps held the stockings up. Her feet were encased in knee length red leather boots with laces up the front. The heel was five inches high. She had applied some lipstick to make her lips bright red and placed a red rubber ball gag into her mouth. A black strap wrapped around her head to hold it in place ...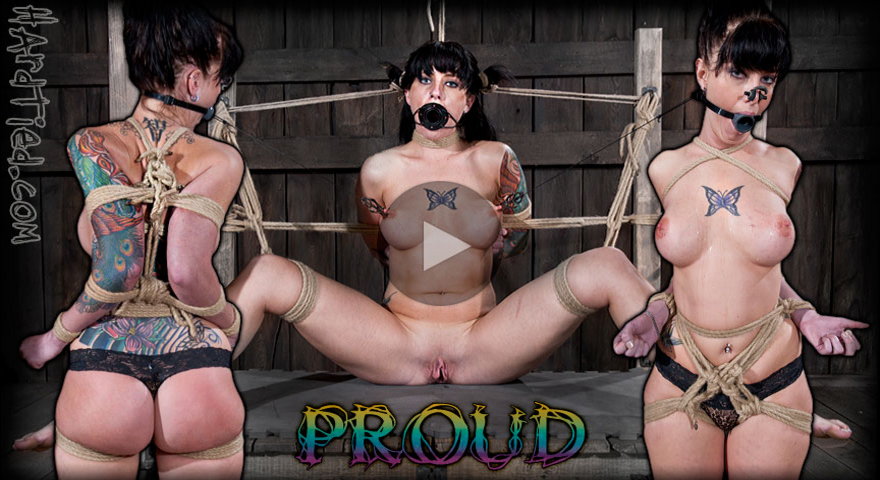 Amy - free bondage story
... Another chain was stretched from her collar to a ring in the floor beneath her, forcing her to stay in her bent position. Her arms were cranked skyward more, until Amy screamed from the pain in her shoulders. Satisfied, her captors removed her ball gag and slipped a finger through her nose ring, yanked up. As her mouth flew open in reaction, a man slipped rubber blocks deep into her mouth, between her teeth. Her mouth was now forced open wide and she could not close it. Her hair was tied into a pony tail with a strand of leather laced in as well. The strap was connected to her elbow strap and pulled taught, forcing her head back hard ...

Ascension, part 1 - free bondage story
... we were out in the wilderness, living in a tent, exploring ways to tie a girl to trees. As the afternoon dimmed, I thought it was time to launch my newest invention. I had Kate stand in front of me. Starting off with a few standard precautions, I tied her wrists palms together behind her back. I also secured her elbows, her ankles and knees. The blindfold went on, as did a large ballgag with a leather seal covering her mouth ...

Ascension, part 2 - free bondage story
... to add weights to the bottom of his message, which I detached and tied to the other ends of the fishing line. This made it easy to toss them over the beam. Two knots later, her nipples were straining skyward while the weights swung near her navel ...

Chinese Puzzle - free bondage story
... We laced her into the 20" black calf corset, and then put her into her rubber corselet. This has molded-in cups and functions quite nicely as a bra, and extends down just to the bottom of her corset with suspender grips for her stockings. I then locked on her chastity belt, with only the butt plug vibrator humming merrily away. The key went under one glove, which was locked on, followed by the other glove, followed by the stockings and locking shoes ...

Cold Storage - free bondage story
... I could see the tension in her jaw from the huge gag. Already she made humming, throat clearing noises as she tried to control the uncomfortable feeling of the gag pressing against the soft, slippery tissue at the back of her throat. Lying on her back, all she could do was swallow the saliva that formed around the mass of the gagging plug ...

High-heeled hell, part 1 - free bondage story
... I have chosen white patent leather sandals with seven inch heels and two inch platforms. This results in a fairly steep five inch arch. Personally, I prefer six or seven inches. (gesturing down to her own high heeled boots which have a 6 inch arch) But your textbook states that a five inch arch is considered the minimum for effective cramping and foot pain during long term standing and hanging tortures. So these should be sufficient, especially for girls in your age group who may be unaccustomed to wearing heels. They buckle securely at the toes and ankles, so our victims won't be kicking them off and ending matters too soon ...





High-heeled hell, part 2 - free bondage story
... Be quiet now, or I'll strap my special ringgags on you. Remember the huge rings we read about last month that extrude razorsharp spikes all around into your cheeks and tongue? That anchors the gag in here very nicely... Soon the room filled with anguished screams as dozens of vicious wire barbs pierced the smooth flesh of her breasts, sides, shoulders and back ...

High-heeled hell, part 3 - free bondage story
... Turn around, darling. "Uh.... are you.... are you going to......to put me in bondage?" the girl asked. "Yes, Dear, I am." Miss Juniper replied, taking one of the ropes and slowly winding it around Shara's wrists behind her back ...

High-heeled hell, part 4 - free bondage story
... Miss Juniper took one length of rope and tied it around Shara's wrists, snugging them together in the small of her back. Shara looked surprised, but said nothing. Her prime concern was trying not to fall on her face while her teacher tied off the rope. The 7-inch platform heels Miss Juniper had given Shara to wear were proving quite difficult for her to balance in... Then you put these delightful bondage shoes on for me and let me tie your hands behind your back, without any complaint or resistance on your part ...

High-heeled hell, part 5 - free bondage story
... Miss Juniper gently lifted Shara's 37" C-cup breasts, passing them thru the openings. "These are nice full breasts, darling, and I see your nipples are still hard as rocks......Now scoot forward, dear. All the way." the teacher said, pinching each breast firmly just beneath her nipples. Shara winced as she pressed against the breast openings as far as she could go ...

High-heeled hell, part 6 - free bondage story
... held Shara's breasts in a merciless grip with its tight steel bands, and her wrists were lashed together with strong rope in the small of her back ...

High-heeled hell, part 7 - free bondage story
... "Get in the middle of it, and push your tits toward the openings." ... Bridget squealed with shock, as her breast flesh was pulled rudely thru the openings. She howled like a wild animal as the areas around the breast openings... Her big nipples were pointing straight out ...

High-heeled hell, part 8 - free bondage story
... In the middle of the floor her lifelong friend was kneeling on a bizarre platform with her arms tightly bound behind her. A front piece of the platform clamped her large breasts like some kind of modern-day stocks. Except for a pair of outrageously tall white platform heels, and an unusually heavy layer of makeup on her face, Belinda was entirely naked ...

High-heeled hell, part 9 - free bondage story
... these new wires bound their torsos together directly through their crotches. In addition to the misery their breasts, shoulders and backs felt from the cruel brassiere-like wire constructions, steel barbs now tormented them from sternum to sternum, violating two aching pussies as they went. Every squirm of one girl was felt by the other through this connection. The spears in Samantha's horrible ring-gag had also been deployed at some point during the storeroom activities, making her misery equal to that of Tiffany's. Strands of bloody saliva spilled from both girls tortured mouths as they strained against their neckropes ...

High-heeled hell, part 10 - free bondage story
... a pillow-loop was a sturdy snare of white rope leading through special slots in the mattress to a motorized winch under the bed. Using his remote control, a man could precisely tuck in his girl for a deliciously long night of strangling torment, intensified by the slightest bed movements. Her arms appeared to be bound behind her in some way ...

High-heeled hell, part 11 - free bondage story
... knelt to unbuckle Shara's platform heels. She guided her feet out of those tall shoes to rest on the carpet. She then removed the girl's white ankle socks and dropped them into a wastebasket, leaving her barefoot as well as entirely naked, except for the tight armbinder and the smooth rope garotte that gripped her gently by the throat ...

High-heeled hell, part 12 - free bondage story
... It won't all be pain and punishments, darling. I'll kiss you and give you strength when you need it the most ...