Sexy women ball-gagged and bondaged
Welcome back Katie Jordin. This beautiful girl is as sexy as sexy comes. She looks so innocent but her mind is sexually twisted.

When we get tough models in we do tough bondage. This is something you don't see every day: a vertical hogtie to a beam. We start with some hard floggings and some serious foot caning. Soon the bondage becomes the real torture here. With her elbows bound behind her, and her hands twisted and cinched to her back, Katie is beginning to sweat.

Then we turn the corner and up the ante to category 5. We pull her head painfully back with a hair tie and and pull her legs up into a severe painful back arch. Katie is truly suffering now. We don't stop there: we tie off her big nipples and pull her forward. Now the predicament begins. She must try and pull forward to relieve the pain on her nipples, but when she does, she stresses out her neck and back and it makes it almost impossible to breathe.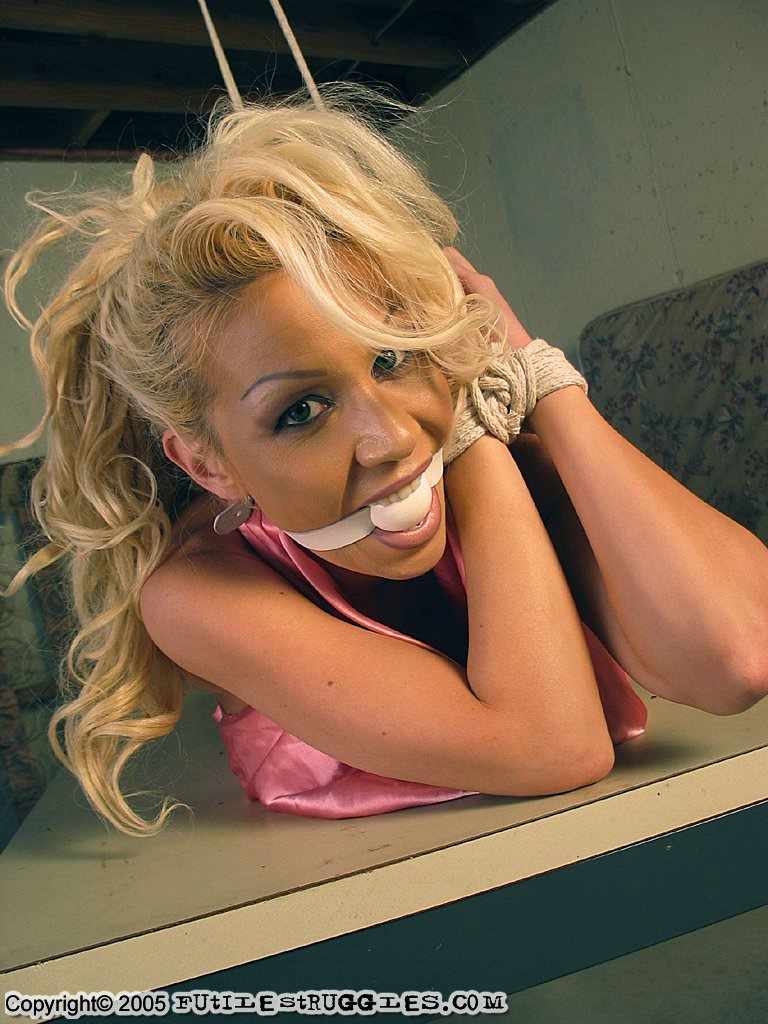 Darling returns for a revival installment of wet, tight bondage. This single element induces shock and pleasure for the submissive subject.

Her wet body bound and strung up onto one leg. Doused and soaked, her titties drip while she struggles to maintain her balance. The stream of water jets blast her into exhaustion before being vibed and denied.

Her limbs tied and pulled spread as her neck is tied and attached to a bucket soon to weighted with water. She splashes around to avoid the hosing only to tighten the rope around her neck. Her breathes are shorten by blasts of water at her face and pussy. Then she is made to cum and thrash around as clothespins bite into her skin.

Darling challenges herself to be hogtied and submerged. One dunk at a time, she increases the duration. She is finger fucked and made to cum, experiencing an underwater orgasm for the first time.
Sexy women ball-gagged and bondaged