Girls on wooden horse hentai bondage pictures
Pictures and Galleries
Hentai bondage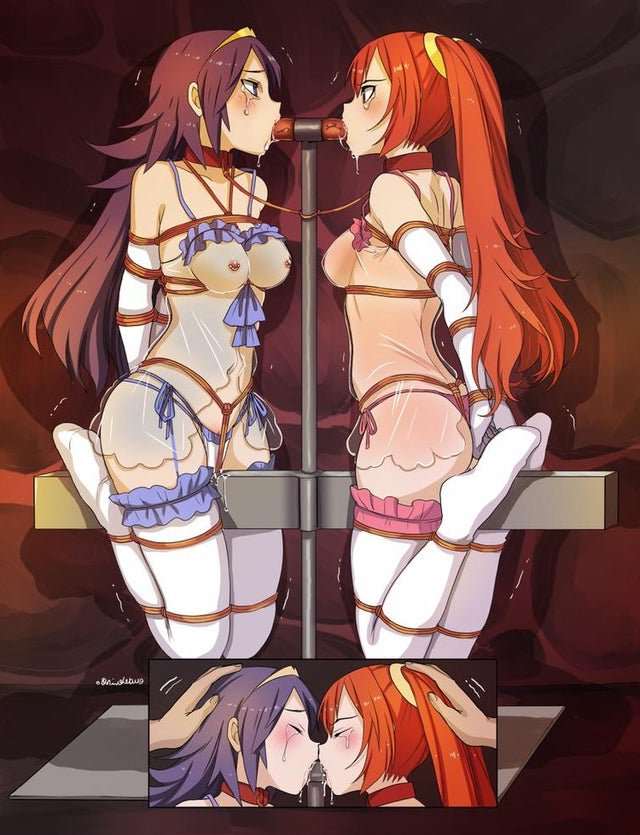 Oral Training Hentai
They only need to be tied up there until they can swallow the whole thing. After 2,5 hours of struggling, master finally showed them mercy and gave them a helping hand.
Girls are Severa (Red Hair) and Lucina (Blue Hair) for anyone who wants to see more of them.
Both are from Fire Emblem Awakening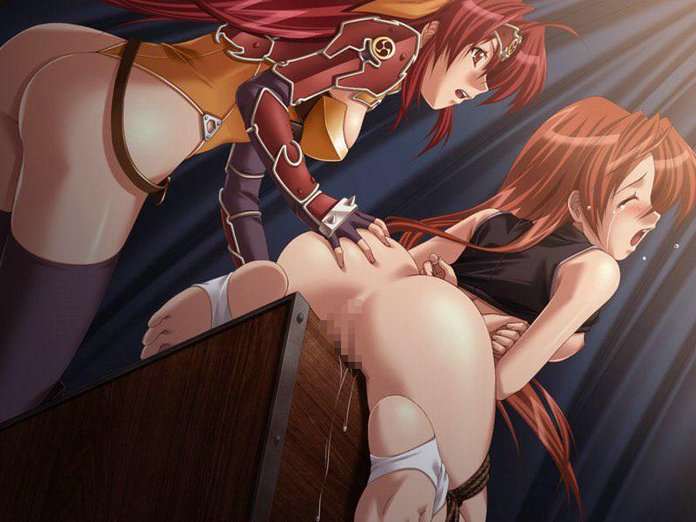 Who wants to ride the horse? Wooden horse bondage.
For maximum punishment please ensure that the subject's clitoris is centred on the angle of the horse at all times.
Also, make sure they are forced to lean forward for the full effect. If they sit Back on their anus they are not putting their weight on their clit.
And easiest way to make her lean forward is to tie and pull her nipples in forward direction. She will have no choice but to crush her clit.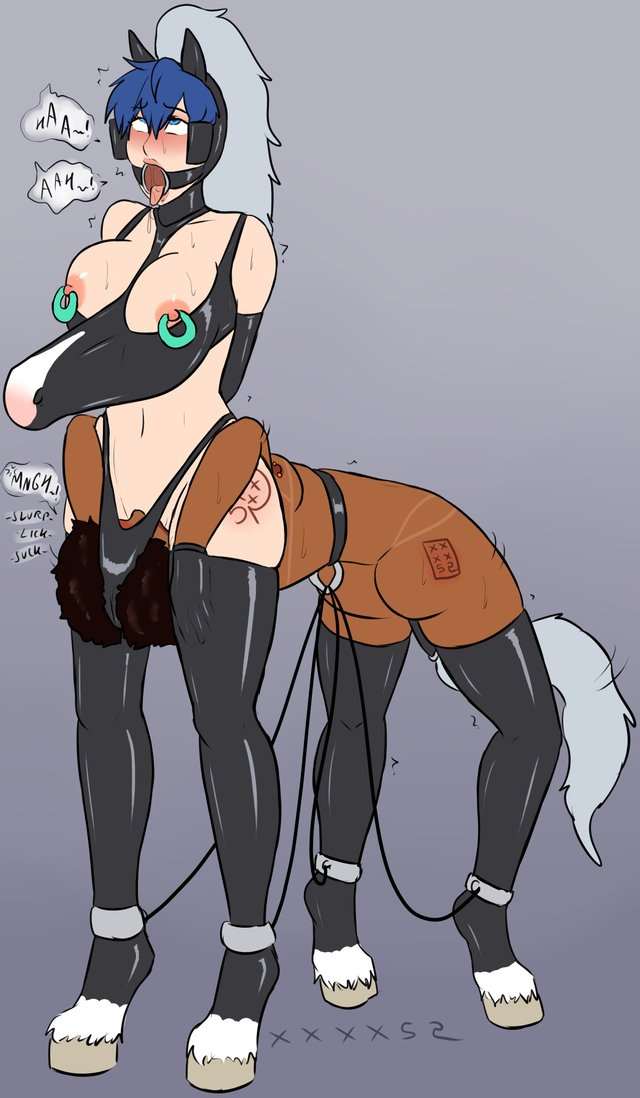 Horse bondage y'all
Pretty unfair for the one bent pver backwards with a pussy in her face all the time. I hope they switch positions from time to time.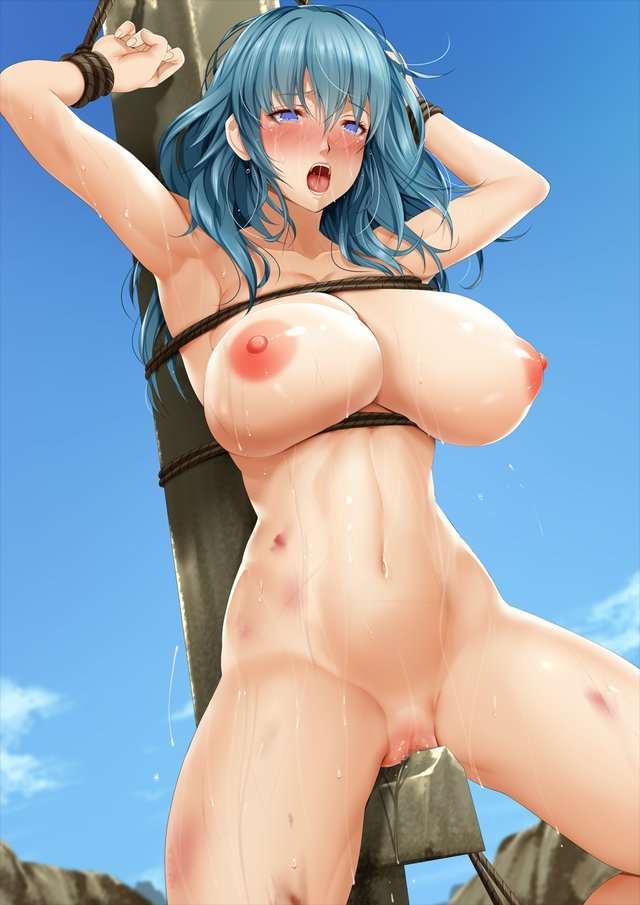 This piece is a religious satire of Pure Land Buddhism, which if I understand correctly is the most popular form of Buddhism in Japan/China. I know next to nothing about it -- but I'll try to explain the vague impressions I got.
Shinri Mokabshou = "The Sect for the Truth of the Wooden Horse"
The first paragraph is supposed to be a sort of mantra that is recited... I think
Pure Land Buddhism is a branch of Buddhism is that noteworthy for its belief in the "Pure Land" which is a sort of purgatory that people can go to purify their karma after their death. The only requirement to gain entry to the Pure Land is pure faith. Pure Land Buddhists believe that it attaining nirvana is virtually impossible for ordinary people (e.g. not monks/vegetarians) leading a sinful life. Consequently, it's better for people to have faith in the Pure Land where they can purify themselves after their death.
Lamb satirizes the fact how in Pure Land Buddhism, you can basically keep doing sinful stuff in the mortal world... and yet from pure faith alone you can still be guided to the Pure Land after death regardless of what bad things you do in your mortal life. The hypocrisy is sort of a stark feature of the "Disciple" and "Celestial Maiden's" interaction.
"Ten Cleft Board" is probably better translated as "Ten Gap Board", although the word choice is sort of tough here. I think it is suggestive of the fact how sexual fluids seep out from the gaps of the prayer map.
"Wooden Horse Recitation" is literally "Wooden Horse Quiz" or "Wooden Horse Dialogue". In Buddhism, there is sort of a method of study by having a mock "dialogue" between a disciple and master in a question-answer format. It is kind of meant to be a philosophical/theological discussion, although I think in reality a lot of famous dialogues between Buddhist masters of the past are memorized and recited.
"Bewitched Speech" and "Bewitched Ball" were really tough translation choices. The actual translation is "Glossolalia" (which has a Wikipedia article), which refers to someone entering a trance and speaking in languages they don't know. However, there was no way I was going to translate this as "Glossolalia" XD. The idea behind this scene is that the evil karmic spirit possesses the Celestial Maiden... so I tried to pick words that suited this theme.
The final paragraph was also really challenging and I'm not sure if I did it correctly. I'm sort of unsure with the 3.3 million yuan part -- because Lamb is Taiwanese, yet the setting of this scene appears to be Japan -- so is the unit in yen or Taiwanese dollars? In either case, it's still quite a lot, and I'm not sure what Lamb was getting at here.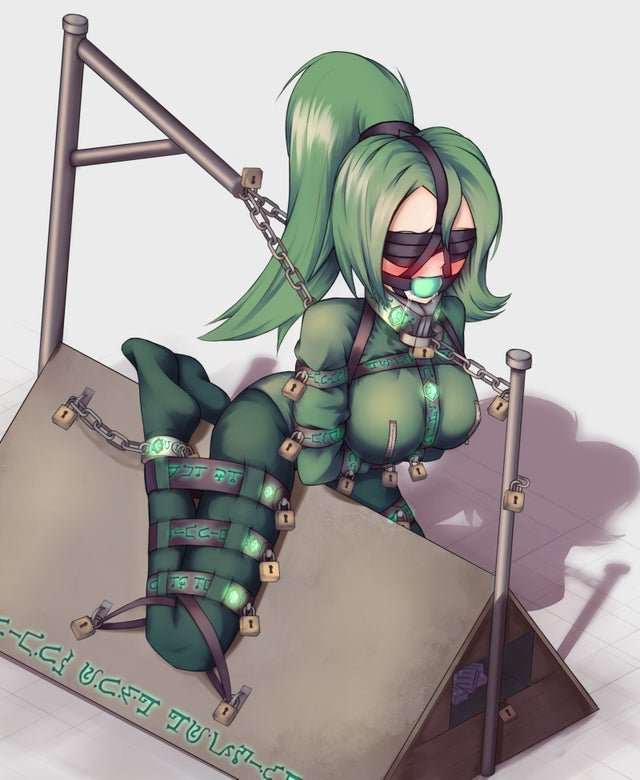 There is no such thing as too many locks hentai
Here's the challenge, if you can pick them all, you can do whatever you want with her, how does that sound?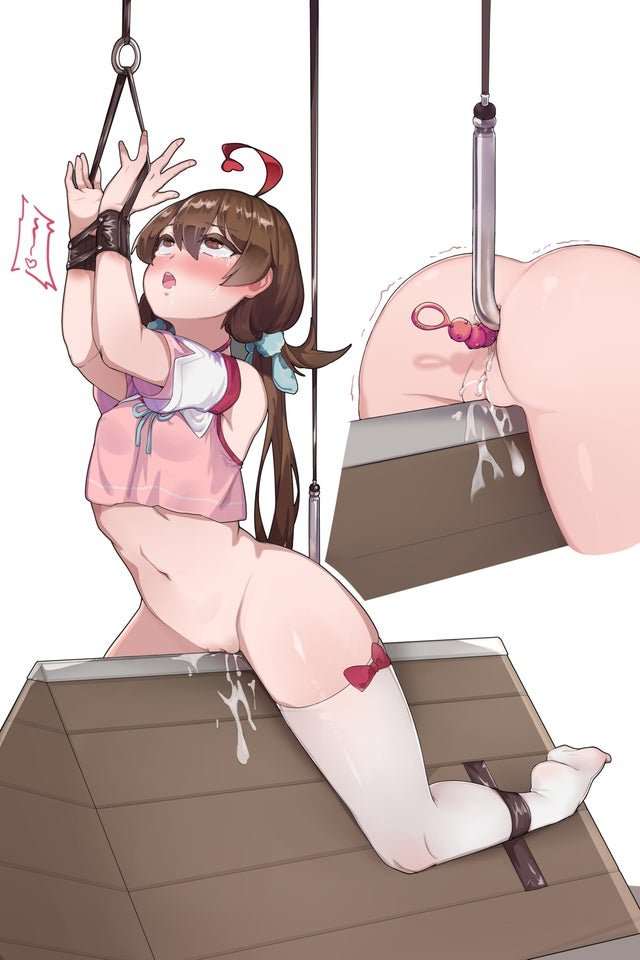 Riding horse with an anal hook bondage hentai
You always have to do this with the rope forward so she is leaning forward at a 45 degree angle. Thats why the ankles are attached to the horse sides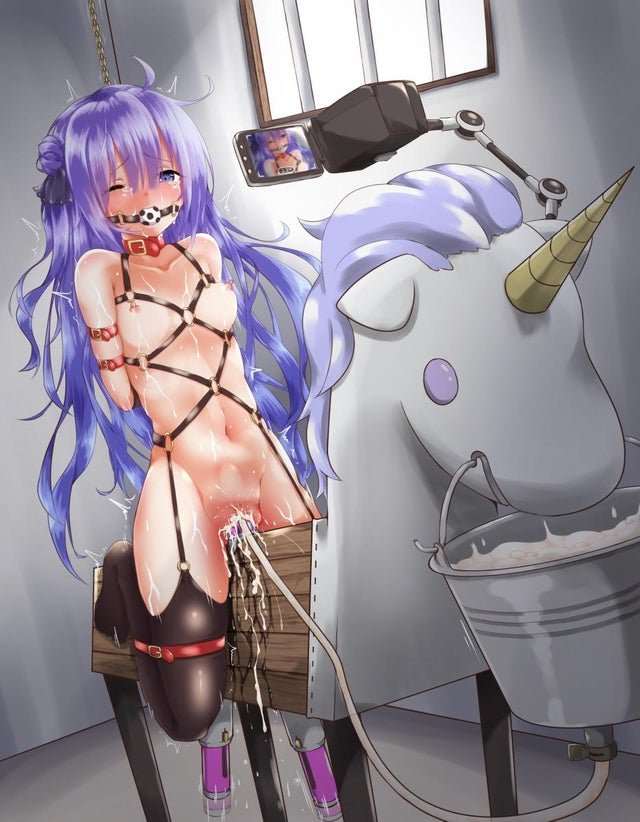 Ok but the bucket of cum is lower then her pussy right, and as such shouldn't be going into her.
The whole room is absolutely tilted. For this contraption work without any thing additionally I would advise a catheter fixed above the cervix and either a hand pump or a timed hydraulic pump to increase pressure inside her periodically. Therefore she gets filled and when she hits her limit the force of the pump overpoewers her wombs muscle strength to increase in size and bulge out of her abdomen. Leaky bitch.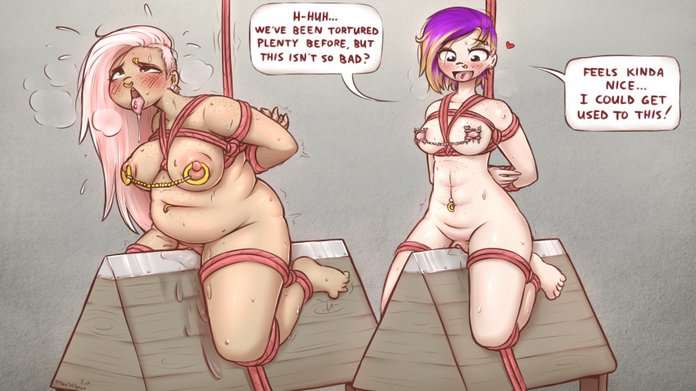 Two types of hentai slaves
Part of why the wooden horse/wedge is so fun - the girl's body weight matters a lot more when all of it is pressing her puss down on the sharp edge.
Would love to watch them stay there for some time and see the difference grow more and more.
Aren't those ropes around their knees meant to be tied to weights that would help counteract that difference?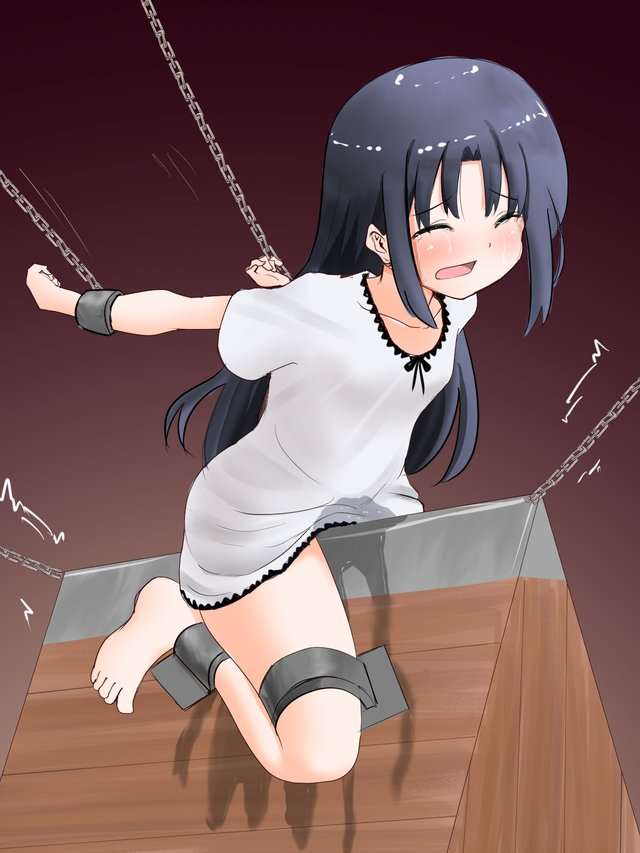 Pure discomfort from wooden horse bondage
I feel like the leg restraints give her too much to lift her weight with. Better to chain her ankles up and grease the wood a bit.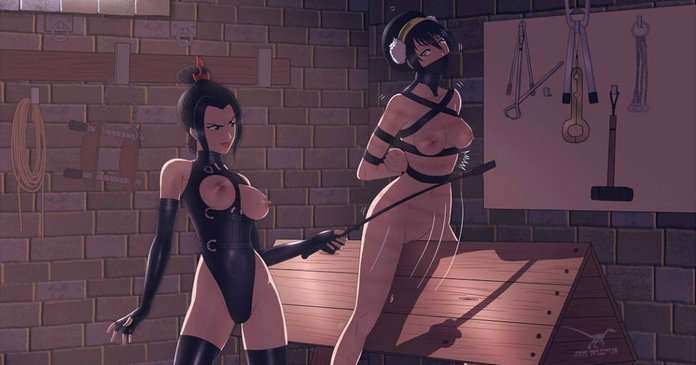 Any girls here like to hurt other girls?
Nipple torture, ice play, breath play, bondage, denial then over stim, real good shit.
Haha, lucky you. And poor girl. What have you done to her? You seem like you'd be a delightfully cruel mistress ;)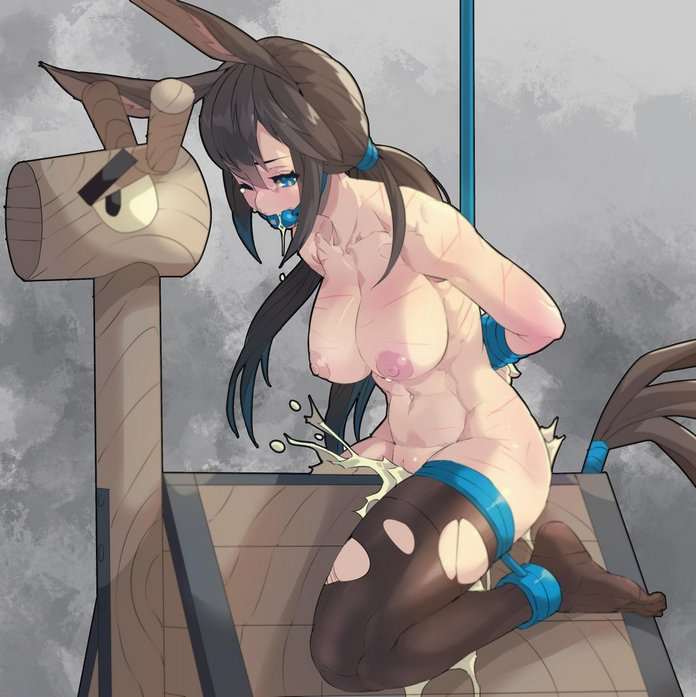 Amiya on a Wooden Horse Hentai
Sometimes it's just made of rubber or other soft materials instead of wood or metal so it is easier on the person, but in this particular picture I'd assume the edges are rounded.
I can only imagine Mad Dummy from Undertale on that horse, but the fight would be much more intense, because the attacks would be harder, and the horse is fitting for the dummy. Sorry I talked about Undertale here, but anyway, that's just what I think.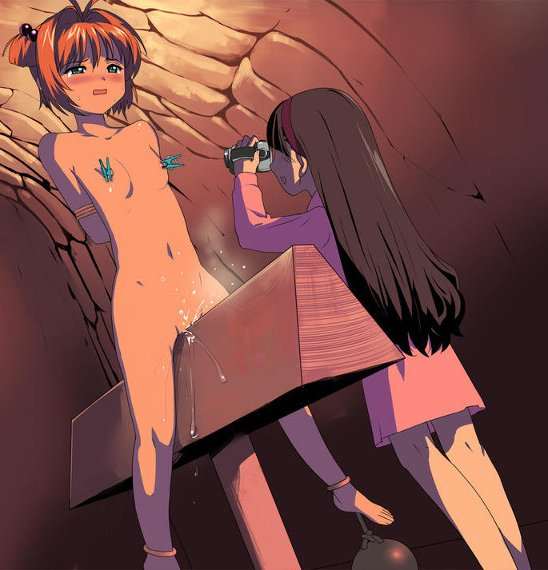 Bondage PHOTOSESSION on horse hentai.
Say Hi to all the viewers! Our stream has gotten so popular the last couple weeks, people just love to watch the depraved things I put you through, who would have guessed?
How much more can you endure, I wonder, and what can I make you do for me in exchange for relief this time? Last week it only took a dozen zaps with my electric cattle prod before you agreed to drink up a bowl of my piss if I would stop shocking you. We've gotten so many new subscribers since then though, I'm going to have to think up an even more extreme punishment for you if you surrender this week...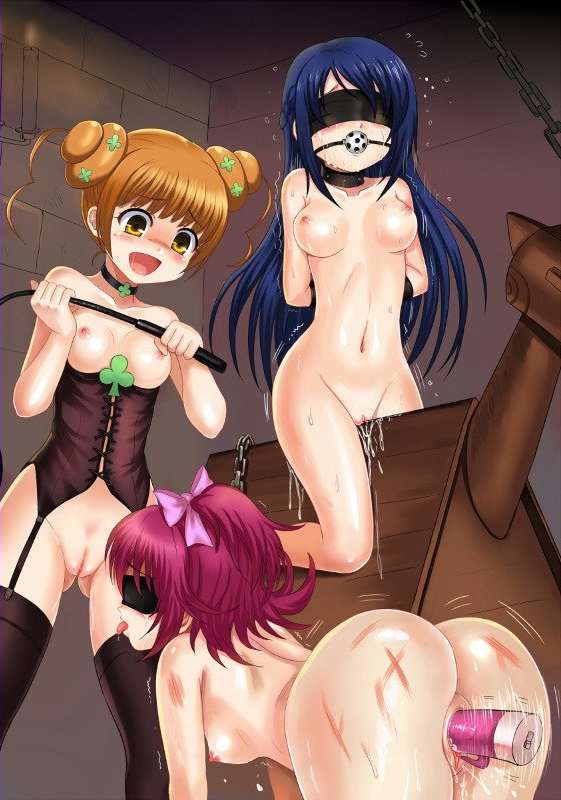 You'd better hurry up, slave. By the sounds that your friend over on wooden horse, it sounds like she's just about had all that she can take. Her pussy must be aching by now, and her legs got too tired to hold her up quite a while ago.
Her torment ends just as soon as you can make me cum with that cute little tongue of yours, so you'd better try harder, for the sake of your poor friend!
Of course, it'd probably be a lot easier for you to eat me out if it weren't for that vibrator in your cunt, it's so distracting for you, isn't it? Try to ignore it and pay more attention to my cl it, your friend is starting to cry...
That's it, get that tongue deep in my pussy, get me off as fast as you can. In fact, do you know what helps me get off more than anything?
A little bit of whipping...