Girls and vibrators bondage hentai pictures
Pictures and Galleries
Hentai bondage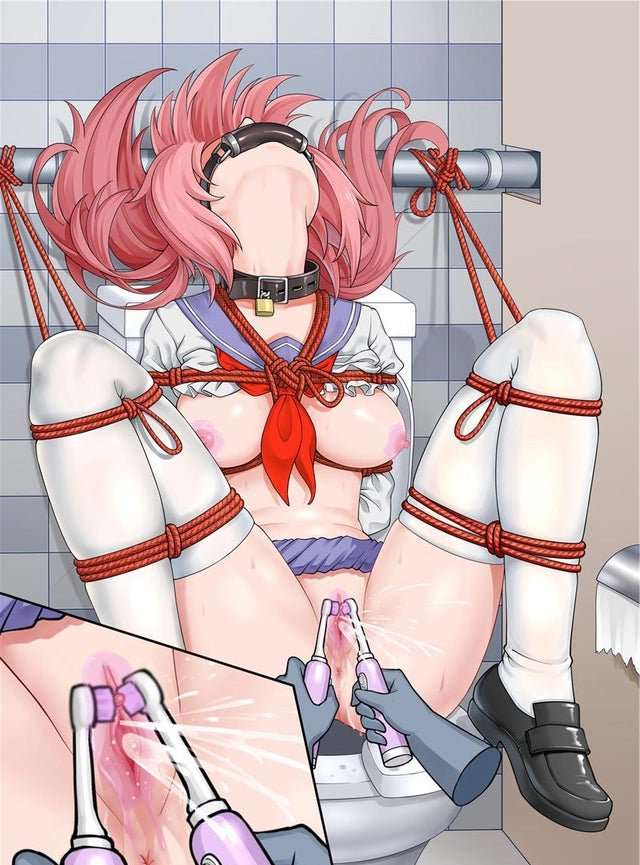 Whoís ready to have their world rocked? Bondage hentai.
Just a heads up you should get new toothbrush after that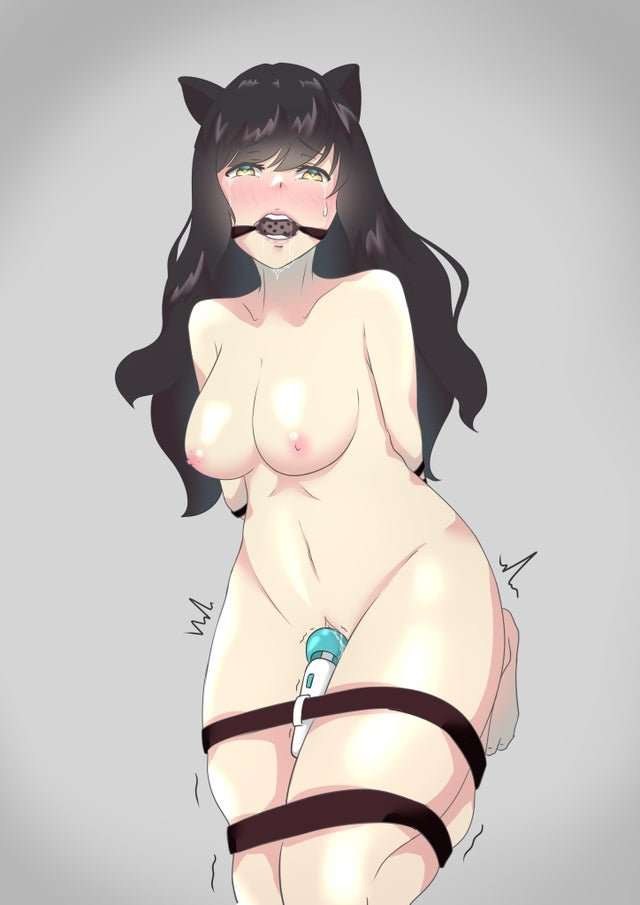 Who wants to take her place?
I'd kill to be her. Having a vibrator wand stuck in-between my legs is my dream, especially if it was held in place by say, a timed lock.
It's amazing, especially since you can put on one a slave in bondage, set it to something like 4 hours and just leave them.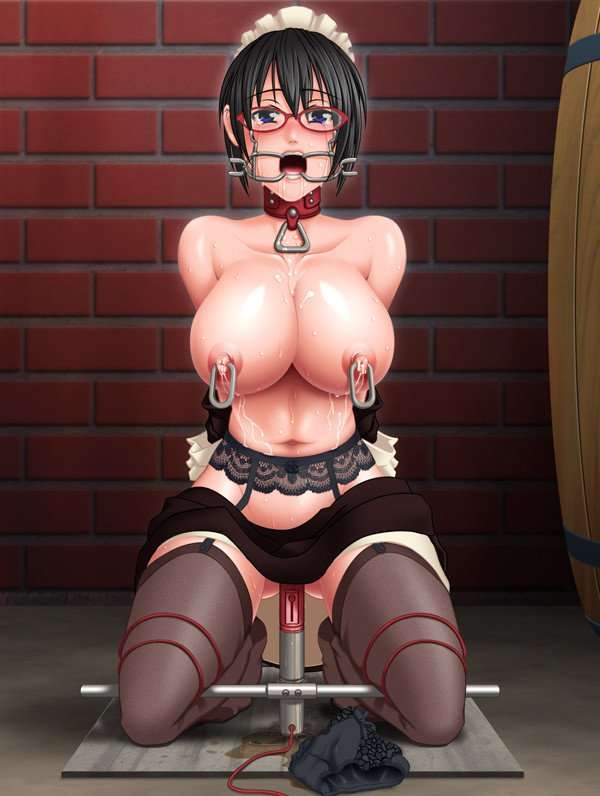 One rude word and Amiís sent to the cellar for pleasure duty. She knelt on the spot, the bar kept her on her knees, the vibrator planted deep inside her. Soon the guests will have finished drinking, and will undoubtedly come down to relieve themselves into her mouth.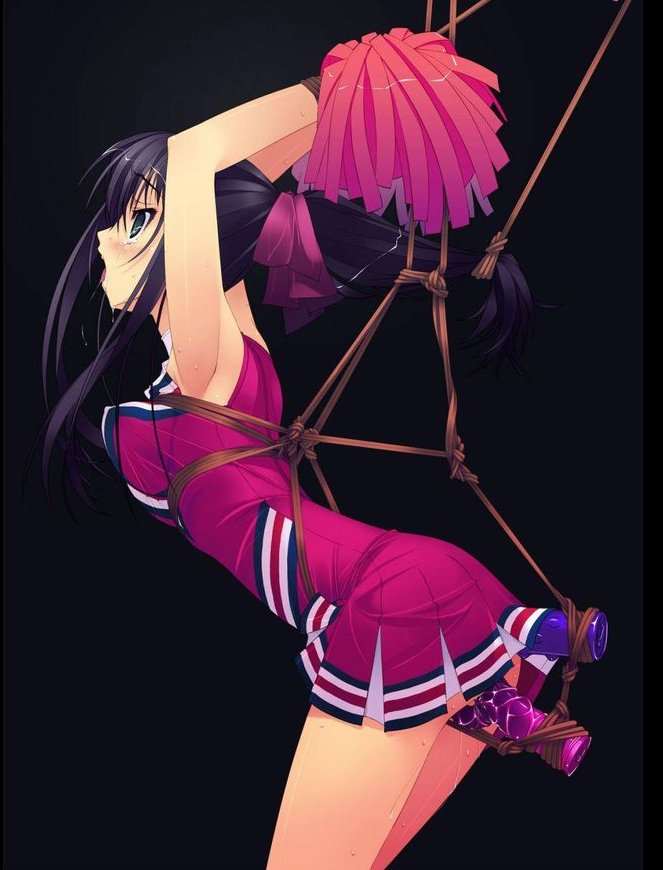 Captain of the cheer team, dildos vibrated, bondage hentai.
The moans kept escaping her lips as both dildos in both nof her tight holes pulsed and vibrated.
Her body was sore, her head was spinning, and she lost count of how many times her body had been shaken by an orgasm.
But she was determinied to see this to the end. "Only and hour more" is what the couch said last time he checked in on her. 'Then you will be the captain of the cheer team!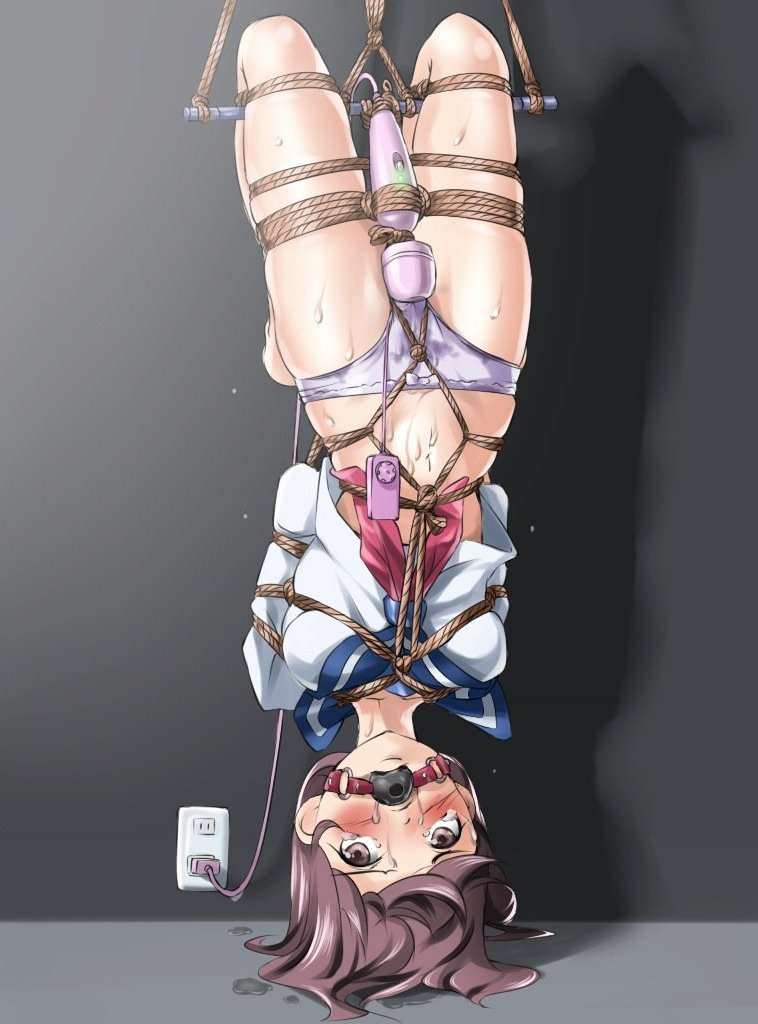 Claire was always open to new ideas, certainly in the bedroom. So when her boyfriend asked her to try bondage she was all for it. She did not expect to be taken this far with their first exploration into bondage, tied, half naked, suspended upside down and gagged so she could not even object. Still it turned her on being this helpless and she was excited when he tied the vibrator against her pussy and turned it on. That was five hours ago though, and she was both mentally and physically exhausted.
She had lost count of how many orgasms she had, and her juices were flowing down into her face, causing her to taste herself as the gag kept her lips parted. It was at this time that he came in and made her a deal, he could let her down now, provided he let her fuck her ass, something she had always refused, or he could leave her like that over night. Unable to take anymore, she agreed. He did not even bother untying her or turning the vibrator off as he lowered her to the ground and shoved his dick into her ass, fucking her ass with no regard for her, until he finally blew his load deep inside her. She expected him to turn the vibrator off and untie her, however he just pulled the rope, stringing her back up, before leaving her like that over night anyways.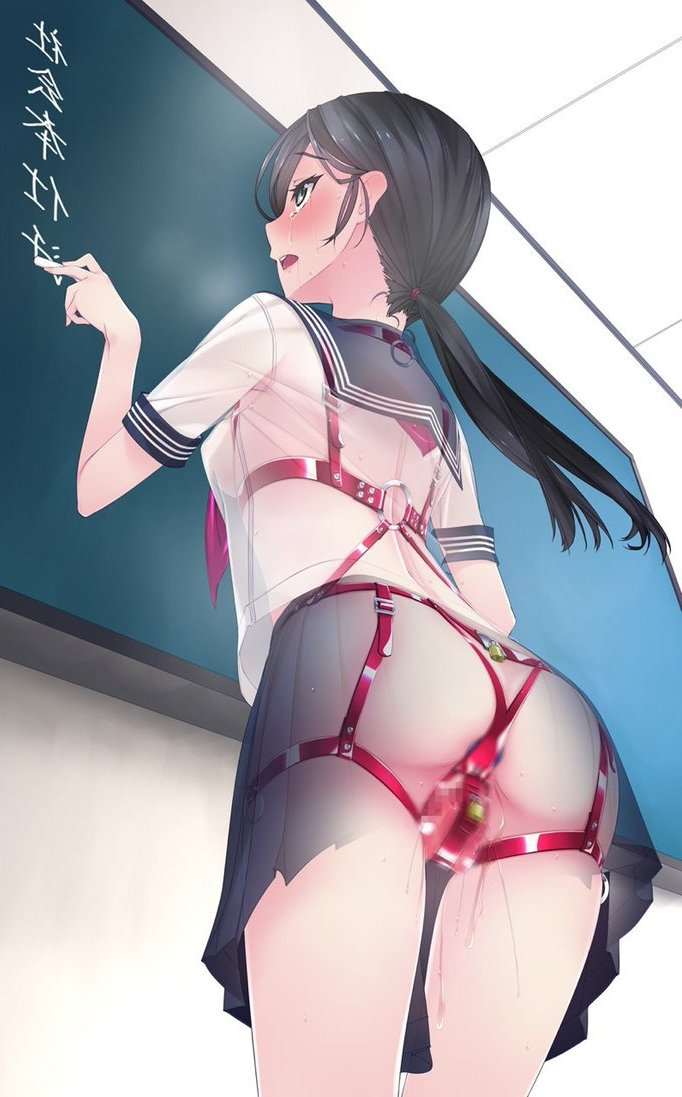 Wireless vibrator and schoolgirl bondage hentai.
Claire's boyfriend decided to play a game with her. When she was sleeping he carefully stripped her and locked the harness onto her with a wireless vibrator in her pussy and one in her ass. He was turning them on and off all day. Of course he was in the same class, so when the instructor asked her up to the board to write the answer to a question on it, he couldn't resist. He turned the vibrators on max and sat back and watched, as she desperatly tried to keep her compsosure as she had the post intense orgasm of her life (right in front of her homroom pass.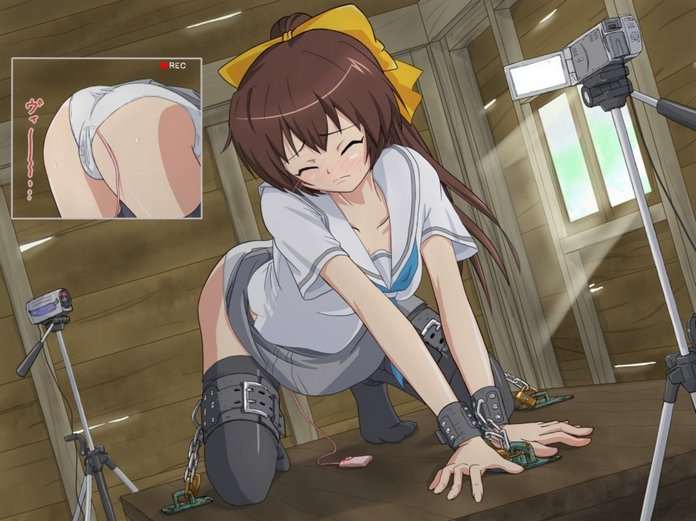 Stream with vibrator
Kristy had thought Tom was her friend, so when he asked her if she wanted to get some coffee she gladly accepted. She did not expect to get chlorophormed on the drive home, or to come to in his tool shed, in this predicament. 'Just last three hours without cumming and i'll let you out' Tom had said. 'But if you do cum, I'm uploading this video to your facebook account.' Kristy had already lasted two and a half hours, and was fighting desperately not to cum, but she broke as the orgasm hit her hard, 'please, please dont't' she begged, barely coming down from her climax, but Tom just smiled as he hit the post button, leaving her where she was with the vibrator still on. 'I'll let you out when the post has 250 likes' he said, laughing as he left.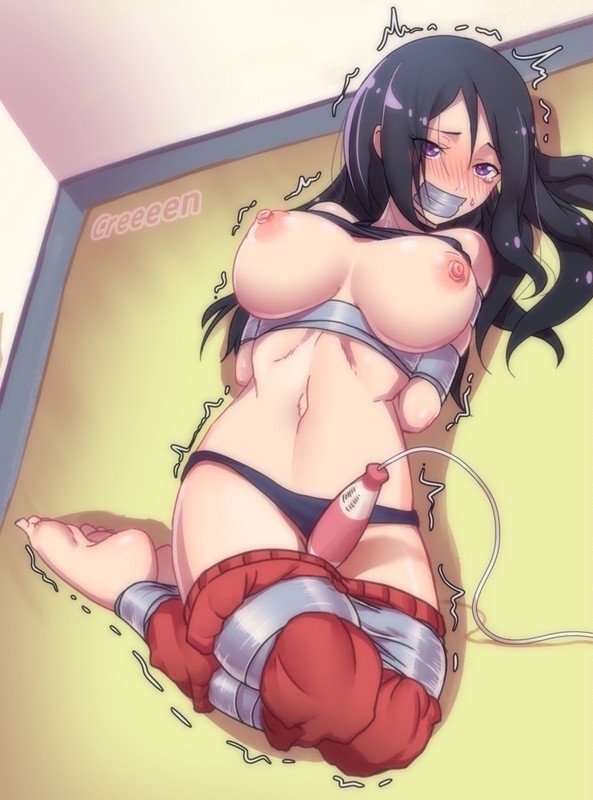 Hentai girl in bondage
I canít believe Iím doing this... and yet... I also canít believe it took me this long.
I tried to be a good succubus. I really did. I tried to be a good girl and fit in with polite society. I lived up in the mountains. I did all of my commuting in the dead of night and at the crack of dawn. I wore nothing but the frumpiest clothes I could find. Whatever I could do to keep my lewd body from driving men crazy with lust.
And it was hell. It was a decade of pure hell. Living every moment trying to pretend to be something Iím not. Something I can never be. Because what I really am is indecent and crass and disgraceful. But I did it. Almost ten years of keeping it all in. No sex. No romance. No physical contact at all. And almost no friends.
I thought becoming friends with Takahashi would fix that. It didn't. It made it even worse.
Now that thereís a man I really, truly wont, it's like that whole decade of repressed lust is bubbling up inside me, trying to force it's way out by any means necessary. I can hear the succubus inside me, and sheís screaming like a whore. Itís a struggle to put my clothes on every morning. Itís a nightmare trying to keep them on when I look at him. When I see his tall, manly body with those big strong arms, my body gets so hot that I keep wishing the heat would melt my clothes off, so I can fall naked into his arms and never leave them.
I want him. I want him in me. I want him on me. I want him all over me. I want to throw all that caution away and let him go completely crazy and wild on my soft, helpless body. I want to really know what it's like to drive a man wild, to make him give in to all of his urges, unable to control himself because he wants me that badly.
And I canít wait anymore. I want it NOW.
Hikari helped. Because of course she did. She got the video camera. Watched me get my tits out. Filmed me moaning on my hands and knees about what a dirty little whore I am. How much I want Takahashiís thick cock inside me. I confessed to everything. My whole disgraceful plan. Then she got out the duct tape. Tied me up. Gagged me. Left me helpless on the floor. And then, with that mischievous glint in her eyes, she grabbed a vibrator, which wasnít even part of the plan, and shoved it between my bound thighs. Then she left the room, camera still on, and locked it, ensuring the next person to see me would be Takahashi, when she lured him in.
And now... now he's here. And heís finally looking at me the way Iíve always wanted him to. Face red. Eyes wide. Pupils dilated. Head empty. Takahashi may be strong... but seeing me like this... there isnít a man on earth who can resist me if he wants any woman at all. So... here we are. At long last. Looking each other eye to eye. Each of us completely helpless to resist the other. I'm so happy that I canít hold back my tears.
Iíve done everything I can to protect him. The camera will prove I did this on purpose. No matter what he does to me, there wonít be a jury on Earth who will convict him. If anything... they'll convict *me*. This is my responsibility. My choice. And now I just need to wait and see what he does with it.
I donít even know when heíll finally come to his senses. Maybe weíll do it for hours. Maybe weíll do it for *days*. Or maybe he'll stuff me into a bag, still bound and gagged, and sneak me out of the school late at night. Take me home with him. Make me his slutty little naked plaything for the rest of our horny lives.
I don't mind. I don't care. He can do whatever he wants. Iím his now. And I never want to be anyone elseís.
Least of all mine.