Bound in the car | gag, vinyl | illustrated bondage stories
free porn sex stories
illustrated bondage stories list
Emily knew it was useless but she had to try anyway.
"Keep screaming, darling," the ravenhaired woman beside her cooed in her ear. "Even without that fat ball-gag in your mouth these windows are soundproof."
The blonde, bound hand and foot with tight white rope, whined as she shook her head defiantly— all these vehicles passing them on the Antelope Valley Freeway had no idea that Diana Knight was kidnapping her.
Yes, Mat Diana Knight, who had been nominated for an Oscar for Midnight Mercies and who was now appearing at the Ahmanson as Sally Bowles in a revival of Cabaret. Emily had been her understudy—until Diana trapped her in a twisted perversion of All About Eve.
"Too fucking old to play Sally, am I?" Diana continued to purr into Emily's ear, her arm wrapped around the mewling, squirming ingenue whose Sapphic tryst with the film star had begun with a kinky flavor but had taken a terrifying turn. "You'll never have a chance to put on the black wig and take my place, you little slut!"
Diana had sensed Emily's ambition, which culminated with the blonde's sly but craven attempts to seduce the brunette whose predilection for hot, buxom young things was hardly a secret in the libertine film colony.
Still, Diana had played coy, finally giving Emily the high sign to come to her Bel Air estate alone, just their little secret, late last night.
They drank, flirted, then played vinyl dress-up in Diana's sensuous bedroom with Emily, already sporting black pantyhose and skyscraper heels, modeling for Diana a black-and-red waist cincher that bared her luscious bosom, which Diana had nuzzled until the sedative she had slipped into Emily's chardonnay took effect.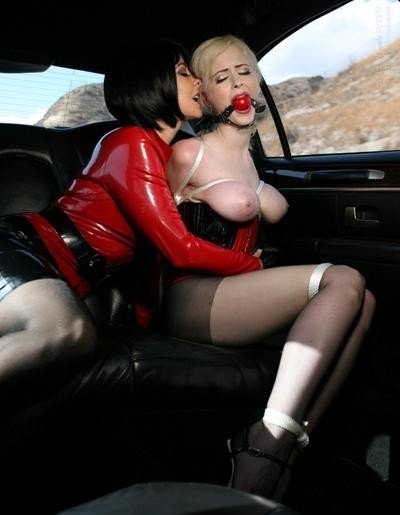 Emily awoke with her arms and legs already bound securely; Diana had added the ball-gag just before Pavel, Diana's burly chauffeur, carried the now-squealing and -struggling blonde to the Lincoln town car for the drive to Palmdale.
"Jesus, I hate coming out to this fucking desert!" Diana exhaled dramatically, her own form-fitting vinyl outfit of red, long-sleeved blouse and black miniskirt squeaking as she fell back to her side of the rear seat; then she pulled Emily into her lap before going on. "But Pavel's brother does do good work," she mused as she stroked Emily's hair. "Your little Honda or whatever is probably already being vandalized in Monterey Park or wherever they're making it look like you disappeared last night."
Then Emily whinnied as the leggy brunette squeezed her full bottom. "Don't worry, darling—I plan to have my fill of you before they ship you off to wherever. The only talent you have is finding ways to show off your tits—but don't think I hadn't noticed! You'd never make it as an actress, but you might get famous as the next Black Dahlia."
The quest for fame—ain't it a bitch?