Naughty Stacy | white bra, corset, rope bondage | illustrated bondage stories
free porn sex stories
illustrated bondage stories list
The knock on the hotel door freaked us out—we'd just finished smoking a tasty joint on the balcony—but I let in Aunt Stacy anyway.
"So, here's where you handsome young men got—naughty boys!" the blonde giggled. "Setting high without me—for shame!"
Before me and my two new cousins-in-law, Jerry and Terry, came up to my room to get high, we were down at the noisy reception where the champagne didn't seem to end. Aunt Stacy had been downing her share and flirting with any guy she could find. Now she'd found us.
"Wow!" she coughed as we went out on the balcony to burn another one. "This is really good shit!"
Jerry and Terry were totally cheeking her out—she was hot for an older woman, pretty and petite with lots of curves.
"Sod! It's so hot in here!" she exclaimed when we came back inside. Then we gaped as she pulled off her fancy dress. "You guys don't mind if I get comfortable, do you?" she asked.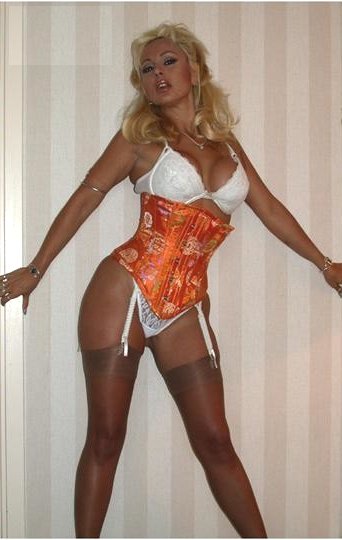 Dumbly, we shook our heads as we stared at the buzzed babe in her white bra and thong, tan stockings, and the orange thing around her waist that made her body look like an hourglass.
Then Jerry's eyes lit up like a horny toad. "Who's the naughty one now. Aunt Stacy?" he busted on her.
"You gonna punish me?" she challenged him. "Do I need a good spanking?"
"You need more than that," he grinned. "Hold her here—I'l be right back!"
Terry took him literally—he grabbed one of her wrists. Sheepishly, I held the other one as Aunt Stacy giggled and pretended to struggle. But even though she was my mom's sister, I was getting hard staring at her big boobs.
Jerry came back with some rope and an orange bandana. After he tied her hands behind her. Aunt Stacy got really horny—we took turns Frenching her and feeling her up before Jerry gagged her with the bandana.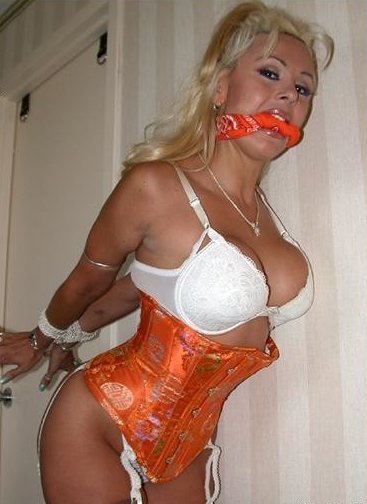 "Unngh! Unngh! Umrnmm!"she moaned as Jerry spanked her sexy little ass. "Ohhh, yethh! Ahm tho fuck-ee haht!"
That really fired up Jerry. Pulling out more rope from wherever he got it, he got inspired, pushing her against the bathroom door and tying her to it standing up, with one foot lifted and tied to the knob—after he'd ripped off her bra and squeezed her tits.
Seeing her strung up like that, I kind of freaked out, but Jerry pulled me to the side. "Dude, she came up here fuckin' beggin' for it! And she's a freaky MILF—she dared us to punish her ass! Don't be a fuckin' pussy, bro!"
Speaking of pussy, I could smell Aunt Stacy's as she moaned and writhed against the door, her bound hands twisting above her head, her sexy leg trembling as she stood on one high heel. Unbuckling my suit trousers, I pushed past Jerry and pressed up against Aunt Stacy. Blood ties first.