Harness ball-gagged - illustrated self bondage story
free porn stories
illustrated selfbondage stories list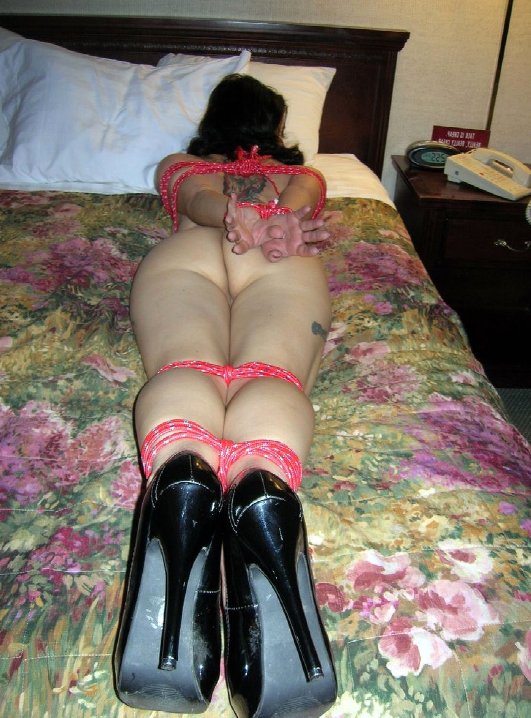 Susan just layed there...that was all she could do.
All day her thoughts were focused on self-bondage. She couldn't wait to get to the motel and try out the new roll of bungee rope she bought online. A big spool of 500'.
After work, she loaded up the spool, some of her self bondage toys, and headed off to the cabin by the lake. She loved the lake. It was a family-run motel with a few cabins. Very quiet and very seculded. In fact, each cabin was out of site from the next. It had the comforts of home, but the seclusion of a private retreat.
She ran into the cabin. Well, as fast as anyone could run while in 6" high heels. Locking the door, she stripped everything off except for her heels and got the box and some scissors. She carefully opened it up and there was a roll of bright red rope. Quickly, she started unrolling about 10' and cut it. She wrapped it around her ankles and pulled it as she went. When she reached the end she tied it in a double knot. She sat up and admired how it looked. It was very snug around her slender ankles. And it had a constant feeling that it was getting tighter. She just chaulked it up to being 'new' to her.
More pieces were cut. Another long piece for her knees, another for around her waist and yet another really long piece for when she slid that over her upper body. And finally, another coil for her wrists. She pre-tied the one that went around her upper body. It was less than two feet in diameter. She tested it by sliding it down over her upper shoulders. It barely slid over them so she felt she had gotten it just right. She attached the pre-tied wrist coil to the back of the rope that went around her waist. The pressure of the elastic made it feel like she was wearing a tightly knotched belt. The pressure was constant.
She checked her time. It was about 7pm. Plenty of time for some sensual struggling, then a nice glass of wine and a sunset to die for. She checked her work. Ankles and knees were firmly tied together, check. Some going around her waist with some for her wrists tied in back, check. Her panel gag with the ball insert was securely in place. She made sure her hair was pulled out so that it didn't catch on the buckles. She got the pre-tied shoulder coil and slid that down over her upper body. It felt a lot tighter than she remembered tying it. It rolled down her body and she managed to slide half the windings over her breasts so it was split above and below them.
The pressure was incredible. Like she was being squeezed. She reached behind and found the wrist coils. She had a tough time getting her wrists into them but with a final push and a spreading of her fingers, her right hand popped into it. The coil rolled down and settled around her wrist bones.
She just laid there for a few minutes...taking it all in. It felt so erotic. Tied securely from head to toe. She glanced over to her scissors that were beside her on the bed. Comforted to know they were there for when the time came to get free. But she soon realized that since the rope had an elastic core, it seemed as though everything was getting tighter and tighter. She struggled and quickly realized that the harder she tried to get free, the tighter her bonds started to feel. Panic started to set in as she tried pulling her wrists out of the rope only to find that they were hopelessly pulled tightly together. She was gagged so securely that she barely heard herself moaning in frustration. The sunset came and went...so did the hours.
Rolling back and forth across the bed, there was no getting free. She reached for her scissors but they slid off the bed onto the floor. The first of many orgasms to come hit her hard. The knock at the door was inevitable.