Multi-layered rubber prison for Mavis slave - Made to Measure 14
Free bondage photo blog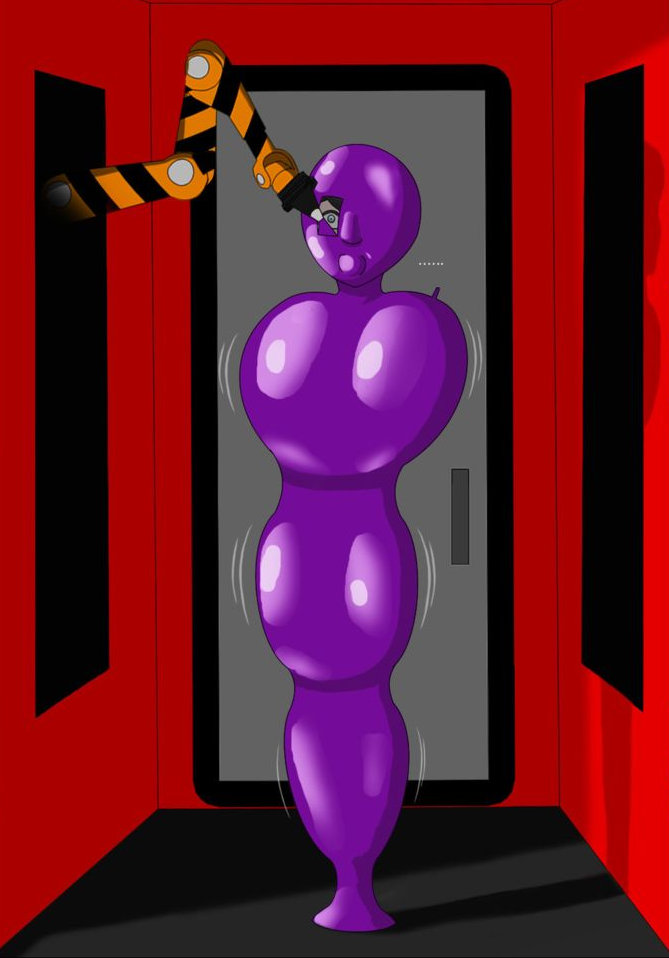 AN HOUR LATER...
MAVIS IS ALMOST FULLY COATED IN THICK RUBBER LAYERS. HER STRUGGLES ARE NOW BARELY VISIBLE.
ONLY FACE WAS LEFT EXPOSED.
HER EYES DESPERATELY LOOKS LEFT AND RIGHT...
THERE IS ONLY ONE ROBOTIC ARM LEFT NOW... IT'S ON STAND-BY. MAVIS DOESN'T UNDERSTAND WHY IT STOPPED. MAYBE IT'S OUT OF LATEX PAINT?
A PART OF HER IS RELIEVED BY THE IDEA. BUT AT THE SAME TIME. A PART OF HER WISHES THE THING WOULD FINISH SEALING HER AWAY.
THE RELIEF IS SHORT LIVED. AS A STATIC NOISE ANNOUNCES THAT THE EAR PLUGS ARE NOW ACTIVATED AGAIN.
GEORGE:
MMMM... NOW THAT IS MORE LIKE IT! HOW ARE YOU ENJOYING PHASE 2 SO FAR SLAVE?
I AM SURE THE PERVERT IN YOU MUST LOVE IT. EVEN THOUGH. WHAT'S LEFT OF YOUR MIND MIGHT SAY OTHER WISE
MAVIS:
MMMMPHHHHH
GEORGE:
RIGHT. YOU STILL CAN MOAN. WELL... I GUESS IT'S TIME TO FINISH YOU UP AND SILENCE THAT PRETTY MOUTH OF YOUR FOR GOOD
THE ROBOTIC ARM STARTS MOVING AND RESUMES COATING WHAT LITTLE SURFACE IS LEFT.
IT START WITH THE MOUTH AREA.
MAVIS:
MMMMMMMMMMMMMMMMPHHHHHHHHHH
THE FIRST LAYER IS APPLIED.
ALREADY MUFFING THAT LITTLE NOISE SHE COULD MAKE.
MAVIS:
MMMMM....
I GEORGE:
ANY LAST WORDS SLAVE? NOW WOULD BE THE TIME
THE SECOND LAYER IS APPUED.
MAVIS:
M
'
GEORGE:
0OPS- GUESS NOT!
MAVIS IS NOW COMPLETELY SILENCED.
STILL. THE MACHINE APPLIES THE THIRD AND FINAL LAYER ON THE MOUTH AREA.
MAVIS:
*...*
THE ONLY SOUND SHE COULD PRODUCE NOW ARE THE FAINT SQUEAKS FROM HER STRUGGLE AGAINST THE MULTI-LAYERED RUBBER PRISON.
GEORGE.
MUCH BETTER. YOU ARE NOW ONE STEP CLOSER TO YOUR NEW LIFE SLAVE BUT I AM AFRAID THAT IS THE TIME TO COMPLETE YOUR ISOLATION I WILL NOW TAKE YOUR SIGHT AWAY FROM YOU... PERMANENTLY!
MAVIS HAS HER EYES WIDE OPEN. GEORGE SEES SO MANY EMOTIONS IN THEM.
FEAR. PANIC. A PLEA FOR MERCY. BUT ALL IT DID IS MAKE GEORGE'S COCK HARD.
HE GRINS HAS HE PUSHES THE BUTTON AND THE RUBBER COATING RESUMES.
THE FIRST EYE IS COATED. ONE LAYER. TWO LAYERS. THREE LAYERS.
ONLY HER RIGHT EYE REMAINED. MAVIS SCREAMS. BEGGING GEORGE TO AT LEAST LEAVE HER WITH HER SIGHT.
BUT THE ONLY SOUND GEORGE CAN HEAR ARE THE SQUEAKS OF OF HER PATHETIC STRUGGLES.
MAVIS LOOKS AT THE MIRROR. AND WATCHES IN HORROR AND A BIT OF EXCITEMENT OF WHAT SHE HAS BECOME.
THE MACHINE FINALLY COATS HER REMAINING EYE. ONE LAYER. TWO LAYERS. THREE LAYERS.
MAVIS:
*...*
HER SCREAMS REMAIN UNHEARD. SHE IS NOW IN TOTAL ISOLATION. UNABLE TO SEE. HEAR. OR EVEN MOAN.
GEORGE:
WELCOME TO YOUR NEW WORLD SLAVE. THIS IS WHAT IT WILL LOOK LIKE FOR THE REST OF YOUR LIFE. WHICH IS TO SAY. CONSIDERING THAT YOU ARE AN IMMORTAL... FOREVER
MAVIS:
*...*
GEORGE:
I WILL NOW USE MY RUBBER SEX DOLL A BIT WHILE YOU ADJUST TO YOUR NEW CONDITION.
ENJOY IT WHILE YOU CAN... AS WE STILL HAVE PHASE 3 TO COVER SLAVE.
A STATIC NOISE INDICATE THAT THE EARPHONES WERE ONCE AGAIN TURNED OFF.
THERE IS ONLY SILENCE NOW. MAVIS FREAKS OUT... TRIES TO STRUGGLE ALL SHE CAN... BUT IT S USELESS.
WITHOUT ANY SIGHT OR SOUND. TIME STOOD STILL. SECONDS TURNED TO MINUTES... MINUTES TURNED INTO HOURS.
mavis
rubber
bondage bag
gagged
posture collar
hood
prison
Similar bondage
Final bondage phase for Mavis - Made to Measure 21
Bondage orgasm for Mavis - Made to Measure 20
Electro stimulation program for Mavis - Made to Measure 19
Isolated slave Mavis - Made to Measure 18
Personal isolation pain slave - - Made to Measure 17
Encasement isolation slave Mavis - Made to Measure 16
Rubber prison for Mavis slave final phase - Made to Measure 15