Electro stimulation program for Mavis - Made to Measure 19
Free bondage photo blog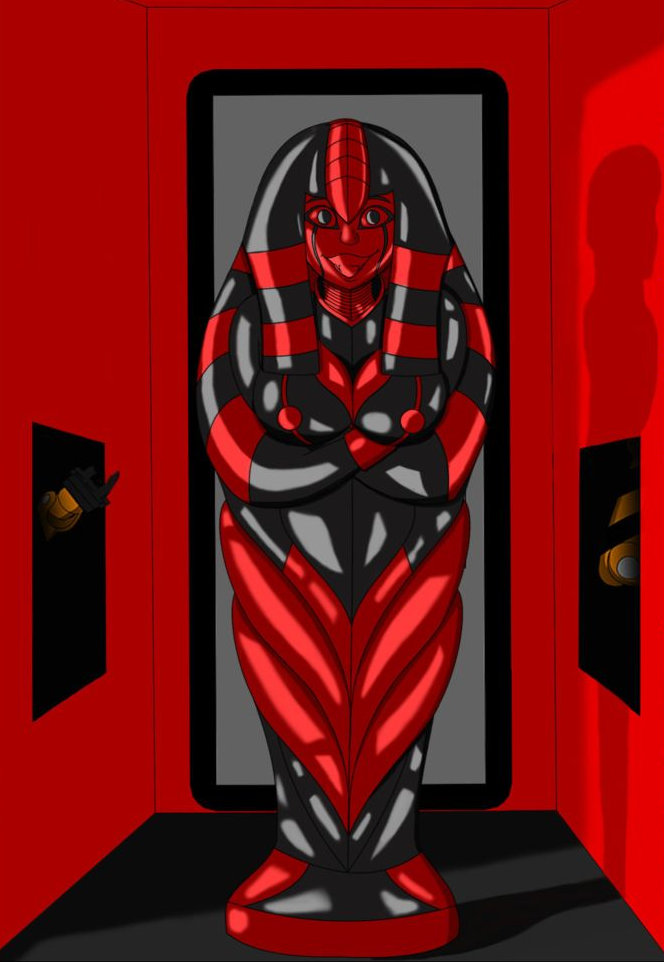 THE ARMS PLACE THE FINAL PIECE ON TOP OF THE MASK. IT LOCKS ITSELF IN PERFECTLY. HER SARCOPHAGUS IS NOW COMPLETE!
ON THE OTHER SIDE OF THE MIRROR. GEORGE GRINS AS HE WATCHES IN DELIGHT MAVIS ASSUMING HER FINAL FORM.
THE RUBBER DOLL SITTING ON HIS LAP. GRUNTS IN ANGER... OBVIOUSLY EXTREMELY UPSET AT MAVIS FOR MAKING SUCH A SELFISH DECISION.
INSIDE THE SARCOPHAGUS THE SELF*PERMA*LOCK SYSTEMS ARE BOOTING UP. MAVIS CAN SENSE A SLIGHT INCREASE OF TEMPERATURE ALL AROUND HER.
EVIL COMPUTER MAVIS:
CAN YOU FEEL IT? THE HEAT COMING FROM THE MOLTEN METAL BEING RELEASED FROM THEIR VIALS MMMMMMMMM YOU KNOW WHAT THIS MEANS. DON'T YOU SLAVE? IN A FEW SECOND THE METAL WILL COOL AND SOLIDIFY. JOINING EVERY PART OF YOUR SARCOPHAGUS INTO ONE SINGLE PIECE... THIS IS IT! YOU WILL NEVER SEE THE LIGHT OF DAY AGAIN! AHAHAHAHAH!
MAVIS IS EXTREMELY TURNED ON BY THE SOUND OF HER OWN VOICE DESCRIBING HER VERY PERMANENT FATE... AND HUMILIATING HER IN THE PROCESS! THE ROBOTIC ARMS. HAVING FINISHED THEIR DUTIES. GO BACK TO THE DARKNESS... AS THE WALLS CLOSE DOWN ON THEM.
GEORGE PAUSES THE EVIL MAVIS PROGRAM TO GIVE HIS PRISONER A FINAL MESSAGE.
GEORGE.
YESSSS SLAVE! YOU CHOSE WELL! I KNEW YOU WOULDN'T DISAPPOINT ME YOU ARE ENJOYING EVERY SECOND OF THIS DON'T YOU? THE IMMOBILITY. THE ISOLATION. THE SUIT INVADING YOUR PARTS! STIMULATING YOU! YOU THINK YOU'RE IN HEAVEN. DON'T YOU? WELL... TRUST ME! YOU WILL SOON COME TO REGRET YOUR DECISION! REMEMBER SLAVE. I WANT SOMEONE TO SUFFER FOR MY ENJOYMENT. SUFFER! NOT ENJOY ITSELF! YOU MAY THINK OF THIS STIMULATION HAS A BLESSING? AHAHAHA! YOU ARE VERY MISTAKEN!
MAVIS DOESN'T UNDERSTAND WHAT HER MASTER IS SAYING. NOR DOES SHE CARE... THE EVERY INCREASING ELECTRO STIMULATION BROUGHT HER TO HIGHER HEAVENS! PERHAPS GEORGE HAD UNDERESTIMATED HER APPETITE FOR THIS!
GEORGE:
IN ANY CASE. THIS IS THE LAST TIME YOU WILL HEAR MY VOICE SLAVE. YOUR ISOLATION BEGINS NOW THE COMPUTER PROGRAM WILL TAKE OVER FROM HERE I THINK YOU GOT A SHORT SAMPLE OF HER EARLIER. I HAVE CONFIGURED HER BASED YOUR PSYCHOLOGICAL PROFILE AND DREAMS. SHE WILL EXPLAIN WHAT WILL BE YOUR ROUTINE FROM NOW IT. REST ASSURED. SHE WILL MAKE YOU REGRET YOUR DECISION IMMENSELY. AND IT PLEASES ME TO KNOW THIS.
GEORGE SMILES. FROM THE OUTSIDE. THERE IS NO SIGN OF MAVIS BEING ALIVE. ALL WE SEE HIS HER STUPID SMILING FACE IN CONSTANT APPROVAL.
INSIDE MAVIS JUST DROWN IN PLEASURE AS SHE LISTENS TO HER MASTER'S FINAL WORDS...
GEORGE:
THIS IS GOODBYE SLAVE! KNOW THAT EACH SILENT SCREAM OF YOUR LIVING HELL WILL MAKE ME HARD!
A BUZZ AND THE COMS ARE FINALLY SHUT DOWN.
FOR A WHILE MAVIS CAN HEAR NOTHING BUT HER OWN HEART BEAT!
THE TOTAL ISOLATION IS A BIT SCARY... BUT FOR THE MOST PART... IT IS EXACTLY WHAT SHE WANTED!
THE ELECTRO STIMULATION KEEPS INCREASING RELENTLESSLY.
IT SEEMS THAT THE PROGRAM CAN DETECT HER PLEASURE LEVELS. AND NOW... ITS WORKING ITS WAY ON THE MOST POWERFUL ORGASM MAVIS WILL HAVE!
SHE CAN BARELY CONTROL HER BREATHING. STILL THE PROGRAM DOESN'T STOP... ITS GOING FOR IT! HER EYE ROLL BACK AS SHE IS ABOUT TO CU....
MAVIS INSIDE SARCOPHAGUS):
GYYYYYYYYYYYYYYYAAAAAAAAAAAAAAAAAAAAAAA!
JUST AS SHE IS ABOUT TO CUM. AN EXTREMELY INTENSE ELECTROSHOCK OCCURS IN BOTH HOLES. CAUSING HER INTENSE PAIN AND OENYING HER OF THE LONG AWAITED PERFECT ORGASM!
EVIL COMPUTER MAVIS:
MMMMMMMMMMMMM YOU DIDN'T FORGET ABOUT ME DID YOU? DID YOU REALLY THINK THAT I WAS GOING TO LET YOU CUM? SILLY SILLY GIRL! HAVE YOU FORGOTTEN? YOU AGREED TO BE MASTER'S ULTIMATE ISOLATED PAIN SLAVE. OHHHH... DON'T TELL ME YOU DIDN'T KNOW
MAVIS IS FINALLY SNAPPING BACK TO REALITY. THIS MAY HAVE BEEN APPEALING IN HER DREAMS... BUT THIS IS REALLY TERRIBLE! MAVIS TRIES TO SCREAM... BEGGING FOR GEORGE TO LET HER OUT.
mavis: outside sarcophagus
...
NOTHING.
EVIL COMPUTER MAVIS:
AHAHAHAHAH! ARE YOU TRYING TO SCREAM FOR HELP? THE MASTER CAN T HEAR YOU NOW! IT JUST YOU AND ME!
THE SOFT ELECTRO STIMULATION PROGRAM STARTS AGAIN. SLOWLY AROUSING HER!
EVIL COMPUTER MAVIS:
THIS ALL YOU CAN EXPECT FROM NOW ON! AN ENDLESS CYCLE OF PLEASURE AND PAIN...
NEVER ALLOWED SEXUAL RELEASE... FOREVER TRAPPED IN ISOLATION AND SEXUAL FRUSTRATION! YOU WILL NEVER BE ALLOWED TO REST... LET ALONE SLEEP! AREN'T YOU HAPPY YOU SIGNED FOR THIS IN YOUR OWN FREEWILL?
MAVIS TRIES TO DENY IT... BUT THE STIMULATION QUICKLY BRINGS HER CLOSER TO AN OTHER ORGASM...
EVIL COMPUTER MAVIS:
ALREADY? ARE YOU SERIOUS!!! AHAHAHAHAHAH! YOU ARE SO PATHETIC! REALLY IT'S SAD! SERIOUS!
THE EVIL MAVIS TRASH TALKING DOWN TO HER ONLY MAKES MAVIS MORE AROUSED!
mavis
rubber
bondage bag
gagged
posture collar
hood
prison
Similar bondage
Final bondage phase for Mavis - Made to Measure 21
Bondage orgasm for Mavis - Made to Measure 20
Isolated slave Mavis - Made to Measure 18
Personal isolation pain slave - - Made to Measure 17
Encasement isolation slave Mavis - Made to Measure 16
Rubber prison for Mavis slave final phase - Made to Measure 15
Multi-layered rubber prison for Mavis slave - Made to Measure 14