Ice and BDSM, Temperature Play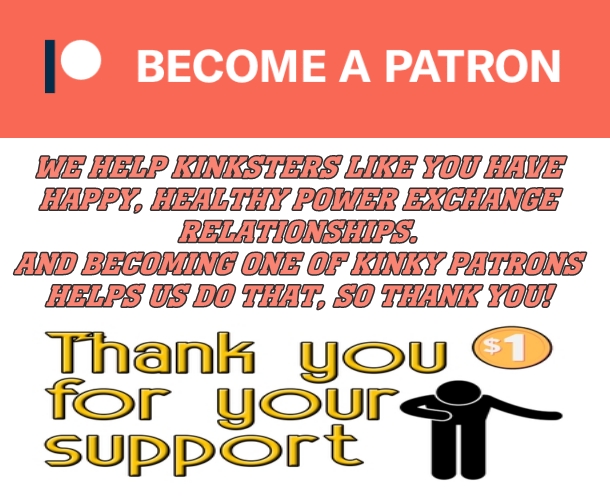 articles and tutorials
Theory and practice of BDSM
Pain, punishment and torment in BDSM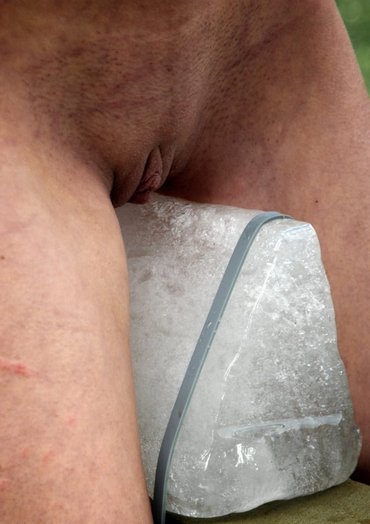 Temperature Play

Thus far we've covered role-play, fetishes, flagellation, spanking, humiliation, dirty talk, and more ... and that's just the tip of the iceberg. (Pun intended because we're about to talk about temperature play!)
Temperature play is an umbrella term for a bunch of BDSM activities that range from ice play to hot wax to fire play and even a little sado-botany with stinging nettles, hence this will be the longest chapter herein. We'll only briefly mention fire play toward the end of the book; this is where I'll discuss different forms of "edge play" (i.e., risky BDSM behaviors that this author wouldn't recommend—especially if you don't have health insurance or years of training as an EMT or doctor). However, there are some forms of temperature play that are a great way to "break the ice" when new to BDSM.
Ice (It's hawt!)
Ice does many things. It keeps our cocktails cold and, until it's entirely melted in the Arctic, it preserves our ecosystem and prevents the apocalypse thus furthering the expansion of the BDSM scene. Until that sad day when all the world's ice melts, we should try to appreciate it as much as we can (both the world and ice).
I first came to carnally appreciate ice accidentally. It was approximately 1991, well over 90 degrees, and my very first real lover and I had just destroyed my box fan during a spastic moment of overheated eroticism. Because I had no air conditioner, I ran to the freezer (where I frequently stuck my head at the time) and grabbed a cup full of ice, which I brought into the boudoir. Having never seen Nine and V Weeks, I had no real erotic intentions or idea of what to do with the ice, but pretty soon my lover and I were rubbing ice cubes all over each other. It started to melt quickly, as you could have fried eggs on both of our asses, and when I noticed he was popping wood, a little light bulb went off in my perverted head. Being inventive, I took an ice cube and inserted it into my vajayjay. Then my lover began to fuck me. The hot/cold/hot/cold effect made him crazy. That whole summer, ice cubes became a big part of our "too broke for air conditioning" fun. Some people go to cold movie theaters when they don't have AC, but I can't begin to recommend this enough. Just make sure the ice isn't filthy. Urinary tract infections and bacterial vaginosis are never fun. (Of course, anytime you put anything in your vag, you run the risk of infection, so make sure whatever goes in there is clean as an Irish spring.)
Painful, cumbersome vaginal infections aside, what else can you do with ice? If you are Zan, the Wonder Twin, you can transform into it! We are not all so lucky, but there is so much more... .
Stuff to Do with Ice that Doesn't Involve Cocktails
1. Ladies—Have your fella or your girlfriend place a cube in their mouth and go down on you.
2. Use ice postsex during a massage, slowly running it up and down your partner's back.
3. Rub a cube between your teats and then guide your partner's member up and down the "cleavage slip and slide" you have created.
4. Just rub 'em up and down all over each other's bodies, as described earlier.
5. If one partner is blindfolded, you can alternate between pouring hot wax and trailing ice over his or her skin. (This is kind of an "advanced" exercise and should only be attempted with a familiar partner.) To get the same effect without a candle, you could heat up a towel and alternate caresses given between the hot towel and an ice cube.
6. Kiss each other while you exchange the ice cube. Play around with it, outlining each other's lips and face with it. As the ice cube gets smaller, search for it in your partner's mouth with your tongue.
7. Place a cube in your mouth as you run your tongue up and down your partner's manhood. (Not for the faint of heart or for cold winter nights where your landlord has turned off the heat.)
8. Reenact the scene from Showgirls where scummy director "Tony" humiliates Nomi by asking her to put ice on her nipples to make them hard.
For example ...

Once again, I will hearken back to the days of yore when I was doing sessions with Annie. We had a particularly inventive client who liked to invent "games."
He handed Annie and I two heavy, hardcover encyclopedia-size books down from the bookshelf. He then instructed us to balance the books on our heads with our hands at our sides. Whoever dropped the book first would be the recipient of torture. Annie and I placed the books on our heads and tried to stand perfectly still, as he twisted our nipples and spanked our bottoms. Finally, Annie flinched, and her book came tumbling down. I beamed with joy since Annie had won every challenge in our last session with this client.
The client then told me to get a cup of ice from the kitchen.
"What should we do with the ice?" he asked me.
"We should put it inside of her."
Annie looked horrified, but in my delusional mind, I thought she might enjoy it, remembering the hot/cold/hot/cold fucking I'd had with my first boyfriend. However, that ice play had been in the summer, and this was mid-March. While we were in a heated room, the very idea of ice coming into contact with her pussy made Annie cringe.
But a deal's a deal, and after I'd fetched a cup of ice, Annie took an ice cube, put it inside a condom and slowly began to insert it. By the time it disappeared inside her, she was covered in beads of sweat.
Not long after, Annie exacted her revenge. The client told us to stand up and face each other. When we did, he produced two large nipple clamps and affixed them to our right nipples. He then somehow produced a piece of yellow string, which he used to attach the nipple clamps to each other. On the ground between Annie and me, he placed a paper towel.
"We're going to have a tug-of-war!" he announced. "Whoever crosses this line will lose," he added, pointing to the paper towel.
This was going to be my comeuppance for the ice scenario since I loathe nipple torture and Annie clearly loved it. Plus, her breasts were twice the size of mine. As she began to pull, I feared my entire mammary gland would become detached from my body. I mouthed the word "bitch" to Annie, who smiled.
Finally, I said, "I surrender before I lose what little breasts I have." Stepping over the paper towel, I accepted defeat. It was like a perverse episode of Survivor.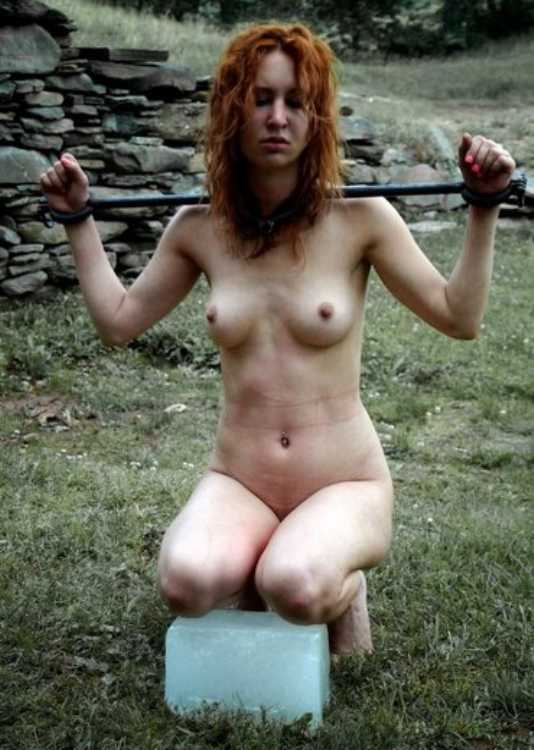 The client then told me to lie down on the leather bed. I did as instructed and he cuffed my wrists and ankles to the bed so I couldn't move. Meanwhile, Annie blindfolded me so I wouldn't know what was coming next. From this point on, I couldn't tell which hands were performing which act, the exception being when Annie stroked my hair and I recognized her gentle touch.
Nipple clamps were soon attached to my already sore nipples. I then felt a device called a Wartenberg Wheel trailing across my belly. The Wartenberg Wheel was originally designed by Dr. Robert Wartenberg to test nerve reactions, as it is rolled systematically across the skin. It has since been adopted by the BDSM community as a wacky toy used for sexual hijinks. The small wheel, which sits at the end of a short, usually stainless steel handle, features sharp, radiating pins that rotate around when rolled across the flesh. While not sharp enough to pierce the skin unless excessive force is used, they occasionally hurt like a motherfucker, especially when you're tied up and wearing heavy nipple clamps.
(Now onto the ice part ...)

But that was just the beginning. In case you're wondering what happened to the rest of the ice I'd procured, pretty soon a large ice cube, a mini-glacier of sorts, was thrust inside my pussy.
Is it possible to get frostbite on one's vagina? I panicked.
One set of hands then dumped the rest of the ice on my skin and trailed the various cubes up and down my body while the other set of hands lit a candle.
I know because I heard matches being lit and smelled the scent of sulfur and dripping candle wax. Seconds later, a torrent of hot wax poured onto my freezing skin.
The prickling wheel, the ice, the wax, and the nipple clamps sent me into a transcendental state wherein my etheric body said "fuck this" and began to climb out of my physical body. But then, a vibrator set at full speed was thrust against my clit, and I was forced out of my momentary transcendence, not by sexual arousal, but by a neurotic fear of electrocution, given the close proximity of the ice to the electrical vibrator.
Just as I became convinced that I was about to die one of the lamest deaths in history, the vibrator did the trick and I had a fan-fuckin-tastic orgasm.