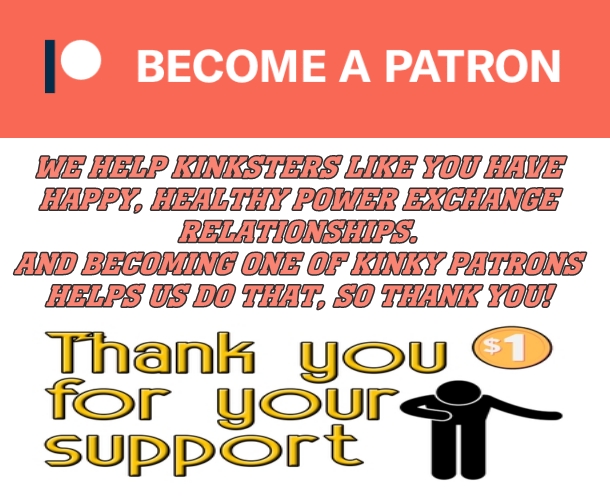 articles and tutorials
Theory and practice of BDSM
Spanking instruction, instruments and devices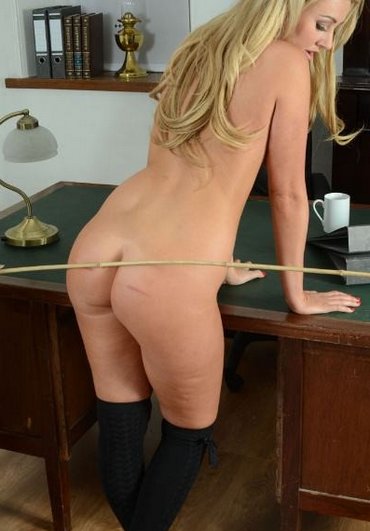 Since we're now speaking of budgetary restrictions, let's talk about spanking. It really is the "backbone" of BDSM—relatively simple to perform and, in these rough financial times, it's economical, too. The only tools required are a hand and an ass.
I say "relatively" simple because while "hard" and "soft" might seem like the only variances, there are many ways to spank your special someone.
Warning!

Though earlier I encouraged doing extra research on BDSM, I am now going to discourage you from researching spanking on the Internet where you will invariably happen upon creepy blogs penned by over-religious, zealot douche bags wherein they give instructions on spanking children and wives as a form of punishment. (This makes me shudder.) These blogs are gross and sad— gross for the obvious reasons and sad because the abused often become abusers themselves.
At the dungeon, the clients I considered the "heaviest" (the men I would deem actual sadists) had almost always suffered abuse during childhood. These were individuals who had been frequently spanked to a point of bruises and tears and then later eroticized the horrors of their childhood to deal with them. Luckily, they found an outlet at the dungeon for the things that haunted them the most.
This is where I see sex workers as being an invaluable part of the community. Not everyone can express this stuff to a doctor or psychiatrist. I am not a shrink, but I knew this stuff about my former clients because they would tell me. Maybe these clients didn't actually go to shrinks. Maybe they just came to me because, for about the same cost as a shrink, I got half naked, listened to them talk, and let them spank me.
Whatever the case, I cannot speak for all sadists, and this was not always the case, but I saw too many examples to count. One regular client of mine had, in his youth, been forced to watch his mother beat his little sister with a wooden hairbrush. The mother wouldn't stop until his sister cried. His solution? Pay me to wear a schoolgirl costume and spank me with a wooden hairbrush until I "cried." I feel like this man should have been able to sue his parents for all the money he spent at the dungeon trying to cope.
Sorry for the psychoanalytic digression, but I just want it to be extra crystal clear: The kind of spanking we are talking about in this chapter is NOT any form of domestic discipline. It has absolutely nothing to do with minors or with "teaching" your wife a "lesson." We are talking about erotic spanking, namely sensual, good times. (And if you did have a crap childhood, the possible side bonus of a cathartic, emotional release.)
So why, on an erotic level, would anybody want to spank anybody else?
There are many reasons. The first and most obvious is to repeatedly touch and caress the attractive ass of your lover. Secondly, being the "spanker" gives you a sense of control and power. Thirdly, knowing the "spankee" is getting aroused, that he is popping wood or that she is getting wet from your spanking, is beyond exciting. If you are both sexual BDSM partners, there is a very good chance the spanking will lead to smokin' sex. In fact, if you're a multi-tasker, you can continue the spanking during intercourse. It's not always just a warm-up exercise.
Now, why would anybody want to be the spankee?
We already covered endorphins (endor-fun!), but physical sensation is just half of it. Let's start with the physical: The ass is indeed an erogenous zone, but it's one that is usually covered in a layer of fat, which is why we're not all walking around having ass-gasms constantly. The ass requires a little something more— namely squeezing, spanking, and massaging. Is there anything better than an ass massage? I think not. The only bad thing about ass massages is that they generally don't last more than two minutes. So a spanking can feel amazing— the warmth of a hand caressing your ass, the expectation of when that hand is going to land on your ass, and the rush of pleasure and pain that ultimately comes from that hand spanking your ass. It can give you a high, almost like a "runner's high" without the misery of running.
But being the spankee has yet an even greater appeal factor: Attention! Getting spanked means getting a lot of attention, and who doesn't love attention? (Okay, some people, but certainly not this Leo author.) Feeling that one's ass is coveted and desired and that you are coveted and desired is thrilling. Knowing that the higher you thrust your bottom in the air, the more excited your partner gets, feels good.
If you are new to spanking, as the spanker or the spankee, there are some things you might want to consider. Check out the handy list of suggestions.
Things to Consider About Your Bootylicious Adventure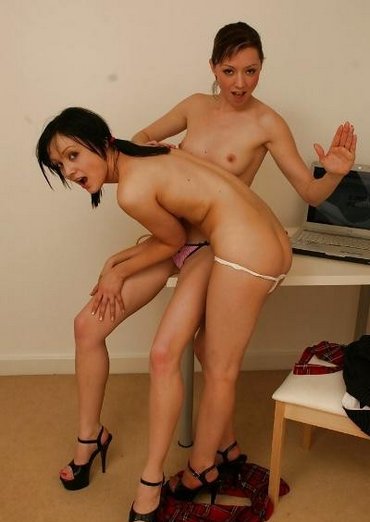 The Noise Factor. There is no silencer for a hand on an ass. Do you have roommates? Nosy neighbors? Married with screaming little bastards? Before you cover your walls in egg cartons for sound insulation, consider a few options:
First, make sure your shithead roommates aren't home, and if you've got kids, get a babysitter to watch your screaming little bastards and find a room! Secondly, get some music going. You will find a lot of "sex manuals" wherein they recommend specific playlists for fucking. Out of curiosity, I polled my three thousand Facebook friends on what exactly they like to make nookie to and you will find the hilarious, somewhat disturbing results at the end of this chapter.
However, I am not going to tell you what to fuck or spank to (Portishead gets old fast ...) but I will tell you this: Studies have shown that like sex, music we like makes dopamine go to the brain and do a sexy dance.
What the hell is dopamine? An alternative rock quartet from Caerphilly, Wales? Yes, but it is also a neurotransmitter and given it kind of has the word "dope" in it, you know it's gonna be good. Basically, dopamine modulates the brain's ability to perceive reward reinforcement. So, the pleasure sensation that the brain gets when dopamine levels are elevated creates the motivation for us to proactively perform actions that are indispensable to our species' survival (like fucking). Hence, when a person comes he or she is flooded with this awesome and meddlesome neurotransmitter and listening to music we dig releases just a tiny bit of it, kind of like a "tease."
Long story short, play music when you are spanking your partner and he or she will be sure to thrust his or her ass that much higher in the sky. It will also drown out the sound of hand on ass. What to play? Who cares! Presumably you are with your partner or lover because he or she have a similar taste in music as you do. Personally, I cannot get a clit boner if my partner doesn't appreciate Pink Floyd or Zeppelin the way I do. If I went home with a man and he put on Nickelback, I would go flaccid and question the very foundation of my existence.
But I do have one tiny suggestion: Get a record player. Nothing fancy, just some crappy thing you find at a flea market. Collecting old, weird records with your partner and knowing that you will both fuck or spank or masturbate to Tiny Tim's Christmas Album later is a bonding experience. So is "getting up" to "flip the record." Flipping the record practically predates putting on a condom as one of those awkward but necessary moves that, thanks to the ingenuity of the human race, allows us to experience a dopamine rush without the result of procreation.
Are your hands cold and clammy? There is only one thing worse than a limp handshake and that is cold, clammy hands spanking your ass! Make certain, if you are the spanker, that you warm up your hands before going to town on your sub's bottom.
Start slowly. Don't just lift your hand all the way in the air and bring it down with a thud. Take your time. For this chapter, I again consulted Mr. Hall, who loves to spank. He had this to say:
"As in all BDSM play, I start by establishing the 'Red, Yellow, Green' safe words method, though with spanking this is rarely needed." (Here I might disagree with Mr. Hall because, even though the ass is the fattest part of my body and I have the pain threshold of an X-Men mutant, I have had to use safe words while being spanked a number of times.)
"Mostly I can pick up on physical reactions to know when to slow down and when to wail on my happily weeping, willing, wanton woman," Mr. Hall added. "I've found the best position is me seated on the bed with my lover/sub either naked or with her pants pulled down, lying comfortably with ass positioned on the upper part of my right leg (not quite in the center of my lap). If she likes hair pulling, I'll grasp her hair with my left hand and give a few light spanks with my right hand, followed by some gentle rubbing. I repeat this a few times until I can see her near-begging for the 'real deal.'
This either occurs via physical cues like her lifting and wiggling her butt, or a snide remark such as, 'Is this a fucking massage or are you are you going to beat my ass already?' Then the fun really begins!
"With a tighter grasp on her hair, I'll deliver a few hard smacks on each cheek, check to see if she's responding well (a smile, once again, a wiggling butt), and if so I'll spank until her ass is red. Other than the aforementioned cues, how soft or hard is also dependent on how close I am to my partner and how long we've played. For example, if someone starts to pull away that could mean 'slow down' or it could mean 'pull my hair and spank me even harder for being a wimp.' "
Talk to your sub. Mr. Hall's last point is a good one. Playing with a familiar partner is much different than playing with a new one. As a Dom, always check in with your sub. You can do this by simply asking, "Do you want it harder?" Talk is important. Not just for setting boundaries, but for heating things up. Mr. Hall also suggested techniques such as, "You were forty minutes late and that means forty whacks on each cheek." You then have your sub count each one off. You can also whisper dirty things such as, "I know you love this, you dirty little pain slut. Stick that ass out and show me how much." And lastly (in the best of cases), "I love you so much and love that we love this." (whack, whack, whack!)
Incorporate Games. The sadist I mentioned earlier (schoolgirl getup, wooden hairbrush) loved to incorporate games into spanking. On one occasion, when Annie and I saw him on his birthday, he had us guess his age and for each year of his life we got one spanking, and for each year we were off we got two spankings. I remember thinking that he looked about 50. He was actually 51, so that made for a combined total of 53. Annie guessed 52, so she also got 53.
Change Positions. How to position your sub while spanking him or her is up to you. Many male Doms like the "over the lap" position because it means you are that much closer to their cock, which is presumably sporting a pants tent (if he is wearing pants at all). Personally, I always preferred standing up while getting spanked so that my partner could reach around and fondle my breasts.
Kneeling on the floor (assuming it's not a cold linoleum floor) or on a bed or ottoman, stooped over with the hands on the floor below are also options, as is a simple over-the-knee position.
For example...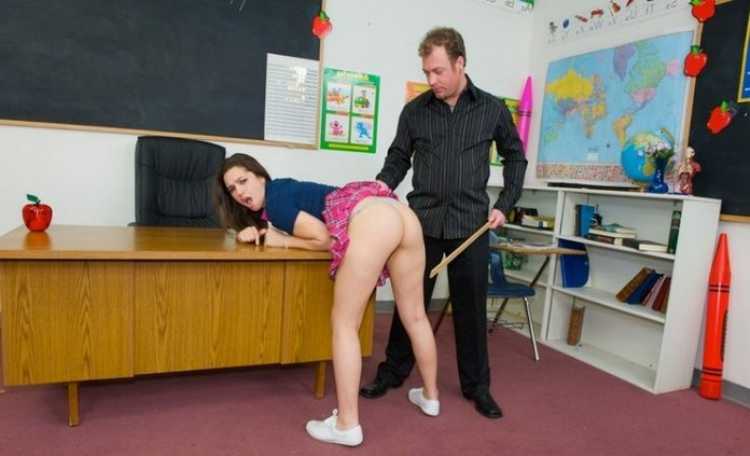 If you and your partner rent space in an actual dungeon or attend a party at a dungeon or sex club, you can get really creative with positions due to the wealth of equipment provided. At the dungeon, I was spanked numerous times while tied to a "medical" table with my feet in stirrups. Other times I was spanked while bent over a "horse" (a wooden inverted v-shaped sex toy that was originally used for torture). It was, while bent over one of these devices, that I had the "best session ever" mentioned earlier. My boss, the sex counselor/Dominatrix, gave me no other instructions but to bend over the horse and wait for the client. She also mentioned he wanted to spank me until I cried.
I remained bent over the horse as I heard the client close the door to the tiny room. His footsteps approached, but I remained perfectly still. He pressed gently against the wool fabric of my gray schoolgirl skirt and he moved his hands around, inspecting my "assets."
"You can stand up now," he said in the deep kind of voice that leaves not a dry vagina in the house. I stood up and turned to face him. To my surprise, his face was almost as lovely as his accent—high cheekbones, square jaw, black eyes, and brown hair that hung sloppily over his eyes. In contrast to his scruffy hair, his clothes were immaculate—a tailored navy suit and white shirt. But it was his black eyes that got me, the kind of eyes that don't reflect anything, so full of secrets they never sparkle.
"I am going to spank you," he said abruptly. "And, I want you to tell me when you are about to cry. It is very important that you be honest and that you really cry."
"Yes, Sir."
Moisture was already beginning to soak through my panties as he motioned for me to bend over the horse again. I bent over slowly, sticking my bottom out, inviting him, whereupon he began to spank me relentlessly. My ass stung and I closed my eyes, wondering if he could tell how wet I was. The spanking was unrelenting and he never slowed down. He didn't apologize. Didn't ask me if it was too hard. It was too hard, but for the first time ever, I wanted it harder. I stuck my ass out further, feeling as if I might die if he didn't rip my panties off and shove his cock into me. I couldn't see him, didn't dare turn around, but I knew he must be hard. He stood at a distance, didn't try to touch my pussy, didn't try to grab my breasts—all the usual stunts clients pulled.
I wanted to beg him, "Please fuck me. I can't take this," but I was afraid to make a sound. The room was completely quiet except for the sound of his hand spanking my ass. There was no role-play, no dialogue, nothing for me to say. I felt like I was on the brink of coming and he had barely touched me. Finally, I managed to stealthily reach my nimble fingers beneath my panties and sneakily polished my pearl.
"Are you going to come?" he asked. Guess I wasn't that sneaky.
"Yes," I gasped and did just that.
The spanking continued for about fifteen minutes when finally the pain became so intense that I thought I might cry. I was embarrassed to tell him, yet he instinctively knew.
"Are you going to cry?" he asked.
"Yes."
He leaned in order to watch me, but he continued spanking me as he did. I then did something that wasn't in the instructions, something submissives generally aren't supposed to do—I looked directly in his eyes. In that moment, all the secrets held in them fell away.
He reached out his finger and lightly touched my cheek for a millisecond, withdrawing it quickly as though he had just committed some horrible transgression. His breathing grew harder and in a few seconds, he came.
I was soaked, more turned on than I'd ever been in a session, and I think that says it all about the power of spanking. The mixed feelings of adoration and vulnerability one can experience as a spankee are overwhelming. And as the spanker, the feelings of power and control are intoxicating, especially when you have, in the past, been powerless or out of control.