The Hog Tie bondage technique for men
articles and tutorials
Femdom bondage tutorial, how to tie a man
Bondage positions list
If you have ever seen one of these "events" on TV, you, like me, have probably found them somewhat humorous. But a hog tie is a common fantasy, a very good way to keep him in one place, an even better way to put him in his place, and yes, you can even place your foot on his chest and throw both of your hands over your head in the classic signal when you are finished, if you so desire
Steps One and Two

Steps One and Two are the basic wrist tie and basic ankle tie. You know how to do this, it was fully explained and illustrated in The Art of Sensual Female Dominance, as well as earlier on this chapter, to refresh your memory. So tie up his wrists and ankles and proceed to . . .
Step Three

Now it is time for you to decide if you want to hog tie him face up or face down. Only the most slender and physically fit are limber enough to be tied face down, so you will probably want to tie him face up. Face up also has the additional benefit of exposing his genitals for your amusement. Maybe you would like to tie them up, too! Or flog them, or mash them with your foot, or use his dick like a gas pedal. Get him into position and proceed to...
Step Four

Now you need a third piece of rope. (Of course this can all be done with one piece of rope, but it is such a bother.) Use the same basic restraint that you used on his wrists and ankles, the "fold the rope in half to get a loop at the end" technique, and loop this rope around the tricks at his ankles and wrists. Now pull as hard as you can, using your foot against his butt to brace yourself as you tug hard, Hard, HARD! When his ankles and wrists are in suitable proximity to each other (only you can decide this; a thin person is more flexible and therefore his ankles and wrists are more likely to touch than those of his heavier counterparts). Illustration 24 shows you the finished rope trick.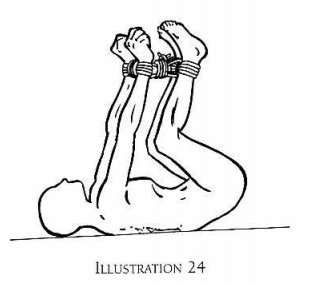 Step Five

Place your fool on his chest (or his genitals!) and throw your arms up in the air in the victory signal.