Mummification bondage technique for men
articles and tutorials
Femdom bondage tutorial, how to tie a man
Bondage positions list
This is one of my favorite aspects, especially film wrap alone, or in combination with duct tape for the more enthusiastic. Although I consider mummification to be something of a fetish, the true mummification enthusiast is more into the bondage, restriction, and deprivation aspects and their impact, rather than the fetishistic one, which comes in second. Mummification isolates the mummy from the world. When he wears a hood, or his head is included in the mummification, the isolation becomes complete. If I use a hood or include his head, I don't like to cover his eyes: I want him to see and appreciate the hard although pleasurable work I am doing on his behalf. I want him to behold his transformation step by step: each limb, each digit disappearing under the tight wrap, his body being contained, his gradual vanishing under the green, and ultimately he becomes a green statue. Some that are into objectification and humiliation are also into mummification because it can reduce the mummy to a subhuman state while in subspace. When cut out of the wrap, he will look like a caterpillar bursting out of its cocoon as a butterfly. He will also be dripping wet, and some water may have collected in the bottom of the wrap, so have plenty of towels around.
Up until now, most people have used film wap out of the kitchen for mummification, but that has become passe. Kitchen film wap is only about a foot wide and doesn't produce the necessary tightness, even after you hit it with the hair dryer. The new number-one film wrap for mummification can be purchased from any moving truck rental company that sells packing supplies. It is made in a lovely shade of green and is about 5 inches wide, and it comes on a roll with a 4-inch handle. This is much better than kitchen film wrap because the handle makes the green wap easier to manage, and the shorter width of the film means you can pull it tighter and more evenly than its kitchen counterpart. And when you are finished, you have a lovely green statue in your play space. After that, if he can still stand it (no pun intended), you may wish to add duct tape, further tightening the mummification and enhancing his feeling of contained floating. The duct tape will turn your green statue into a silver-gray one; low density 3-inch-wide black electrical tape will turn him into a black statue.
When you begin the process, start at the top and work your way clown. This is safe play. If you start at his head or neck, he can use his legs to balance himself right up until the final wrap. You will be pulling and tugging on the film wrap as you apply it and you will also be brushing against him, all actions that could knock him off-balance and cause him to fall, so he needs his legs to brace himself for your coming onslaught. Whether you use the tape or just the film wrap, you will have to cut him out, so have your surgical scissors ready.
When you do scan to cut him out, obviously, you want to start at the bottom and cut your way up. Giving his balance back first will ensure his safety.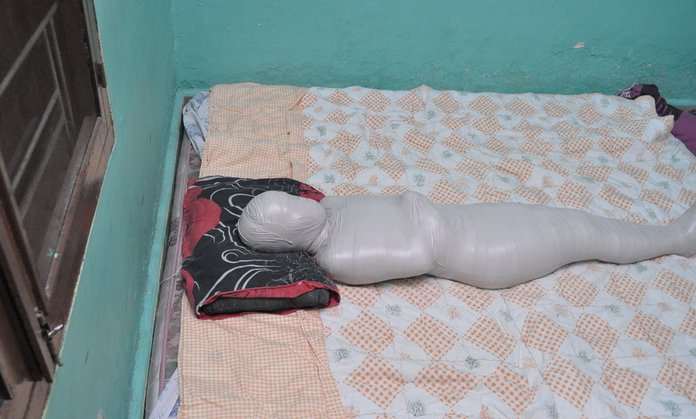 My Favorite Mummy
In keeping with his fetishistic desire for the bondage and isolation aspects of mummification, my number-one-favorite mummy had no desire to serve, grovel, clean, cook, or any other such tasks that normally would be assigned to a slave. Instead, he preferred inviting me to fine dining establishments and on gambling cruises to the Bahamas, and bringing me nice gifts that were really for me: a beautiful Coach wallet, plane tickets, shoes. I saw him two or three times a week, although we did not play every time My mummy was a treasure: just a little younger than me, good looking, very personable, with a great physique, and very gainfully employed with an M.S. in aerospace engineering or something like that; I laughingly called him my "rocket scientist." When we ate in our favorite Thai restaurant, he spoke Thai with the waiters. When we talked over dinner, we just knew everyone around us was listening to our conversation: sessions I had held and his adventures in the Pacific rim. We thought this was hilarious and our tales became more and more outrageous as time passed.
I was lucky in finding Christian; being a perfectionist, I rarely find people who wish to play this game with me because using only the film wrap, a good complete wap, including wrapping the arms, legs, fingers, and toes separately as well as to each other and then to the body, can take me two to two and a half hours. Christian could stand still and balance himself with very little effort, which made wrapping him a true pleasure for me. I liked knowing that Christian was under there. As for Christian, he really appreciated my perfectionism and the very first lime we played, he told me I did the best film wrapping he had ever experienced: evenly tight, no pinching, even layers and creative wrapping techniques when it came to securing things over his shoulders, under his arms, and between his legs. It blew him away when I wrapped each appendage separately, so even his fingers and toes did not touch each other. Sometimes I wrapped his member and/or genitals, sometimes I didn't. They were nice, I liked looking at them protruding from the green—like he was a man turned into a tree bui his member was the last thing to make the transformation.
Upon occasion, Christian preferred to be mummified standing up and then lowered onto a flat surface, like a bondage table or a bed, for further play. It wasn't exactly lowering, which implies something more organized than what we did, or that we had tools and equipment to help us. Not so. Since we were alone and he was bound up and I am not strong enough to pick him up and carry him, what we would do was this. He would stand as close to the bed as he could, leaving just enough room for me to walk around him (we preferred the bed because it gave a softer landing). When l was finished, I would move the bed up against the back of his knees, pile every pillow in the house on the bed. and climb on myself. Christian would then— get this—jump in the air and fling himself backward, landing on the pile of pillows, and caught as much as possible by me. Unbelievably, this worked for Christian and me: He never once fell or rolled off the bed. After he was positioned on the bed, I would use him as a sofa, lie on him, roll over him, sit on him, and rock him.
The first time we did the lying-down method. Christian was also duct-taped over the film wrap. He was lying on the bed. I next to him, and I could feel through all the wraps and tape that he was deep in space. I used this as down time although I stayed right next to him. After a cigarette or two and lolling around, I could feel him coming back to earth and shortly after he asked to be cut out. He stayed perfectly still while I performed the "incision," and I mean still right up until I had freed his neck and head. Then using his arms to split the wrap open, he burst forth from the green film and silver-gray tape like a clone-man emerging from its/his pod covered in the juices and fluids of clone-life. The visual of this was amazing, and I felt like I, the representative of the Goddess-on-Earth, had created this man.
If you are a perfectionist too, your potential mummy should have the ability to get into space and stay there, with only the part of his brain necessary to continue standing and to communicate a problem to you still in operation. He should be able to hold the same position for some time. Everyone has a different idea of what "length" of time they can stand, or endure if that is their pleasure, so have your surgical scissors ready if you need to cut him out suddenly.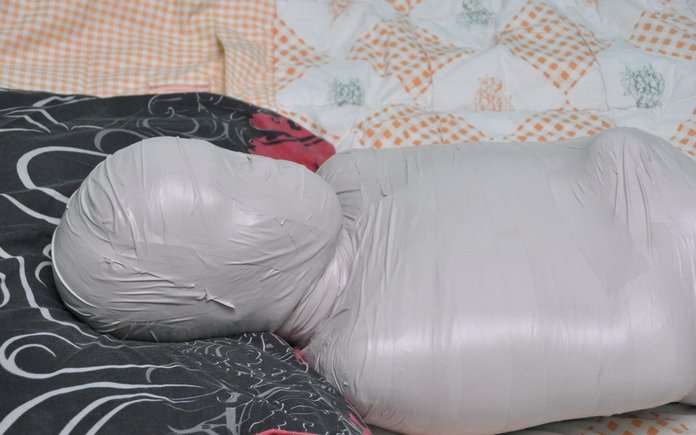 Sec-Saw Mummy
This isn't a very long story because you know how to mummify him, but the story itself is cute and will appeal to the child in you. Remember the seesaws in the elementary school playground? Well, for some unknown but very lucky reason, one of my sisters in dominance had one in her backyard. It was solid and only needed a little oil on the hinges. We knew we had a heavy bondage enthusiast coming over that afternoon for several hours, so we oiled the thing up, brought out two chairs of just about the right height as the seesaw when horizontal, and got out two new rolls of the green film wrap. We greeted him dressed to thrill and kill in black latex catsuits with platform boots. We stripped him and wrapped him in the chamber, wrapping each leg separately so he could walk out to the yard. He didn't yet know anything about the yard. After he was all trussed up, we blindfolded him and very quickly (because blindfolded people tend to lose their balance more quickly and more often) my domina friend and I changed into jeans and cute little tops, and more practical shoes for clowning around in the yard. Then we gave him back his sight and led him outside.
His eyes lit up when he saw the seesaw. He saw our casual clothes, the seesaw, the chairs holding it horizontal, and he knew he was in for one of those very special evenings when the mistresses are feeling frisky and playful and new things would happen. He laid down upon the seesaw, not in the least bothered by the few inches of play between it and the chairs. Then she and I went to work. I started at his head and she at his feet, wrapping, wrapping, wrapping the film tightly around him and the seesaw. We used almost a whole roll of film wrap to secure him on there. He was loving it. She and I met in the middle and firmly lied our ends together. She went to her side of the seesaw and I to mine and we simultaneously removed the chairs with one hand and held the seesaw steady with the other. Then we climbed on.
What ensued was nothing short of hilarious. Up and down we went, with him in the middle: head down, feet up, feet down, head up, slowly, quickly, ridiculously fast. She was crying with laughter, as was I, and he was hooting, yes, hooting with glee. I know the neighbors heard us and I still laugh and wonder what they thought we were doing back there.