The Fascination of Knives
articles and tutorials
Theory and practice of female domination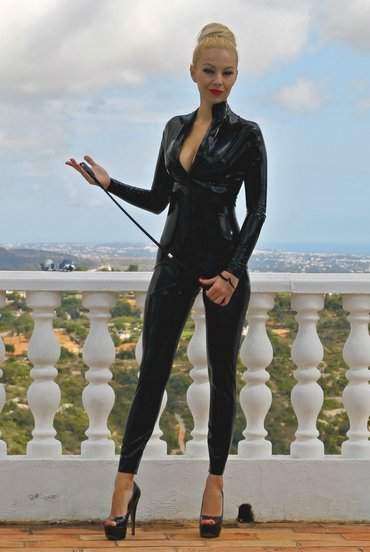 I once heard someone say that the only thing a knife was meant for was to kill. In the world behind the veil, the danger of knife-play could well take on that meaning, but come on! Letís get a little reality in here. I use a knife every time I cut my nice rare steak, chop my veggies, slice a cake or piece of fruit, and engage in other nonkilling activities. After all, it is my sincere hope that my food is already dead when I cut it.
The safest way to play with knives is to use butter knives that do not have a serrated edge. But remember that even a butter knife can cut him, so be very careful. Of course, waving a butter knife at him may induce laughter rather than provoke fear, which is hardly the desired effect. So what I do is the old switcheroo: I hide the butter knives. I have a very nice collection of knives, including a switchblade, gravity knives, hunting knives, a pair of unsharpened samurai swords, and one mean little thing that may be a skinning or boning knife. Sometimes I have them on display so he knows what he is in for; other times I hide them and spring them on him suddenly, one at a lime. I start by waving around the more menacing knives, using them (blade away from his skin) to run them up and down his body, or very carefully dragging the tip of the knife over his flesh to leave a red line (which disappears in an hour or a couple of days, depending on the pressure I apply and the sensitivity of his skin), I test the sharpness of the knife by cutting or slashing things in front of him: a piece of rope, an old scarf, film wrap, whatever. Men find knife-wielding women to be very scary, and I love to scare them.
Once, I had a huge bunny cloth that I cut into four almost equal parts right in front of him with that mean little knife. He was quivering, and his moaning was sweet music to my ears. I told him I was going to skin him alive and I was just using the bunny cloth for practice. More sweet music! I ran the blade over his body; he shivered and shook like a leaf on a tree in the wind and then began to groan. Groaning is good. Then when I felt he could lake it no more, I swapped the mean knife for the butter knife. Pinching the skin on his nipples, I used the dull side of the butter knife as if I meant to cut off his nipples. He never saw me swap the knives so his fear was very real. As real as his relief when he finally discovered it was just a butter knife!