Rape, Resistance, and Other Foul Deeds
articles and tutorials
Theory and practice of female domination
Having a rape or resistance fantasy is a source of great embarrassment and confusion for some. Yet for millions of others, men and women, these two fantasies—imagined or enacted—are sacred in the midnight purple world we call BDSM, and visited often. Either fantasy could be an enactment and/or a favorite bathtub fantasy: a scene that is thrilling to enact in his head but one he may need time to come around to enacting in the flesh. The pros for the bathtub fantasies are that there are safety nets in them that the dreamer can control. Even though he is the submissive, the why, how; where, and when he is violated, and who his violator or tormentor will be, are all under his control. Also, he can redirect, or stop, the action at any time during the fantasy. He alone writes, directs, and enacts the script in his mind. If he wishes to enact the scene with you, you must understand that he will top from the bottom during it, although first he will have to win your approval and your acceptance of his idea of your role. These scripts are deliciously dangerous and thrilling to fantasize about, and are a frequent theme in the erotic mind.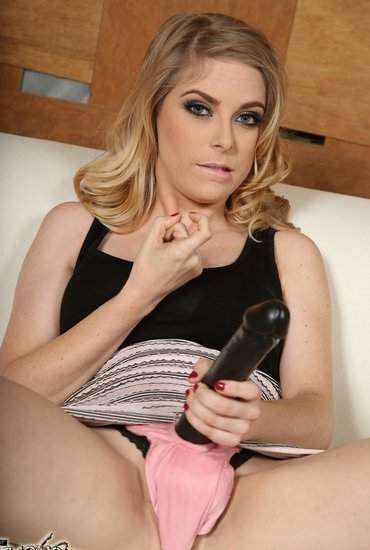 Rape
Sometimes, when a rape fantasy is often repeated in the erotic mind, it begins to take on a ritualistic aspect. Although the location, time of day, the manner in which the rape occurs, and even the assailant may change, the dreamer may be raped for a higher reason or by a higher being, adding ritual to the fantasy; If his dream is of being raped by a goddess, a higher female being, a queen, or even an alien from outer space with powers greater than his, and your raping him elevates him to a position akin to a sacrifice, his rape fantasy has taken on ritualistic aspects. As we have said, ritual plays an important role in some BDSM games. Since our fantasies constantly seek to reinvent themselves but our PET remains the same, we change the scenario and the window dressing to keep the fantasies fresh and exciting.
Explorers with a taste for more exotic blooms may choose to act out their rape fantasies safely, with the consent and planning of the domina. Playing in this area requires more of a cooperative effort, not just you in control, because this kind of play may touch upon delicate issues for him. So he has to have his say, which must be taken into consideration before proceeding. He may have homophobic issues that he wishes to confront in the rape scene, or something from his childhood. Of course, these are not real "rapes," but carefully scripted scenes wherein the submissive has almost all of the say in what action is to occur. It is his right to decide the particulars of the scene and tell you, his co-conspirator in this case, exactly what he wants done, how, where, and when. And of course, it is his right to call off the scene any time he wants. The domina must be equally willing to play her part, and her input and understanding of the deeper meaning of the scene is not only helpful, but desirable, especially if he feels hiss limits are being pushed. But to some degree, the submissive always tops from the bottom in this scene.
Although some submissives may wish to work out trauma in a rape scene, others have and wish to enact rape fantasies just because they are so hot. For them, the fantasy could be enacted purely for the adrenaline rush of being body-slammed by you, "thrown" to the floor or onto the bed, roughly stripped by you, the thrill of fear when you cover his mouth with your hand, and a spiritual surrender by your violation of his physical body. His surrender may be accomplished by a real struggle with his "rapist," in which you ultimately overpower him, mount him roughly, and use him again and again. Another fantasy may be that he doesn't fight at all, only begs and pleads, cowers and trembles with fear as you, his violator, rip or cut his clothes off.
Other submissives enact a rape because they enjoy humiliation and violent sex; rape is a fantasy that can easily combine both. In a rape fantasy whereby humiliation and fear are the main aphrodisiacs, the actual "violence" of rape may take a backseat to verbal threats and taunting with tortures to come: bondage, face slapping, physical intimidation, and possible torture. After a scene like this, he will need all the love and support you can give, and then some. Be as nurturing and understanding during this after-time as you can.
A rape fantasy can get very hot and very believable, but in the heat of the moment, let's not forget that it is a fantasy. No matter how hot it gets, the prenegotiated limits should always be respected, and if he elects to use his safe word or signal, as always, all action should stop immediately. Rape fantasies with a loving partner can be an opportunity to rewrite a scenario that was once abusive and turn it into a loving or cathartic experience, or it can be an opportunity to live out a hot fantasy envisioned by millions. Proceed carefully at first, then enjoy, enjoy, enjoy!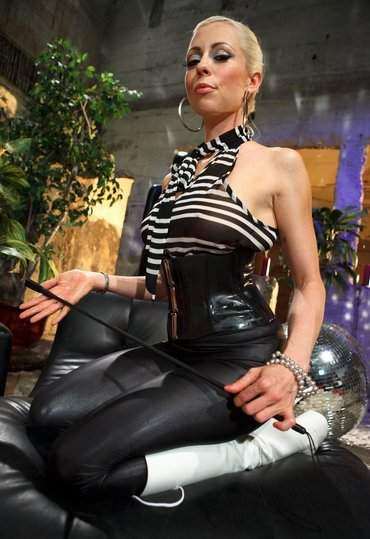 Resistance Scenes
There are many types of resistance scenes and many roles to play, but interrogation scenes seems to be a clear favorite. In an interrogation scene, the domina plays a role where she is a clear and formidable embodiment of power. This could be a police officer, a general from an enemy army, a ninja, torturer, or even a prosecuting attorney. Many men enjoy scenes in which the physical embodiment of power (the domina) wears some sort of uniform, or ritualistic dress appropriate for the role. When I played interrogation/resis-tance scenes with my slave, I wore a latex uniform, military hat, platform fetish boots, and gloves. My single-tail whip was tied around my waist for a memorable first impression: its threat, and how it showed off my flat stomach. Then I found it was deliciously humiliating for him if I stripped him myself, instead of ordering him to strip as I would do in an inspection. Stripping him myself made him feel more powerless, more at my mercy, as I took off one garment at a time. I stripped him slowly but roughly to impress upon him that there was no escape from me, his torturer, his captor, his mistress.
In other fantasies, the submissive could take on roles like "murder suspect," "spy," or any sort of prisoner. He could portray a Web surfer who hacked into a super-secret counterterrorist organization's main frame, and thinking that it was just a computer "war game," launched attacks he did not know were real and got everyone into a great big mess. He could be hacking government secrets and caught selling them, or captured by bad guys who want the secrets for free. He could be the prime suspect in a series of murders of women. He could be a prisoner of war. No matter what, the object of the game is this: He has information, or he knows something you want to know, and you torture him to obtain the desired information: nuclear secrets, buried treasure, or his middle name. Upon receiving the information, as the torturer you may decide that he is lying or that the information is inaccurate or insufficient, which guarantees both of you more delicious torture.
The paths to resistance scenes are many, making them a good choice for the imaginative to explore, but undeniably part of their allure is that he is once again relieved of his sense of responsibility and feelings of guilt. As the submissive in a resistance scene, he can give himself permission to struggle, go limp, shout, mewl, run away, cower in fear, whimper, scream, threaten or plead, whatever he wishes, and it can become a cleansing experience for him. Doing any or all of the above can be remarkably cathartic, and he could feel relaxed and sexy for days afterward. You will still feel the remains of the power rush, but not for as long. The dornina who enjoys this game is one who would like to push her own limits and will press on, even if it means getting a little nasty. Did I mention I love nasty?
Although these scenes can be incredibly hot, playing this close to the edge can be emotionally risky for both, but more for the submissive, who may be addressing issues that he has not shared with you. Bad boy! Send him to the shed! Sometimes during a scene the submissive will experience real-world panic, fear, or anger. We know that since this is fantasyland, these emotions have no place here. They arc real-world emotions and should be expressed and resolved in the real world. If, while you arc playing resistance scenes, these emotions arise in him you have two options: Stop the scene, or play it through. If he chooses to use his safe word and slop the scene right away, get him to communicate his problem, feelings, reservations, or fears as best as he can. You know how men can be about these things, it's like pulling teeth. Sometimes, even for the more articulate, these things are difficult to verbalize and take a little lime to communicate.
Getting him to speak of the problem and recognizing it as a problem solves half of the problem. Ask him questions based on what he has told you and then ask him more questions based on his answers. After he has spoken, put the story together in your head and say it back to him in your own words. If he doesn't agree, keep discussing it by trying to get there from different angles. If he agrees with your interpretation of his words, you have a basis to go forward.
Playing the scene through to see what happens is somewhat riskier. There can be emotional fallout from a played-through scene that both of you must be sure you are ready for and can cope with. Primal screaming, struggling, begging, even a temper tantrum during the scene may become cathartic for him later on but are you prepared for it now? Sometimes I am just hating a mellower day than lhat. And what if you are stressed? Will this add to or relieve it? If you think his resistance play may be venturing into the deep waters of psychological limits (which usually arise abruptly) and he is unaware of or unsure of their potency, as the dornina please be sure to let him know prior to the fantasy enactment that these reactions are a possibility
When playing at rape or resistance scenes, you may want to consider a new set of rules designed especially for this type of play: If there is fighting, struggling, mouthing off. protesting in the proper phrases, consider these actions to be signs that all is well and proceed at will!