Irrational Logic: The Origin of SM Fantasies
articles and tutorials
Theory and practice of female domination
Did you ever wonder where BDSM fantasies come from? The stork doesn't bring them, the Chinese don't deliver them, and no one has ever found one under a Christmas tree. Krafft-Ebing, an early psychiatrist, stated that sadomasochism was a pathological growth of specific feminine psychical characteristics. Did his use of the word pathological change the world's perceptions of BDSM and sadomasochism? Did this statement cast BDSM into the shad-owland of the mind and push it behind the veil? Too many have sought to explain the indefinable, because the meaning of sadomasochism and BDSM in the romantic and spiritual sense of the words defies definition. The definition of sadomasochism is different for each of us.
I am speaking about fantasies, not fetishes, which do often have some logic or reason behind them, so we need to separate the two for a little while. (The origin of fetishes will be more fully explored in later chapters.) Here our subject is BDSM fantasies. I think it would be fair to say that no one really knows why some people have BDSM fantasies and others do not. Adult survivors of childhood abuse dream of erotic beatings and consensual rape; adults who do not recall anything other than being sent to their rooms dream of the same things. Every time someone puts forth another general theory about BDSM fantasies, you can be sure that an exception to the rule pops up and blows the theory to hell. The fact is, if it is consensual and everyone is still enjoying it, there aren't any rules, except the couple's own limits. But since no one has found a small, large, or any lobe in the brain that generates sadomasochistic fantasies, your guess is as good as mine as to their origins, or as good as Krafft-Ebing's, for that matter.
Indulging in Fantasies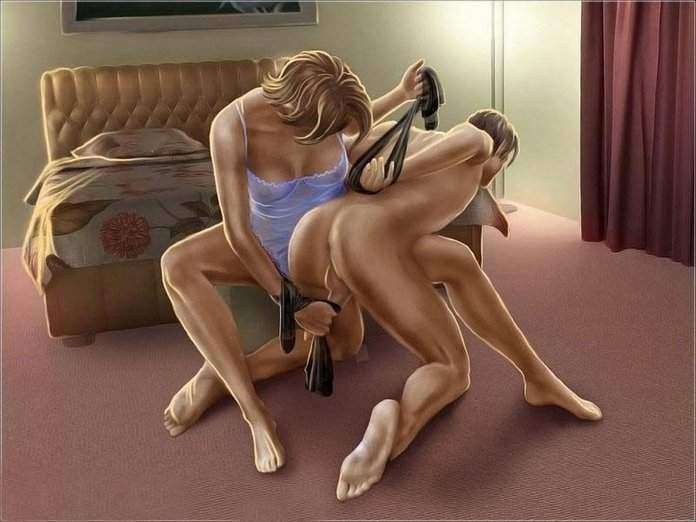 When you indulge in your fantasies, both the dominant and the submissive partners are given permission to act out in ways that are not acceptable in "normal" society, whatever that is. While enacting a scene, the demure secretary can shed her suit and become the Amazon Queen, the quiet librarian can become the Bitch Goddess, and the girl next door can turn into Madame Inquisitioner. In the midnight purple world behind the veil, all of this and more is possible. Do try to remember that these playtime characteristics are just that—traits assumed in a time and place of your own making. I call it my planet. And just like a child's game at bedtime, these traits are to be put away when the responsibilities of adulthood call you back to earth. Enjoy the planet you create for yourselves. Go there often, and enjoy all of the sexual rewards of adulthood. But... it can be tempting to blur the line between fantasy and reality; you must always be able to distinguish between them.
Romantic BDSM can be emotionally uplifting while allowing you, at the same time, to wallow in the muck and mire of your sexual fantasies, free from guilt or harm, like a pink-skinned hog on a sunny day. BDSM sex can be mystical and transcendental, a meeting of two minds and bodies joined as one for a sublime sexual experience. And you can be ultrafeminine all the while you are being dominant, if it pleases you, and still be a feminist. My definition of a feminist is a woman who is emotionally independent and who does as she pleases sexually. That would be you, wouldn't it? Donning one of your dominant personas, including that one, for erotic pleasure can be a way to meet your sexual needs and thoroughly enjoy yourself. When he surrenders control to you so you can be the guide on this sexual journey, it is a voluntary surrender; it his control, not his self-esteem, that you have taken.
Like weeds overrunning an untended garden, misconceptions in the vanilla world about BDSM sexual fantasies grow unchecked. As uneducated onlookers, what these people fail to understand is that these are prearranged scenes. Some scenes have been scrupulously scripted and planned for weeks in advance; others are reenactments of old favorites with set-dressing changes, but all have been agreed upon by the players. Some of these scenes may have been growing behind the veil for years. The scenes can be compared to a passion play, written by the players for themselves, using their own passions as their inspiration. Especially when you first started playing our little games, and now when you want to try something new, you make sure that he has consented to the prenegotiated scene. You found from reading and experience that the best plans are flexible and leave room for flights of fancy, spontaneity, and pushing limits. The trust and communication involved in these scenes is rarely visible to the outsider; what's visible are the gear and paraphernalia, which can make it all seem very strange indeed.
Angels and Demons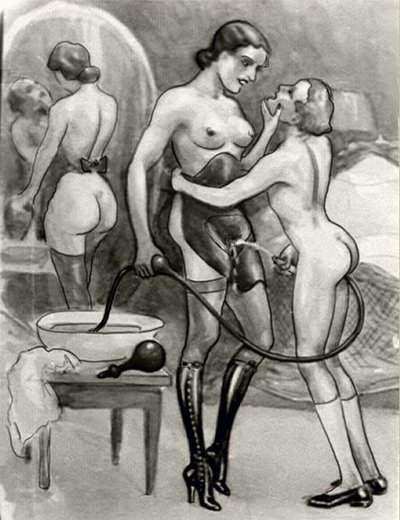 Do you really care why your favorite dessert is your favorite? No, you simply like it and never gave it much thought. Just so, the origin of your fantasy is only as important as you make it; it is only as important as what demons it sets to rest or what angels it invokes. For me, as an adult survivor of childhood abuse, the origins of some fantasies are very important—and I'll give you an example of one. My father physically abused me in a variety of ways, but what I hated most was having my face slapped. His hand would snake out and smash into my face, sometimes knocking me down or off my chair. I didn't know why I was being hit. Often there was no reason, or my mother had fought with him and he took it out on me. I resented it deeply. I know I am not the only person who has suffered this trauma, but it isn't exactly dinner conversation. When I was new to this (and more gentle), I never slapped anyone in the face, which was one of my limits.
That began to change when one night my slave asked me to face-slap him. I knew l would do a good job of it because I have a knack for these things, but there was my childhood trauma. I didn't know what to say; at this time, he knew very little of my childhood and early abuse, and nothing about that part. So I looked down my nose and said nothing, but the look encouraged him to explain his reasons for wanting his face slapped. And then he softly spoke of being slapped in the face as a child, especially by his mother. He loved it and hated it at the same time, as he did her. She was beautiful to him, even the way she held her cigarette was graceful to his eyes, but her temperament was unpredictable. She never yelled at him but she would bend down to his eye level, blow smoke in his face, and speak in a calm tone about his selfishness, his neediness, his disregard for what she needed to do. How could he be so selfish? This had completely humiliated him.
The other thing she would do to keep him under control was slap him. This was definitely her preferred method of discipline as it was short and to the point, and did not need any particular trappings or total privacy to administer. He would say or do something that displeased her, her hand would snake out and connect with his cheek like lightning, then curl back into place as if it had never happened, except for the sting and a pink cheek. Slapping was reserved for "special occasions"; usually her verbal diatribe, delivered in a matter-of-fact and serious tone, was enough to quell him. After she slapped him, he experienced mixed emotions. Embarrassment, anger, resentment, and maybe even a "wait until I'm old enough," would be the stand-out common negative emotions, but where are the positive ones? Both the old guard and our kind believe that discipline shows that one cares enough about the other, whoever that may be at the time, to take the time to correct their mistakes, and impress upon them the benefits of following the rules. That means loving and caring, two strong positive emotions. It could also bring on a cathartic experience, a cleansing of the soul, a very positive experience.
By the time he finished speaking, a wonderful thing had happened. As I said, he knew nothing of my childhood experiences but as he spoke, I felt a sense of relief—like a weight had been lifted and I didn't have to carry that bit of baggage around anymore. At that moment I became capable of slapping him, in the physical world. Cradling his right cheek in my left hand, I slapped him. Not a jaw breaker but a good solid medium-to-hard slap, and properly landed across his cheek. It felt so wonderful I slapped him again, and again. . . .
We can all see what happened here: By asking me to push his limits and enact this childhood scene with him, I also expanded my own. The feeling was a glowing hot mixture of power, freedom, and sensuality that ran through my hands and fingers and was absorbed by his face. I felt like a pagan angel playing on earth. Each slap felt almost orgasmic on a metaphysical level; I could sense the glowing mix surge through me when I connected with his face, and then re-up itself for the next encounter. So much for the cradling . . . let's try a forehand and backhand, backhand and forehand.