Sent to the Principals Office | role-play scenarios
articles and tutorials
Theory and practice of female domination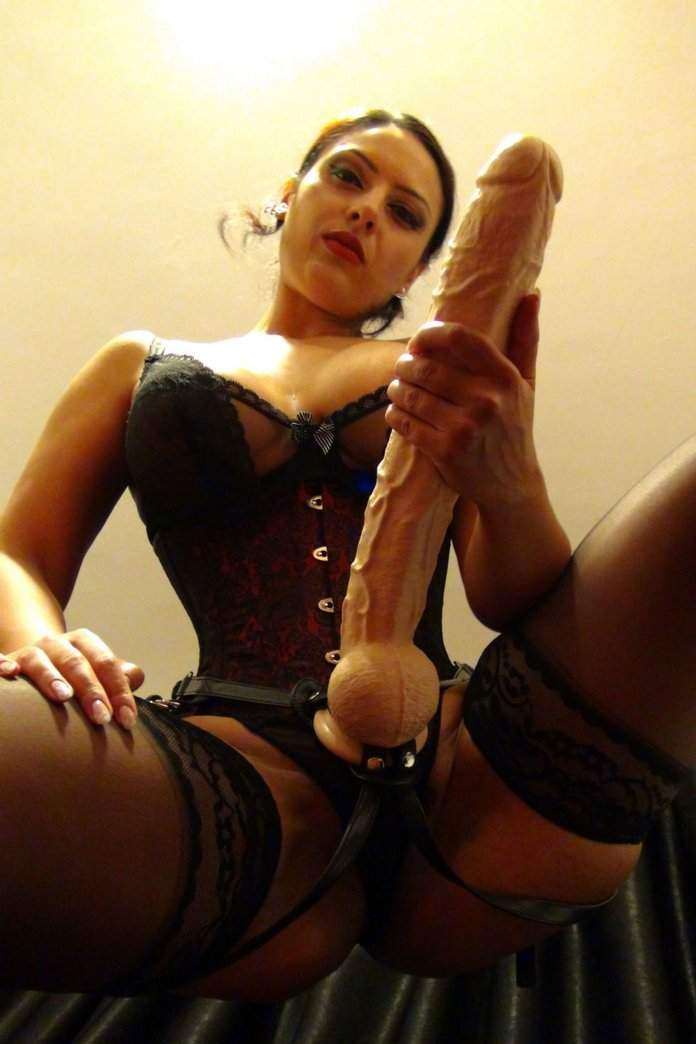 This is one of my favorite role-play scenarios and it also includes an aspect of forced feminization. My wardrobe is that of the Latex Librarian, but I am no longer in the library. The scenario is that he has been sent by his teacher to me, the school principal, for punishment. This is not his first infraction and the infraction is always the same: He was trying to force the girls in the playground to kiss him and let him touch them. The girls had complained of him many times, often crying. Beating him had no effect; I had broken canes on him. Public punishment and the subsequent ridicule from the other kids were equally ineffective. So I decided to turn the tables on him.
He knocks and I bid him enter. My demeanor gives away nothing of what I have in store for him. "I understand that you have been up to your old tricks again," I say coolly. "Yes, Ma'am." "So, once again you have to be punished." I sit down on the desk and cross my legs. "You will take off all of your clothes. I am going to turn you into a girl." A very humiliating punishment for a "boy" of his age. "And then, I am going to do to you what you did to them. We will see how you like it." He gasps and casts his eyes down, and starts to shed his clothes slowly, much too slowly, causing me to rise and help him in my own rough way. I got those clothes off quickly enough instead of waiting for his fumbling fingers. In the desk drawer, I had stowed a plaid skirt, white blouse, white panties, white socks, and a flat shoes— something that looked like a school uniform. As I forced him into these garments, I told him how he had violated these girls, and the violation was that they had not said yes to his "advances."
After he was dressed in the school uniform I made him look at himself in the mirror, and taunted him about being a girl now. While he was still a little dazed, I grabbed him by his blouse and body-rushed him into the wall. I forced his legs open and held them open with one of mine, and had my arm across his neck while I groped him. I put the meanest look into my eyes that I could and hissed at him, "Do you like it? Do you like the way it feels to be forced?" I pushed him up against the wall harder, managing to knee him in the groin along the way. I pushed my face well into his personal face-space, a definite invasion, an aggressive tactic that usually worked. Then I whispered menacingly into his ear, "and this isn't all I have in mind for you." While he was still absorbing what I had just done to him, I grabbed him by the collar of his blouse and swung him away from the wall. I got behind him, my arm around his throat, and collapsed his knees. I lowered him to the floor, and forced him down on all fours. I pulled up his skirt and pulled down his panties and began to kick him in the ass. I circled in front of him and pulled his head up by his hair. I bent at the waist and spoke directly into his face. "I want you to crawl over to the desk, then stand up and bend over it." He obeyed me and once he was properly positioned, I got behind him. I grabbed him by the hips and began to pound against him as if I had the penis, not him. "Is this what you want to do to the girls? Is it? Answer me!"
"Yes, Ma'am," he sobbed out. I pounded him harder and harder until I couldn't lake it anymore. Using the good grip I had on his hips, I tossed him aside as if he was of no more use to me. Well, he wasn't.
After he recovered some, still in role, I asked him if he had learned anything today. He only said, "Yes, Ma'am." "What did you learn today?" I pressed him. "About girls.'' "What about girls?" I wasn't letting him off so easily. I wanted to hear it. "That girls have rights too, and I have to respect them." Finally!