Your Ass Is Mine | role-play scenario
articles and tutorials
Theory and practice of female domination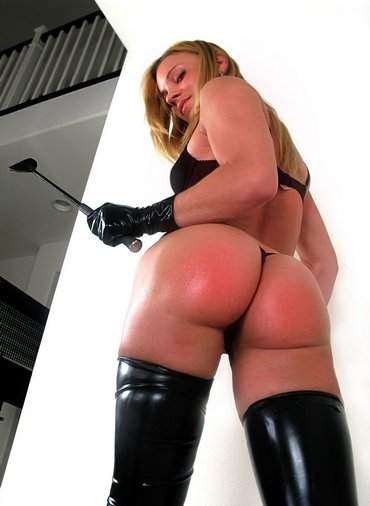 Most captor/captive scenarios have more in common than those in the age-play group, which, we have just proven to ourselves with our wonderfully creative erotic minds, are endless, In the captor/captive scenario different widths and lengths of rope are definite requirements, as is a blindfold, and possibly a gag. A hood would be nice, even if it is only a spandex one, which does have the advantage of being washable. These items would also be standard issue for the Kidnapper. Since the roles of Guardess (a more cadent word for Wardeness), Interrogator, Madame Inquisitioner, Pagan Priestess, Amazon Queen, and Secret Agent have slightly different nuances, here are my suggestions. The Guardess needs a uniform of some sort for herself and a "prisoner uniform" for him. She also needs a very visible symbol of her authority, which she should be ready, willing, and able to use. A flogger, single tail, cane, crop, or whatever implement carries the most visual impact for your slave, according to his fears and desires.
The Interrogator could also wear a uniform, but a dark-colored business suit or an all-leather outfit could have great visual impact, too. Her props could be of the electrical variety, like a violet wand or a TENS unit. She could specialize in nipple torture or cock-and-ball torture, so a selection of clamps, a parachute for his genitals, double-sided clip hooks, some weights to attach to the parachute, and the like could be among her toys. The role of Madame Inquisitioner, although similar to that of the Interrogator, differs in that it has religious connotations, relating to the Spanish Inquisition, headed up by a priest named Torquemada. For a role like this, I wear cloth clothes of the long black variety, preferably with a slit through which my lovely legs can tease him, made visually appealing by waist cinchers, very light leather gloves or surgical gloves, and stilettos. My props are of the metal variety and include talons, claws, wartenburg wheel, knives, and the same nipple and cock-and-ball-torture equipment the Interrogator uses, as well as ropes, wrist and ankle restraints, hoods, gags, candle wax, floggers, single tails, and so on. Bring out everything in the house! But personally I don't like to use electricity here; Madame Inquisitioner is from an earlier, less civilized time and would not have had such toys.
I always thought it would be really cool to be a secret agent, but that is another thing I never got around to, except in the world behind the veil. Which is fine with me; no real bullets to dodge, or anthrax viruses to retrieve from terrorists! This role is a lot of fun. You can wear anything you want; I prefer the Emma Peel and the Nikita look (when she is in her black phase). As a secret agent, you can have a water pistol, handcuffs, a night stick, a child's toy "syringe," electrics, razor blades (to cut his clothes off with), lots of things. You can hijack him in his car, you can hijack him off the street and toss him in the car, or you could walk him to your destination with your water pistol in your pocket. (Please be discreet, you don't want to get arrested!)
The Pagan Priestess and the Amazon Queen share certain qualities: they both come from ancient, more barbaric times, and more mystical and magical times, too. Your Pagan Priestess could be like the Lady of the Lake from the Marion Zimmer Bradley book, The Mists of Avalon. A great deal of ritual can be incorporated into this type of scenario, and l just love ritual. Candles, incense, a pagan drumming or similar CD, a long and luxurious flowing robe over a tight-fitting garment, a tiara or fillet, temporary tattoos on my arms, snake bracelets . . . there is a lot of room here for your erotic mind to run free and project your majesty. The Amazon Queen may want to wear a "hide" outfit or some facsimile, with boots, arm bands, and a weapon of some sort, perhaps a broom handle made to look like a spear or a sheathed knife stuck in the belt at your waist. As the Queen you should also have a throne, maybe with some plastic skulls from a Halloween or joke shop around the bottom, and a couple of fake bearskin furs on the floor for a realistic touch. For either role, use as little electric lighting as you can; tons of candles are the way to go to create atmosphere here. And you can always use the wax to torture him.