articles and tutorials
Theory and practice of female domination
There are so many varieties of cross-dressers that one domina could not hope to experience them all. And the definitions of the different types of crossdressers vary, depending on who you speak to.
The Naughty Pantyboy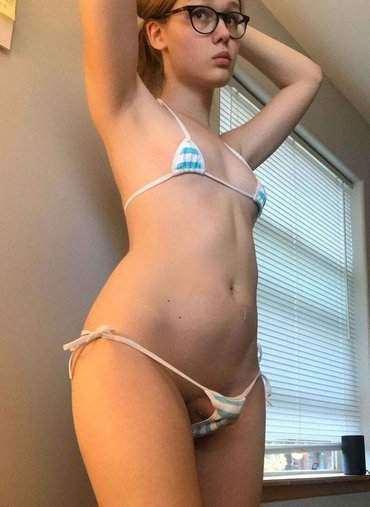 One slave was not into cross-dressing but, as an occasional punishment, I would turn him into my naughty pantyboy for the evening. He would commit some infraction early on, and I would ceremoniously bring out the pretty turquoise or purple satin panties and size-large lace-topped thigh-highs I kept just for this reason. You see, the naughty pantyboy is not a crossdresser per se; his desire for this type of play is the humiliation of it, not for the pleasure of being made into a woman. The pantyboy wishes to be "forced" into wearing his panties and stockings because secretly he has some desire to be dressed as a woman, and forcing him to do so relieves him of the guilt he might experience if he experimented with this on his own.
Once he is dressed, his punishment continues through the evening, though he may not commit any more outright infractions, because his panties and stockings remain on. Every time he looks at himself, kneels at your feet, crawls, or walks in service to you, he is reminded of his "shame." Good. So now what? Your pantyboy will enjoy being made to serve you in his little undies outfit, or, if he is undertrained or untrained, now would be a good time to begin his training. Foot massage, household sendee, tea service, hand washing, and other gestures and/or tasks that are helpful or of benefit to the domina are activities that the naughty pantyboy will enjoy.
Of course, some may want harder aspects brought into the session, but you're ready for that!
The Repressed Slut
Being your slut, on all different levels, is the deepest desire of many crossdressers. On the mildest level, after he is dressed in the appropriately slutty clothes, you can threaten him with being made to "work" the corner for you, and to bring home to you all of the money. Sometimes the he-she with this type of fantasy wants to be made to "suck cock," which would be your favorite strap-on. If he wishes to suck your cock, he may have an emotional issue with homosexuality and this is his way of working it out. Sometimes, as a treat, you can dress him up to look more ladylike, and tell him that tonight he is going to work some special highend club, instead of being the catch of the day on the corner. Make it seem like you are rewarding him by letting him work "inside," or to humiliate him, you can make him up to look like a caricature of a woman. You can dress him to humiliate him by not doing any hair or makeup, or by applying it sloppily, and putting him in runny stockings, frilly clothes, or lingerie.
What else can you do to the repressed slut? You can shave off his body hair, have him wear panties, pantyhose, or thigh highs, a bra, and/or a teddy under his street clothes when he goes to work. You could order him to keep his toenails polished, and pick out the color. Or command him to use a stall instead of a urinal, and decree that from now on, he must sit like a girl when he needs to relieve himself and use toilet paper, too. And if your little he-she is into it, take him on public outings. If he can't be seen coming and going from home in his outfit, many places that are "cross-dresser friendly" have dressing areas appropriate for this purpose. I find these people to be lots of fun because of the humiliation aspect inherent in this role-playing. How can he be your slut if there is no humiliation involved?
Your Very Own Sissy Maid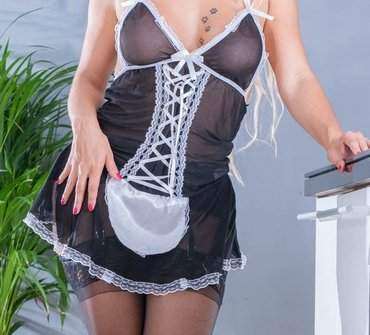 The full-skirted dress; the square or scooped neckline; the lace frills on the hem, sleeves, and at the neck; the petticoat underneath; the garter and stockings; the falsies, the low-heeled pumps; the wig; the makeup—these items comprise the Classic Sissy Maid's uniform. The sissy maid's uniform is available in pink or black satin, in PVC, and latex, which usually is black. But no matter what material it is made of, to some cross-dressers, there is no other worthwhile aspect to cross-dressing than that of the Domina's Sissy Maid.
And many sissy maids are exhibitionists, just loving to go out to parties all dressed up and perform services for the domina in public.
And the sissy maid's duties are very clear. The sissy maid especially likes to serve and do chores, either for the domina alone, with a group of her friends, or better yet, at a party. Performing chores and giving service is the sissy maids idea of heaven. In a private setting, the sissy likes to cook for the domina and serve her dinner, then do the necessary cleanup. Sissies are better than most doing the hand wash, because some of the things they are washing are their own. If they put runs in the hosiery by getting it entangled in the sink stopper, the best way to discipline a sissy is to bend her over a chair, pull her skirt up, and apply some form of direct and immediate punishment. Hand spankings and paddling are favorites of sissies. And, she will have to replace the item she ruined by her clumsiness.
The sissy maids strong desire to be trained is undeniable but it is the individual's aptitude that is questionable here. Some just aren't cut out for adept service. So if he drops the lea tray on a regular basis, and it does seem like he is really putting his best effort into it, maybe something as refined as tea service is out of his league. But he can be trained to empty ashtrays, dust the furniture, vacuum, and wash the dishes, empty the cat litter, change the bed linens, all the services a real maid would perform. The sissy's pleasure comes mostly from being allowed to wear her outfit in full view of at least one other person while performing the chores assigned to her.
The Virgin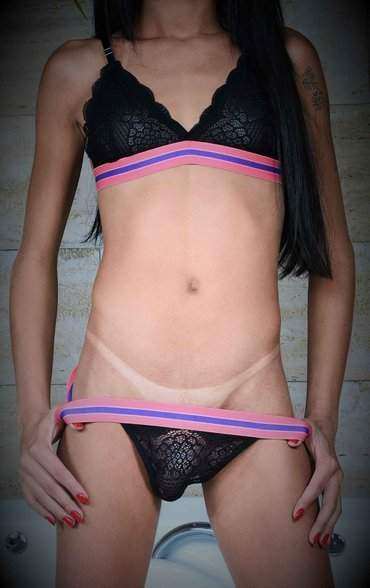 The virgin fantasy of the cross-dresser obviously involves some threat to the he-she's virginity, or else there wouldn't be much of a fantasy here. Virgin fantasies have many set dressings, but the basic theme is that virginity just cries out to be vanquished, tarnished, conquered—and all of the scripts revolve around that theme. Some males set their virgin fantasies in "ye olde days" so they can dress in a costume of that time that imparts an air of purity and chasteness, for example wearing a white dress or flowing robe, with white lingerie and stockings underneath, and white shoes. Temple virgins of old, modern-day virgins pretending to be afraid of men, and/or those who are afraid of being raped are popular virgin scenarios. I find these very entertaining. For me, it is complete fantasy land. It's like being the Big Bad Wolf in Little Red Riding Hood, the Witch in Sleeping Beauty, one of the Barbarian Horde (a Visigoth maybe), or the Shadow pursuing his own considerable dark side to the exclusivity of all else.
Depending on the ravisher you are playing to his virgin, strong wardrobe, like lots of leather, Amazon-like garb, a goddess outfit, or a vampire look with teeth will enforce your authority. If it is a modern-day scenario, perhaps a lean-cut pants suit, worn with stiletto heels and no blouse but a beautiful bra is an outfit he would find exciting. Pants are good wardrobe for this because, as his ravisher, you will need something to ravish him with. A strap-on fits much belter over or under pants than it does over or under a dress. I have a floor-length latex skirt that only closes by snaps at the corsetlike waist. Since the whole front of the skirt falls open when I sit, or fans out to either side when I walk, this skirt is comfortable to wear with a strap-on. For a more menacing look in a rape scene, try wearing pants with a strap-on underneath and a motorcycle jacket with biker boots. Or a floor-length leather coal with stilettos. When you are ready to rape him, don't even take your pants down. Just unzip, pull it out, lube it up, and give it to him.
The Lesbian Lover
This breed of cross-dresser likes to pretend that you and she are two lesbians in the heat of a sexual relationship, with you being the more dominant. The lesbian lover wants to be transformed into a woman that another woman would desire carnally. Unless your partner is your mate, you may want to pass on this one. The scenario usually involves kissing and touching, and could go so far as to include oral sex performed on you and vaginal penetration with his fingers; for him it could well include anal play. He wants to be your girlfriend; he wants to do with you everything that two women do together when they are in a sexual relationship- You wall sit around drinking coffee, served to you by him as he prances around in his girl clothes and crossing his legs like a girl when he sits down. You'll discuss girl things, like makeup, wigs, and shoes.
If you sleep together he will wear a nightie similar to yours, or else one of those silly peignoir sets that men think biological females wear. To make him feel the full effect of being a woman, pretend that "she" has her moon cycle and insert a very well-lubricated tampon up his ass. For an interesting and realistic touch, you can make him keep a tampon in his purse or give him a pregnancy test.
The Narcissist
After this one is dressed, you may as well not be there, but there better be plenty of mirrors around for her to admire herself in. The narcissist wants to undergo many wardrobe changes, complete with every accessory imaginable, then prance around and pose in front of the mirror. This behavior is often accompanied by "movie starlet" performances, like doing the Marilyn Monroe moue in front of the mirror, striking poses well known from actresses' photos, strutting, blowing kisses to their invisible admirers, and doing the Queen's wave as she passes by. All you are needed for is to be her wardrobe mistress and makeup artist, and of course, her captive audience. This one does not wish to serve, has no desire to please and is the most likely to sneak into your room and steal a pair of panties, or try to cram himself into that dress of yours he loves so much, or prance around in your fur coat.
The Girlfriend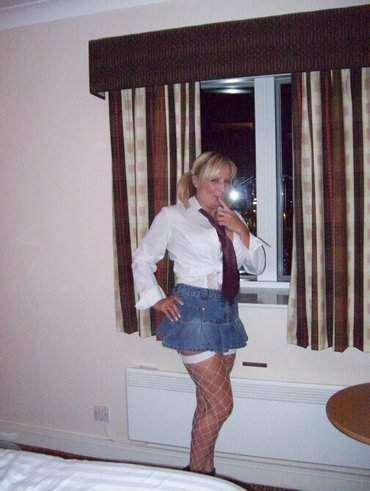 The girlfriend wants to be your best friend, and sit around with you during an afternoon or evening and do the things that girls do. Although he will always want total transformation, depending on the time of day as well as his mood, he may like to experiment with different settings or wardrobe. In the afternoon, the girlfriend may prefer a casual dress or outfit that is sexy but comfortable to lounge around in with low-heeled or flat shoes and light daytime makeup. Yes, this can be done but you will have to take him shopping. He will never figure it out without you. Or order outfits from a catalog. In the early evening, perhaps he will don a long but still casual skirt with a blouse or pullover. At night, an evening gown, cocktail dress, or other dinner attire with higher-heeled shoes, darker eye makeup, opera gloves, thigh-high stockings, and glossy red lipstick will complete the effect.
Again, depending on the time of day, mood, and attire, after his total transformation, both of you can become hairdressers, you can paint your nails together while watching a chick flick, have tea or drinks with each one alternating serving and gathering up, and smoke lots of cigarettes if you like. A cigarette is a great accessory in the girlfriend, narcissist, repressed slut, and total beauty session scenarios. You can tell dirty jokes girl-style, and share funny, or embarrassingly funny, girl stories. Since only you are the genuine article, a biological and superior female, you will have to do most of the talking. and encourage and cajole your new girlfriend to chime in with her ideas and impressions.
The Military Cross-Dresser
I absolutely love this look, but unfortunately only a few can carry it off. The two essentials of this dressing up are wardrobe and the perfect body The wardrobe is easy. Beginning from the bottom up: shined to the nth degree black latex pants, or shiny PVC, womens fetish platform boots that lace up the front right up to the knee or higher, a stunning corset very tightly laced to show off a small waist, a white shirt either of cloth or latex, black latex gloves, and a high peaked military hat. A tie can also be incorporated into the look, depending on the type of shirt. Pricey but easy to acquire. Now for the perfect body: height of at least 6 feet without the platform bools, a slender build (a 6-foot man should weigh between 170 and 180 pounds, or have an athletic body like that of a swimmer or dancer For this look), strong facial features. and preferably a shaven head. But long-haired men can carry this, too, if their hair is pulled back in a ponytail. I will go out of my way to approach a man dressed this way and carrying it in style because they are so very rare.
Often these men are deeply in touch with their feminine side and have a great deal of personal style when it comes to fetish dressing. With the exception of the military hat, all of their latex may be ladies' wear, and their boots are definitely the same lace-up stiletto platforms I have. The white shirt against the black corset and pants makes a stunning contrast. His nipped waist draws your attention, just as a corseted woman would draw the attention of a man; his natural height plus the height of his hat, and those boots with the 2-inch platforms and 6-inch stiletto heels make him 7 feet tall, or maybe even taller. His strong features, eyes done in black liner or other dark makeup, peer out at you from under the brim of his hat. Now you understand why this look is so hard to accomplish.