articles and tutorials
BDSM Mix
Bondage toys and devices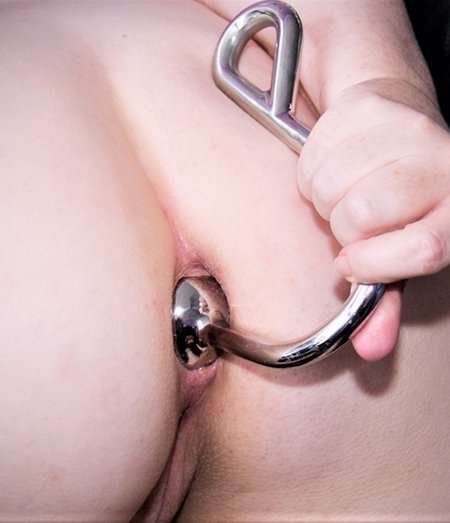 Anal hook is another great toy for those who love to utilize rope bondage. Anal hook is a fish hook look a like sex toy that looks very scary and even intimidating at first. But donít worry, this is basically just an butt plug.
Anal hook is made out of approximately a half-inch thick heavy duty stainless steel. Curved end is about 5 inches long and can be inserted into the anus. The rest of the hook (while in use) rests against our back. In the end of every anal hook is a ring where you can connect the rope. By mine experience, nylon rope is the best choice.
This is not toy for beginners. I would recommend anal hook to more experienced players who are well-versed in bondage safety techniques. If you are trying this toy for the first time, I would recommend using a fail-safe mechanism. In case anything goes wrong and a load is placed on the hook, fail-safe mechanism will detach hook from any rig.
You can find several different versions of anal hook. Basic model is just stainless steel hook with ring on one end where you can attach rope. Most popular model is basically same with one exception. On the end of insertable end is a ball, that measure about 1,5 inches in diameter. If that is not enough for you, you can find anal hook with even bigger ball on the end. Less common and harder to find anal hook model actually have 2 small balls on the end.
While a little bit of pain is fun, I would still recommend use of a good lube. I personally like to use water-based lubes like Astroglide. Lube can prevent any unwanted damages of anus and make all this much more fun.
Like any sex toy, anal hooks have to be cleaned after use too. Cleaning it is very easy, you can basically put it in dish washer and wash it. All hooks are dish washer safe.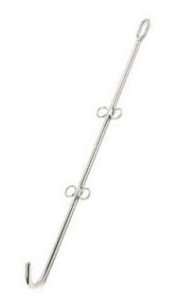 Extra long anal hook with four o rings
This extra long anal hook with four o rings (five actually) is a real eye candy for real bondage players. Just imagine all the possible way you can use it. You can really have some fun with rope.
Unlike most anal hooks, this one have main ring, plus 4 additional o rings. You have numerous ways to tie a rope, so have a lot of fun with it.
Rapture Novelties made this anal hook a lot longer then we are use to. The total length of the hook is 27.5 inches (70cm), which is quite amazing.
It might not look from the pictures, but itís made out of 5/8 inch (1.5 cm) thick stainless steel. That makes it strong enough even for hardcore bondage fans.
I have to say, that this anal hook feels amazing. Hook is nicely round and just the right length at insertable part. There is no doubt that guys from Rapture Novelties know what they are doing.
The down side of this hook is price. It is a bit more expensive then most others. But the money you spend on it is well worth.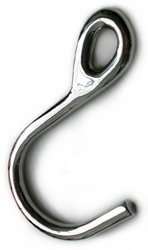 Anal Hanger
Are you one of those who donít like anal hook with ball? Then meet anal hanger. Anal hanger is just like any other anal hook, but doesnít have ball on insertable side. But it does have ring on the end where you can attach rope.
Anal hanger is great toy for those who like to practice bondage, specially if you are into shibari or western rope bondage. I canít stress this enough, this is toy for extreme players and is not suitable for beginners.
This anal hanger is made out of half inch stainless steel and is extremely strong. It can be used as anal hanger or vaginal hanger, so both of you can have some fun.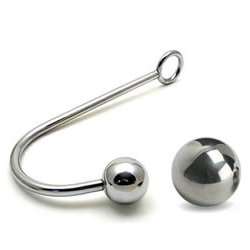 Steel Anal Hook With Changeable Ball
This steel Anal Hook with changeable ball is my favorite type of anal hook. Reason for this is in versatility that this hook offers. You see, not everyone likes big stuff showed up there ass. If you or your partner are one of those, then you will love this anal hook.
Hook comes with small ball that is only 1.5" (3.80 cm) in diameter. This is small enough ball even for beginners. On the other side, you have people that barely feel that 1.5" ball and are searching for something bigger. The simplest solution for them is to buy additional, 1.75" (4.45 cm) stainless ball that can be easily replaced with smaller ball. This way you actually have 2 anal hooks in one.
Steel anal hook with changeable ball is good idea for couples where both of them like to use anal hook. If one of them prefer anal hook with smaller ball and other with bigger one, you donít have to buy two different hooks. All you have to do is to buy 1.75" ball attachment and use the ball you or your partner prefer more.