My first Dom told me that submissives should have their own toys, especially those which are inserted or tend to come into contact with body fluids or mucous membranes, as a matter of health and safety. It made sense to me. There is a common school of thought that the Dominant should be responsible for purchasing the toys. This is a nice idea, but as time, and partners go on, it can get expensive. Yes, floggers and vibrators and clamps can be cleaned, but why take the chance?
The contents of a person's toybag is as unique to that person's tastes and limits. But everyone had to start somewhere. There are many possible choices and each person must decide for themselves what it's important to have and what can be done without. I am not making any recommendations or suggestions here, just presenting the contents of my own beginners toy bag. Some items I chose on my own, some items I was ordered to get by a former dominant and some were gifts.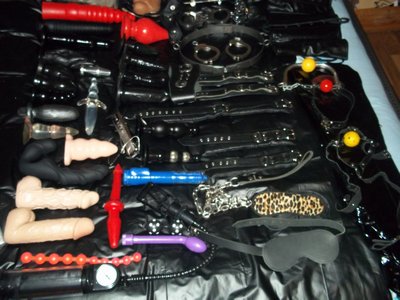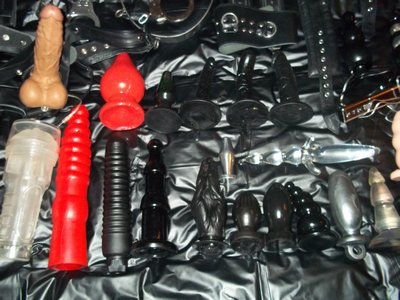 Playing with the Toys
The fun parts! - All that hard work and knowledge gained now pays off. Now time to be a kid and take out the toys and play.
Toy is the term for implements that are using during BDSM play. Some examples are a cane, restraints, a serving tray, or even a feather. Even if you read a lot of books they will probably not tell you as much as the toy dictionary. Which is listing and definition of most of the toys used in BDSM.
Where BDSM people keep their toys is a ToyBox that can be a room, or a simple chest in your closet. You can even see what is in our ToyBox.
ToyBoxes are both for Dominants and submissives. I highly suggest a submissive keep their own ToyBox! Medically it is a lot safer especially when playing with blood. Even if you don't have your own I highly suggest you keep your own cane, horsehair whip, and sextoys like buttplugs and dildos. Because these toys most likely transmit and keep blood, semen, and other bodily fluids. That and you know what you want. So buying your own flogger and cane are good ideas.
Bodnage toys for anal training
Definition
Anal Training in the most simple way of description is a slow process meant to make anal sex and other anal procedures more comfortable and relaxing. Anal Training is a way teach a submissive (male or female) to relax their way into anal play. There is not a drawn out method, but along with the help of some submissives who have gone through it and myself going through it to teach the triumphs and struggles.
All about buttplugs an vaginal plugs
Butt Plugs and Remote-Control Anal Balls in femdom
Anal hook
Enema and BDSM
Wine Enemas - How to
Nipple clamps and clamping in BDSM
Toys for providing "Pinch" sensations. Care must be taken not to leave the items on too long, since they're acting on nerve clusters. Sometimes the most intense part of the activity is when the clamps are removed -- since at that moment the blood rushes back into the area and the skin gets a sudden rush of painful sensation.
Clamps and clamping
Tips about nipple clamps
Nipple clamps - how to apply
How to best enjoy your nipple clamps while being safe
How to Use Nipple Clamps During Bondage
How to Play with Nipple Clips
Nipple clamps torture and femdom
Nipple clamps and clothespins

COLLAR
A collar worn without a leash is simply clothing or decoration. If the collar is attached to something that restricts movement, it is then regarded as bondage.
The Collar and Its Meaning
The sub slave collar
Collars, collaring in Master/slave Relationships
Press, Squeeze, Pinch, Bite, Thud, and Sting are types of sensations created by physical play. Many players have preferences. Some even experience one stimulation as pleasurable while finding a similar stimulation painful and unacceptable.
Instruments Used in Sensation Play
Hashi and BDSM - torture device for nipple clamps
FLOGGER
A type of whip which has many tails on it. The contemporary flogger is often a primarily theatrical device, made of leathers soft enough to create a "whipping" which provides only massage sensations instead of pain. Many players start out enjoying light floggers and eventually branch out to later enjoy the sensations of more intense floggers. (Shown here: a soft Heartwood flogger.)
Flagellation punishment, BDSM flogging
Cuffs and how to use them
Bondage with tape
Rope Bondage and Vibrators