articles and tutorials
bondage tips
The key to successful enjoyment of bondage without aftereffects or morbid recriminations is simply to treat it as a joyful game in which variations are left to the participants, depending on their instincts, thresholds of arousal, inventiveness and, most vital of all, willingness to explore the labyrinth of hitherto unknown pleasures which lead to ultimate gratification in communal lovemaking.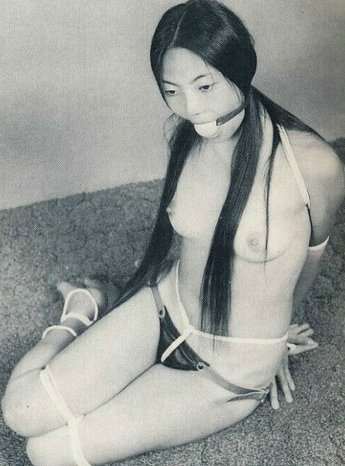 Naturally, this is not to say that each act of lovemaking should be preceded by bondage. If you care to use the metaphor, bondage is a kind of rich aperitif which prepares the sexual appetite for the naturally satisfying, nutritious "steak and potatoes" diet of coitus. One does not overeat aperitifs, for that causes indisposition and distaste. Also, with lovemaking, the repetition of a certain coital pose and technique inevitably leads to indifference on the part of both partners, since they come to anticipate each other's responses and manifestations.
The average imaginative man has a "harem or slave complex" and most women, conversely, are capable of imagining themselves as slaves to a cleverly dominant — but never brutal — male. If the female can be led to understand just how bondage enables her to achieve a different kind of desirability, personality and ethos, so as to render her infinitely more alluring to her male partner, and the choice is left to her, she is far more likely to accept this kind of amorous experimentation. Yet the male must be capable of gratifying her emotional and carnal needs once he has brought her to this imaginative pitch through bondage. Then, and only then, will he glean — for her as for himself — the true fulfillment which this joyous, inventive "game" provides to the person willing to bring creativity to the bed of love.
This, then, is the credo of the bondage devotee; it is a creed of generous and unselfish sharing if it is to justify bondage as a means of self-expression. This is the most vital thing to remember about the practice of bondage: that it must have the cooperation of both the male and female, without the need for brutalizing, unimaginative coercion. Certainly physical coercion exists in bondage, and is one of its most delicious facets, but inwardly the female knows that her male partner expresses through his use of bondage on her a credo and a dedication of love, which has its unselfish side and which permits her ultimately to share in all the complexities of desire and delight. As such, it holds for the wise, tolerant and imaginative a new world of creative self-expression. For most of us sexual creativity is the only way we can prove we differ from the beasts in the field. In an age of hate, bondage must be considered, if used wisely, as a pristine and inventive act of love.