Safety: Equipment and self-bondage | tutorial for beginners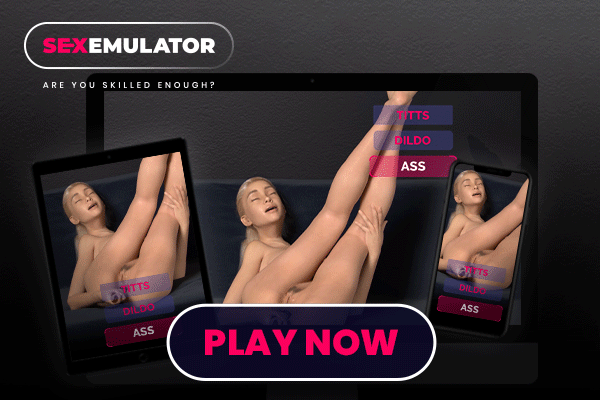 articles and tutorials
Bondage tutorials for beginners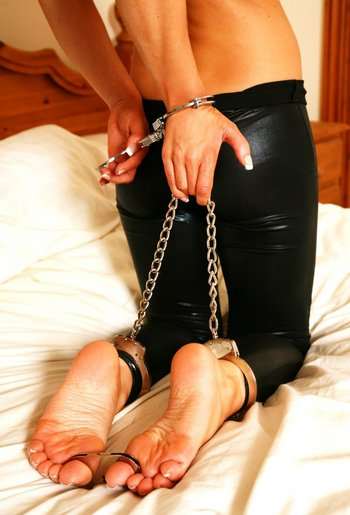 Using metal handcuffs
If using police type handcuffs, be sure you get good quality, actual police ones. Low quality handcuffs are made of two not too thick plates, that come apart as soon as you put pressure sideways on them.
Good handcuffs have also a mechanism for avoiding them closing tighter under pressure, cutting the blood circulation and damaging the wristsí or anklesí tendons and nerves. The device should be a small pin on the base of the lock on the handcuffs, which is pressed with another pin on the top of the key for blocking. If they have other kinds of blocking devices, as a small lever on the side of the lock, donít buy them.
Be sure that you blocked the lock after closing the handcuffs on your sub. You donít need to close them tightly.
Keep a backup key in a safe place, in case you lose the one you are using. If you donít have the key, you will probably need professional help for cutting them. But the handcuffs keys have no combination. Most keys will open most handcuffs (it has to be so, so the prisoner can be passed from cop to cop without passing also the keys), so it is easy to get backups.
Metal and skin donít mix well. You donít need (or should) close the handcuffs tightly, just enough for your sub not being able of slip the hands thru them. Don't hang your bottom from metal handcuffs, even if resting the feet on the floor, and don't let him/her laying with the weight of the body over them.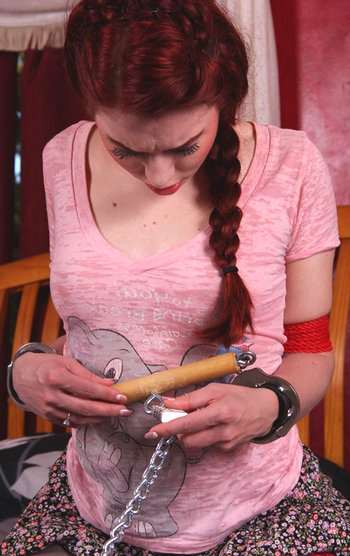 Safety with chains and padlocks
When using chains in self bondage, donít use them too tight (thatís the good thing about chains, they donít have to be tight to be secure). Same as with the handcuffs, donít hang your sub with them, and donít let his/her body rest over chained wrists. Metal restraints can hurt tendons and nerves.
In general, the chains must be loose, never putting pressure on the subs body. For hanging, stretching or any other position that requires tension, tie the chains to leather cuffs on your subs limbs.
Again, be sure that you have the padlock keys, and that the padlocks are in working order. If possible, get a set of matched padlocks that share the same keys (they are available). I will save you to be fumbling with the keychain trying to find the right key. If you canít get one, mark somehow the locks and its matching keys (maybe a dot of paint of a different color for each set). You will be glad for having spent some time on it if you have to unlock your sub in a hurry.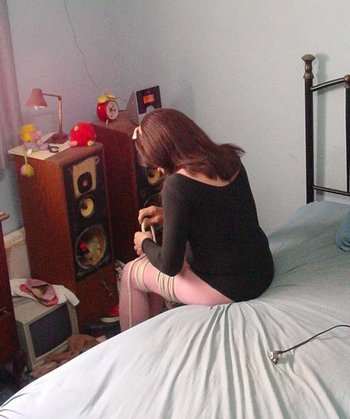 Self-bondage safety
At the beginning we told you that that this information was not for trying to scare you out of BDSM. This section tries to scare you out of self-bondage.
Self bondage is extremely dangerous. Many deaths in BDSM occur to people that bind themselves and cannot escape afterwards.
The main problem is that if you bind yourself in a way in which it easy to escape from, you lose most of the thrill of bondage. So people invent many ways of tying themselves in such a form that the ways of escaping are limited (We will not mention any, so you donít get tempted. And all the ones we know can fail). If those ways fail for any reason, they are in what many times becomes a deadly trap.
If you are trusting in some kind of time-release mechanism, and you have any problem, you could be dead if it doesnít work, or if you cannot wait until it works. What are you going to do if you vomit on your gag, for instance? Or what if you faint? What if something unexpected happens?
Maintaining a position for too long (hanging from the arms, resting with all your weight on your belly, and many others) could fatigue the respiratory muscles. If it happens and you cannot release yourself pretty fast or if you faint before releasing yourself, you are dead.
A rope can slip and begin suffocating you, your circulation can be restricted and your hands become so numb that you cannot use your fingers for opening the lock. There could be a fire in the house. And most emergencies will worsen with time.
You canít be ready for everything. Something that neither you nor we can anticipate could happen.
Above we are saying ďnever leave a bound person unattendedĒ. And if you bind yourself, you will be bound and alone, a losing proposition.
Donít play solo bondage. Trust me. DON'T DO IT.
In any situation, anywhere, if you feel panicked and unsure just take a few deep breaths. This serves to calm you down and allows you to think just a little clearer.
Never, never, never, never NEVER(!!!) place anything around your neck that can strangle, and never place anything in your mouth that can block breathing.