articles and tutorials
BDSM workshop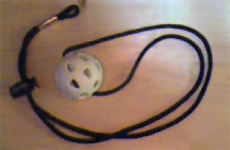 This is another case of something very simple being very effective. When I play, I hate faffing about with equipment, I like stuff that is easy to use, and doesn't disrupt the flow of a scene. If you feel like that too, then you will just love this simple little gag. You can make either this version (the dribble gag) or a plain ball gag. Follow the same instructions for the plain ball gag, but instead of the practice chipping golf ball use a solid ball with a hole drilled through it. I would suggest a squash ball (although I have heard rumours of these collapsing and spliting) or what I, as a kid, used to call a power ball. These are sold in newsagents in a variety of colours and are about the size of a golf ball, but made of solid rubber.
The dribble gag is great fun. Because the ball stops the sub from swallowing, they cannot get rid of the saliva that builds up in their mouth. This then dribbles through the holes and out down their face in the most humiliating way :o~~~

Instructions:
Step 1.
Thread the cord through the ball. If you are making the solid ball gag you need to bore a hole in the ball first; make this hole only slightly bigger than the diameter of the cord.
Step 2.
Thread the cord clip onto the cord (these cord clips are the type that you find on the bottom of some rain coat draw strings). I bought mine in an army surplus store for a piddling 60 pence!
Step 3.
To finish it off tie the ends of the cord off (a reef knot or similar will suffice). I finished mine with a chrome ferral (sort of like a tube that you squish with pliers).
To Use.
This is the best bit! You slip it over your sub's head, and just zip that cord clip up tight to the back of their head. To release the gag, just press the button in and zip it back away from the sub's head. Putting the gag on and taking it off can be done in just a couple of seconds! I made my dribble gag for less than ?1:50, so what's stopping you - heh heh.