BDSM workshop, make it yourself!
Welcome inside. This Web site is a reference source. If you attempt to make or use any of the items that are listed here, please understand that you do so entirely at your own risk. Also note, just because you can make something, doesn't mean that you can correctly use it. There is a saying "all the gear and no idea"; in this instance the results could be quite dangerous. Hell, I'm not your mother, just be careful ok!
I believe that the best BDSM furniture is rather personal to its owner. Not everyone wants a generic design.. your personal pieces should be customized based on needs, play style, and tastes. Therefore, I put forth the plans here as a starting point, not necessarily a final design. The plans here are sound. They'll work. However, there is noodle work to be done before you hop in. Change the type and dimensions of wood, angle of a leg, height. Match what you build to how you'll use it. In the end, you'll have something that's not only functional but personal to you.
To this end, I strongly suggest your read the Design Practices page. This collection of thoughts will be especially valuable if you haven't designed your own furniture/woodworking projects before.
There are fine BDSM furniture crafters out there, and I support their efforts. Many produce artistic product far beyond my own capabilities and patience. Consider buying from the crafters if their products meet you needs, and try building what they build before condemning their prices.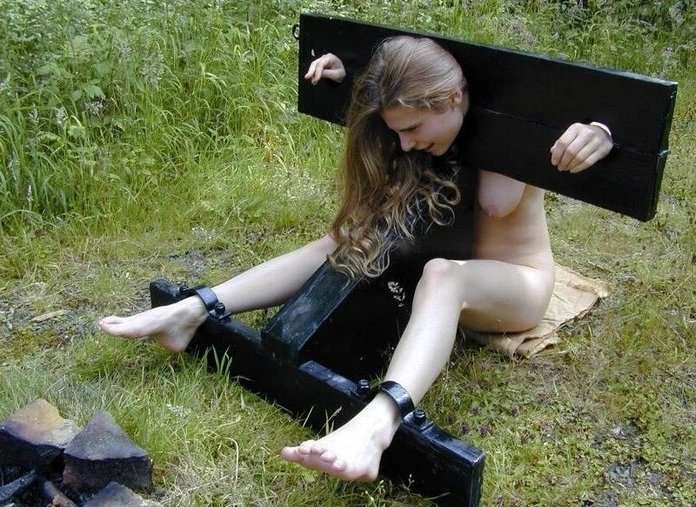 Flagellation, spanking machine
3102
Build an automatic flagellation machine, capable of administering three (ceiling fan motor speeds) levels of horizontal (or vertical) whipping at an adjustable height...
Folding Bench
3717
The Folding Bench is the result of a couple of years of effort in trying to get the functional equivalent of the Portable Spanking Bench in a form that could be created with commonly available materials and tools...
Portable Spanking Bench
3111
This is a Portable Spanking Bench I built, and it has served us and our friends well. I can`t tell you how to make one *exactly* like it, because I don`t have a source for the core part, the metal frame...
Portable St. Andrew`s Cross
2449
Bondage Chair
3600
Breast Crusher
2031
The Breast Crusher is just a large clamp really. As with all the best things the idea is simple, and the effect is devastating. The clamp is opened up, and the breasts are forced between the jaws...
Shrew`s Fiddle
3177
To be completely honest, I had never heard of a Shrew`s Fiddle before embarking on this project...
The Ball & Chain
2262
I always laugh to myself when I hear anyone call their wife their `ball and chain`. It always counjors up images of little sub sitting in the front room proudly wearing hers, if only they knew...
Flogger
1435
The Flogger, whilst looking quite imposing, is really quite easy to make...
Simple Enema Kit
1607
Evil Sucker
2459
School Cane
1206
Ball Gag
1615
A Tack Bra
2114
Tack Bras are great fun to play with. This design is pretty cool as it is made without ruining a bra, and the inserts can be put into any of the sub`s lingere...
Locking Restraints
2110
The basic staple of secure bondage is a set of locking restraints. One common design can be used for wrist, ankle and thigh restraints, and even collors and belts...
Fucking Manchine
2748
2
3
4
Every so often, someone brings up the concept of a fucking machine, a motor-driven device that shoves a dildo in and out of an orifice or provides another motion simulating fucking...
Ceiling Suspension Point
3481
2
Wouldn`t it be nice to have a secure, non-obvious suspension point in your ceiling? Here are two approaches to building one in a typical ceiling...
Copper-handled Floggers
936
Breast Torture Toys
2925
Nipple Stretcher
2128
This device is a nice compliment to any pair of small clamps, particularly clovers as they get tighter when tugged. It`s basically a simple arrangement that puts an even and constant pull of both nipples by pulling a pair of clamps away from the chest...
Canes
902
Canes are among the simplest of toys to make. In fact, you could pick up a broomstick and call it a cane...
Frame Stocks Pictures
1810
Stocks
1816
2
3
4
Stocks have been used as a restraining device for many years...
Doggie Bench
2718
A simple project creating a small bench/stool-like piece to hold an occupant securely in the doggie-style position. This basic design folds for storage/transportation, and is planned for hardwood construction...
Basic Horse
4169
Perhaps the most common dedicated piece of dungeon furniture is the horse. Modeled in many respects on the carpenter`s horse, a BDSM horse is fairly flexible, and can be made more so with a couple little tweaks...
St. Andrews Cross Pictures
1537
St. Andrews Cross Accessories
1408
St. Andrews Cross 2
15128
St. Andrews Cross
2921
Frames
2950
Tools
1373
I started building BDSM furniture on the small deck of a small apartment with very basic tools. It can be done, but I don`t recommend it...
Portable Kneeling Post Pictures
1678
Kneeling Post
2681
The kneeling post is designed to restrain someone in a kneeling position, which as you might imagine can be quite severe over time. The project is relatively simple... just a square of plywood with a rigid 4x4 post sticking up from it...
Materials
858
The materials page briefly covers the things you`ll use to build the BDSM Workshop projects, including lumber, metal, fasteners, adhesives, and surface treatments...
BDSM Workshop: Design Practices
1722
Breast press - how to make tutorial
1252
A breast press is any device that compresses or crushes one or both tits. Many people have made these out of straight or fitted pieces of wood, metal pipe, and even PVC pipe...