Evil Lil Sucker - BDSM Workshop
articles and tutorials
BDSM workshop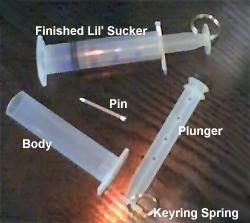 Sometimes the simplest ideas are the very best ideas. This, I would concur, is a case of that. Fed up with hearing about the fun that could be had with a 'snake-bite' kit, but not living in a country where snakes are a problem was very frustrating. I couldn't buy a snake-bite kit, so I improvised my own, and it turned out to be such a useful little sucker, that I quickly made a companion for it - heh heh. Here's how to do it.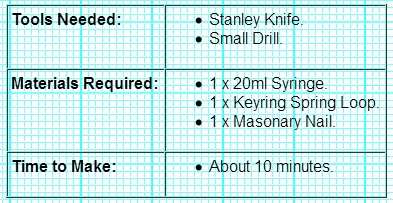 Instructions:
Step 1.
Take the syringe and take out the plunger. Now, with the sharp knife, cut the funnel tip off of the syringe body.
Step 2.
Take the plunger and drill small holes into the shaft of the plunger at regular intervals down it (see photo). Make sure that the hole is a snug fit for the masonary nail to pass through.
Step 3.
Now put a hole in the top of the plunger and attach the key ring spring clip through the hole. This will make a useful place to attach weights and cords when in use.
Step 4.
Finally put the plunger back into the syringe, the wrong way round. The finger lugs now act to stop the device digging into the flesh and inhibiting the amount of suffering that this little beasty can cause.
Tip.
When you use this, be sure to leave a small air gap between the flesh and rubber bung on the plunger. This air space acts as a slight springy buffer, and allows better use of the little sucker - heh heh.