Folding Bench - BDSM Workshop
articles and tutorials
BDSM workshop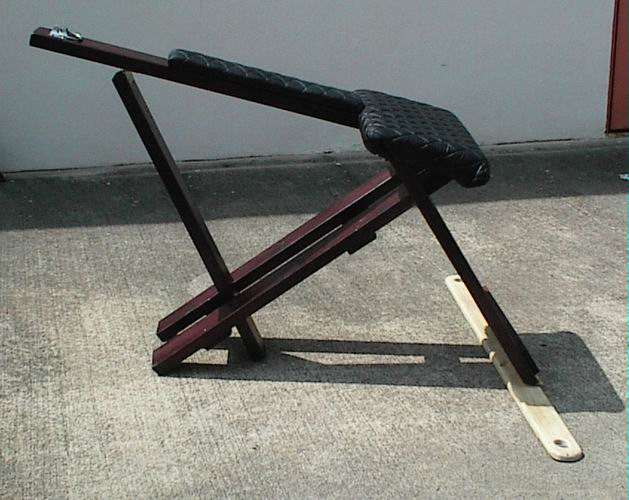 The Folding Bench is the result of a couple of years of effort in trying to get the functional equivalent of the Portable Spanking Bench in a form that could be created with commonly available materials and tools. The Folding Bench is designed to be comfortable, especially for subjects with leg or knee problems, to provide easy accessibility to the chest of the subject, and tether points for wrists and ankles.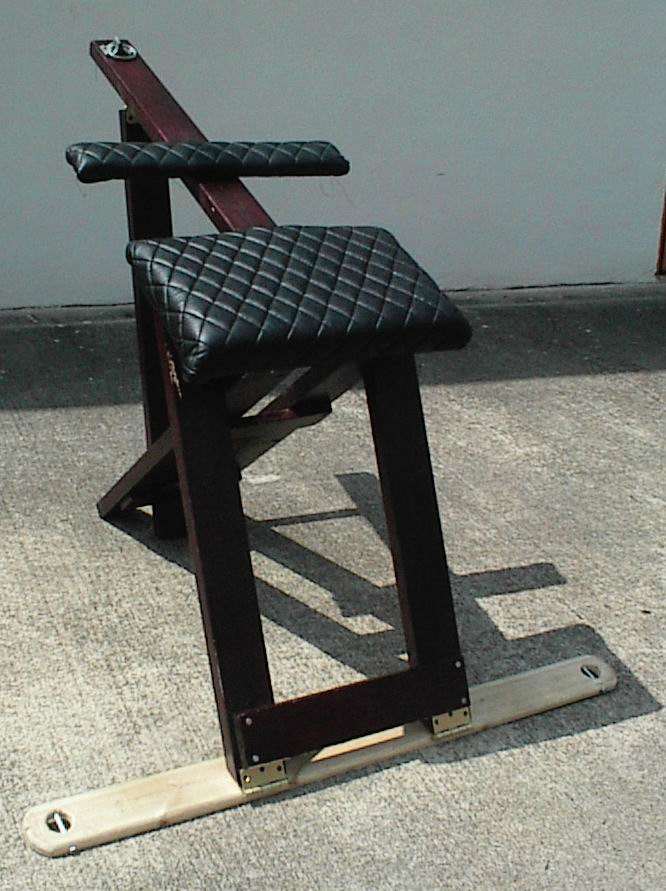 The Folding Bench is different from other benches in two major respects.
It's designed to support the subject's body comfortably without any pressure or strain on knees or legs. The body's weight is supported by the lower stomach and pelvis area, leaving the legs free. This feature has been especially appealing to people with knee and leg problems who have problems with benches that have them positioned with weight on their knees.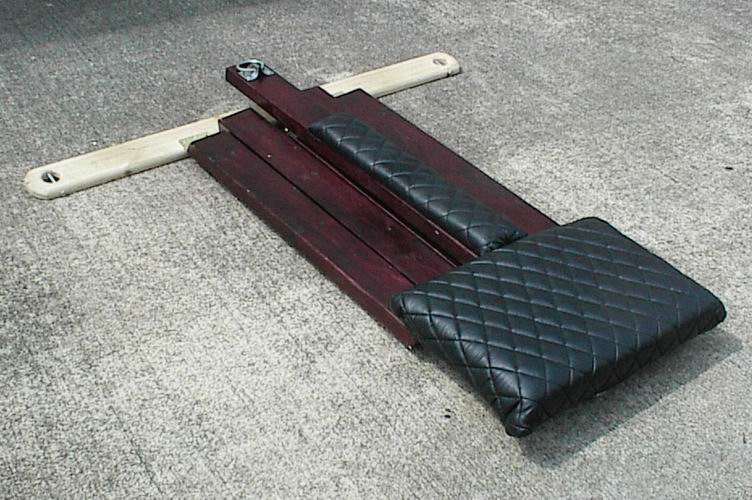 The second major difference is portability. The Folding Bench folds to a size of 48x4x48 inches as seen in the photo to the left. When folded, the Folding Bench easily slides under a bed or into the back of a closet, ready to be brought out to play whenever desired, and can be setup and struck in less than 2 minutes. The picture on the left illustrates the Bench folded in this manner.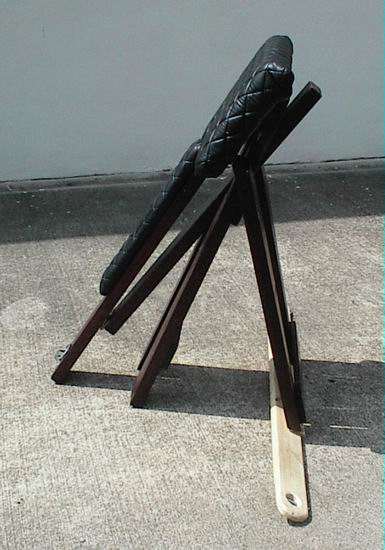 To erect the Bench, it's raised to a vertical position standing on it's footrest. Then the center and forward legs are swung out and set in place, much like an ironing board. In the picture to the right, this process is just beginning. To continue, the bench is opened and the legs fall into place.
The footrest provides side to side stability for the bench, as well as two spread attachment points for use with ankle cuffs. To avoid subjects tripping on the footrest, it's only 3/4" thick and rounded on all upper edges. It includes two tie points at the ends that are flush with the footrest, again avoiding a stubbed toe or tripping a blindfolded subject.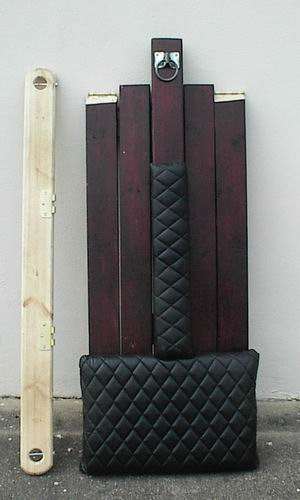 The footrest is attached to the bench with two removable hinge pins. With the footrest removed, the bench and footrest will fit into a nylon bow bag measuring 20x4x28 for easy, discrete transfer to parties in private homes and hotels. The picture at the left illustrates the size of the folded bench with the footrest removed.
Our plan is to offer these benches for sale as unfinished kits. All cutting, drilling, sanding, and assembly would be completed, and the bench delivered ready for it's owner to paint or stain it to their own preference, and thus keep the cost down, as well as provide opportunity for them to make the bench more theirs.