Nipple torture, the endurance test and Oubliette punishment
articles and tutorials
Theory and practice of female domination
Pain, punishment and torment in BDSM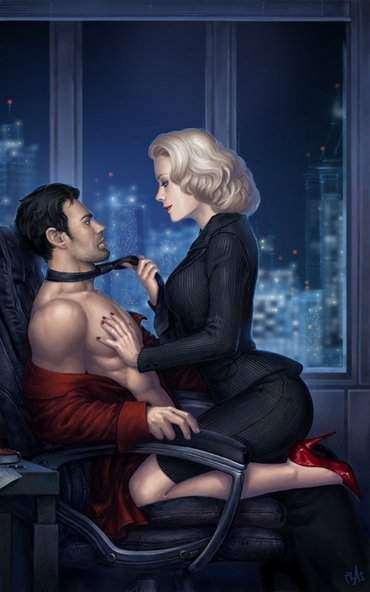 Nipple Nagging
Into nipple torture, is he? Great! There are so many things you can do with protuberances. You can pinch them, clip things to them, add weights to the dips, hang things from them, slap them around, pierce them, set them on fire ... it seems I have gotten carried away. Again. (But yes, you can set his nipples on fire, after you have removed his body hair.
If you are using clips or clamps for this game, check the surface for smoothness so that the toy will not break the skin. Although a toy like a hemostat just cries out to be attached to a nipple, a hemostat actually is not a good toy because it may crush tissue. But if you are handy, you can use a pair of pliers to bend the tongs of the hemostat back just under the clamp part, and make it a more suitable toy for play. As with all toys that can cut off circulation, check the nipple often. And after you remove the clamps, be sure to play with his extremely sensitive nipples as the blood flow returns to them.
Bunt, Baby, Burn
If you don't smoke, skip this part because there is no way to light a cigarette unless you smoke it. If he doesn't have chest or groin hair, you can skip this part, too. But if you smoke and he has body hair, this is a nice new punishment with definite elements of danger. Only use a cigarette, cigarillo, or a cigar for this. Do not use any fire or open flame that you cannot completely control. (I know that sounds odd since fire is an uncontrollable force of nature, but a cigarette isn't, and you can control the cigarette.)
What's the trick? Easy. And the elements of danger are built right in. After the cigarette is lit, the ember is hot, and the ashes have been flicked, carefully run it down his chest and around his nipples, singeing off his hair as you go. Use the cigarette to singe the hair off his nipples, off his chest, and especially off his groin. Don't blindfold him, you want him to see this. Do it slowly and deliberately, with a wicked gleam in your eye. The proximity of the hot ember, the heat he will feel upon his body, the awful smell of burning hair, and the fear that you might fall off your platforms and really burn him make this a very exciting punishment to give and receive.
If you decide to burn his groin hair, make sure his member (which has that tendency to bobble around) is securely out of the way. Also, make sure lo flick the ashes frequently, or even better, roll the cigarette against the side of an ashtray, but make sure there are no ashes on the cigarette. They get in the way.
Pluck, Pluck, Pluck
And I don't mean as in plucking a chicken either! I mean groin hairs, plucking out groin hairs, one at a time or in small bunches. And what wonderful little punishment it is, too. Lots of fun for you and a terrific tiny torture for him This is not hard to do; all that is needed is the proper grip on the hair, and a swift, determined pull to yank that hair out. Try wrapping the hair (if it is long enough, and they usually are) around your finger, even the pinkie finger, and give it a swift yank. It will come out, I assure you. Do this as long as it is amusing to you. Get a little silver metal box and keep the hairs in it, ceremoniously placing one hair at a time into the box after you pull it out. Keep the box and use it to threaten him when he misbehaves.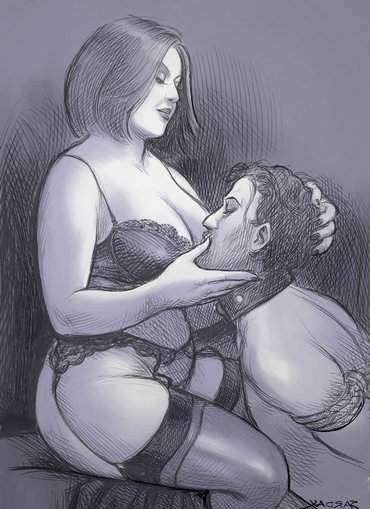 Hands Off!
Does he have a nasty habit of trying to touch his member without your permission? Slaves can be very creative, and quite sneaky, just in order to play with that all-mighty organ dangling between their legs. Some lie on the floor face down and wiggle their hips; some try to close their legs and rub their thighs together; and some just think you are blind and aren't noticing that their hand is between their legs. So what do you do?
Lots of things! Leather hand mitts will definitely stop him from getting a grip on the thing, as will tying his hands to his thighs, as you learned in the bondage chapter. The mitts also come with rings, so you can secure his hands behind his back with clip hooks, to the rings of his collar or ankle restraints, to a chest harness, or to those hooks in the wall. A behind-the-back arm binder will have the same effect, and since it immobilizes his arms as well, it will have more of an impact. Not into leather toys? Too expensive? No problem. Using just a doubled piece of rope, you can tie off the head of his cock then separate his scrotum, bend his cock back in between his balls and pull it up between the crack of his ass. When it is as far up as it can go, use crupperlike bondage to secure the entire affair to his waist. Pull the remains of the double rope up to his waist, tie a square knot, separate the ends, and bring them around his waist to the front. Tie a square knot. Now, depending on how much rope you have left, you can pull the rope between his legs and up his crack, securing his precious jewels more firmly.
If you don't have enough rope to do that, use a longer piece of rope. (Sony, I couldn't resist that!) Seriously, if you don't have enough rope, just pull the ends around his back and tie it off there, or you can even tie it off in the front. (But in the front, he could use his hands to pick at the knot when you blink or sneeze.) This technique also has the humiliating effect of giving him a "smooth" front, a pudendum, and making him look more feminine than masculine.
Breaking His Will: The Endurance Test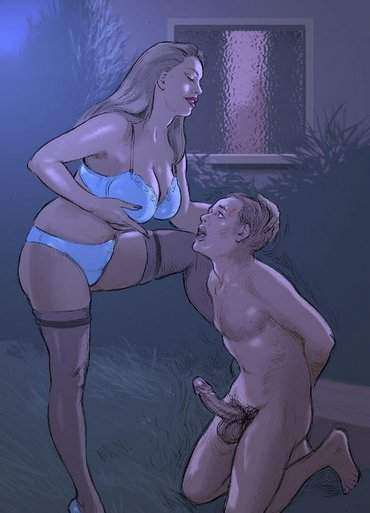 Your slave may be one of those who occasionally like, or try, to engage you in a contest of wills. After all your hard work, too. Although we know there are many ways to "break in" a slave: using bondage to control him, mind control (threatening him with his deepest fears), discipline, and behavior modification, sometimes just none of these works. If he is extremely willful, don't worry, because I assure you that after using this technique on him, you will win. Now and forever. It works on breaking his will by wearing down his physical stamina and weakening his body. Once his physical stamina is gone, it begins to work on his mind until the desired result is accomplished. "The Endurance Test" I will describe below was created by Madame Cole de Sade, and I had the pleasure of witnessing its enactment firsthand. What a marvelous techniquel Subsequently I began to use variations of this technique for "submissives" who did not show me the proper respect, or generally needed to be pul in their place. This is one of the routines I use, courtesy of Madame Cole, which will give you the idea.
Using your Bene Gesserit voice, command him to stand directly in front of you, feet together, hands at his sides. Have him extend one arm at the shoulder, palm up. Place a bottle of water, or a plastic cup of water, in the face-up palm of his hand. Sit back down in your chair, and wait. If he tries to curl his fingers around the cup, slop him: no finger curling allowed. The cup must be balanced, not held. When you see him start to shuffle, or when he begins to relax his elbow, speak to him in a cool (as in unconcerned or remote) tone of voice and correct him.
As his punishment for the above infraction, another exercise will be added to his routine. He is to march to the count of 300, while holding the cup of water in his open palm. Of course, his inclination will be to count out loud, as if you want to hear that! So you correct him, telling him to keep his counting to himself, and make him start over at number 1.
Sit there in your chair and observe him. Ask him if his arm is aching from holding the cup, if his muscles burn, if there are shooting pains from the unnatural position and the strain of holding up the cup. Ask him what number he is up to. Ask him if he is sure that is ihe number; say your count is different, much less. You get the idea: Verbally torment him about his torment.
You are not quite satisfied he has learned anything yet, so you add a final step. As he marches, he is to swing his free arm in rhythm with his steps. And of course, he better not drop that cup, or even spill any of that water. You keep up your verbalizing, asking him if his legs are tired, how are those shoulder muscles doing, are they burning, what number are you up to? and so on. Keep lowering the number so he has to do more and more, until he begs you to be allowed to stop. But don't let him!
Go on in this vein as long as you like, the longer the better. Break down his body, and his mind will follow.
Work Him
So you have experimented with all of the above and, combined with corporal, he still isn't getting it. This might be because he unreasonably expects you to be his domina all the time. Call it manipulation, topping from the bottom, or whatever, but the idea that you can be in domina persona 24/7/365 is not based in your reality. Or mine. Sometimes you just want to be in your pj's channel surfing at the same time that he wants you prancing around in a latex cat suit and stiletto platforms. You need to teach him to appreciate you more—domming is hard work and many slaves are still astounded, astonished, and amazed by this fact. How do you let him know where his place is in your life, and that you actually have a life?
Assign him as many household chores as you can, the dirtier, the longer, the harder, the better: dish washing, vacuuming, dusting, taking out the trash, cleaning the bathroom, floor scrubbing on hands and knees, painting the rooms, shampooing the carpet, grocery shopping, washing and waxing the car, washing the windows, cleaning out the garage or basement or attic; lend him out to single friends who need help (as in manual labor) in their home or garden, send him out on errands, in other words, work him to death by commanding him to perform these chores as service to his domina for all she does for him. If he wants you to be dom all the time, then he needs to be taught to be the bottom all the time, without question, opportuning, or expectation of reward. And do not reward him every time he gives satisfactory' service. He needs to be taught that his submission to you is total surrender, and that his submission is expected but the reward is not.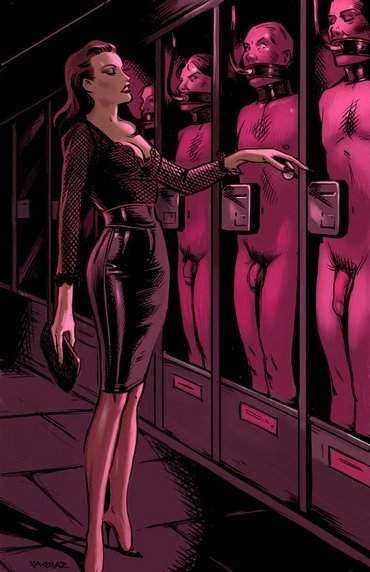 The Oubliette
The romantic definition of oubliette is a "place of forgetfulness," but the dictionary defines an oubliette as a dungeon with an opening or trap door at the top as its only means of entry and egress. The word itself is from Middle French and dates back to 1819, telling us that the French were probably our kind of perves, even back then. Oubliettes were wonderful places for passive torture and confinement after active torture: no light and only the one way out, so the prisoner had no hope of escaping without help from his captors. Some oubliettes were round, others fit the dictionary definition, but all were intended for the same purpose: to confine and ultimately to obtain surrender from the captive. For our purposes, the oubliette can be used as a form of discipline, a punishment for a serious infraction of the rules.
Okay, so you don't have an underground dungeon with a trap door in the ceiling. Neither do I. I use a cage or a jail cell as my oubliette, and I cover the exposed bars in heavy black material to shut out the light and complete the place of forgetfulness, or I use the dungeon itself and just pretend it has a trap door. When I use the jail cell, it is outfitted with all a bad slave needs for the night: his little tiny slave's pillow (nicked from an airplane), a small blanket that he really has to scrunch up to fit under, a bottle of water, and a bucket so he can relieve himself during the night. When I use the cage, since it is rather small, these things are placed within arms' reach outside the cage. If I am using the dungeon itself, I place these things in the room. If he uses the bucket, he obviously has to dump it out and scrub it clean himself.
Now he's locked up in the cage, jail cell, or whatever you use as a dungeon for the entire night. Unless you intend to sleep right next to the cage, cell, or inside the dungeon, how will you know if he has a problem? This solution cracks me up: I have a baby monitor! And it works great! I conceal it where it can't be seen but still transmits each noise in the room, particularly loud ones like he is going to make if he has a problem. But since he has no idea I have the baby monitor in the room, his fear builds at the very thought of being left alone in the oubliette overnight. After his night in the place of forgetfulness, in the morning he will be very subdued and quite docile. This would be a good time to verbally impress upon him why he was in the oubliette overnight and what improvements you expect in his behavior.