Electro-Torture in femdom: Violet Wand and TENS Unit
articles and tutorials
Theory and practice of female domination
Pain, punishment and torment in BDSM
Yum! Whenever I practice this art, there is a devilish gleam in my eyes and an expression of sadistic glee on my face. The sadist in me comes out full force, and what a joyful sadist I am, too! I smile and laugh during beatings, but electro-torture brings out the child in me. What a sick child l am. Why else would I giggle and jump around while shocking someone who is suspended upside down and wearing layers of latex, with his hands secured to the floor? Only his genitals are exposed for the torture.
The Violet Wand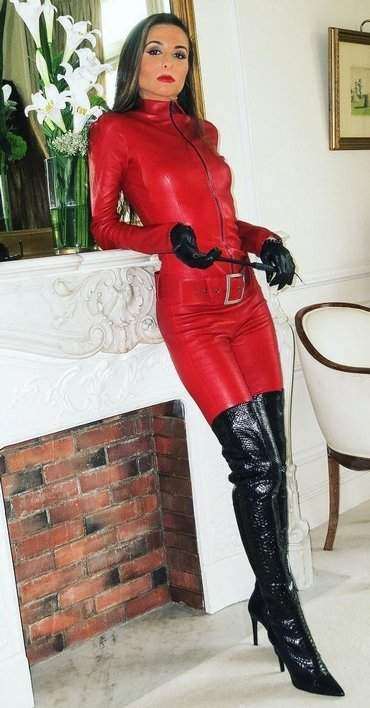 The two pieces of equipment I love most for electric play are the violet wand and the TENS unit. The use of the violet wand in this context is very' different from the fire and violet wand technique you will read about later in this chapter. This is a tamer version because it requires no fire. The wand itself comes in a storage box, usually with four or five attachments: a rake, wand, large and/or small mushroom cap, spiral, or other inventive shapes, The best wands have on/off buttons; the ones without the off switch connect immediately upon being plugged into the outlet and therefore are not as safe. I like to use the wand in a very dark room because it gives off a lovely violet glow. I also like to turn the music down because the wand also makes a very menacing buzzing sound that I like him to hear. After the wand has been in use or turned on for a while, there is a distinctive odor of static electricity in the air.
Using the wand is not difficult: just hold it a little bit away from his skin and watch the fireworks. The violet wand can be used above the waist, on his nipples, and down his sides, but never use it on or near his face. When set on high, the wand will give off an electrical shock that is akin to a major carpet shock. And I do mean major, But of course, you don't start out at high, you build it up slowly, using his own body language to tell you when he has become accustomed to that level, is enjoying it, and is ready for more. Then you can turn it up higher, higher, higher, extending your pleasure and your playtime. You can keep it at a low constant level and jolt him when he doesn't answer quickly enough or for whatever reason, or just because you enjoy seeing him jump. Or, you can only give it to him in jolts, using it like a cattle prod. I especially like to do this when he is in inescapable bondage, but practicing bondage and electro-torture together means that the bondage will have to be tight enough to contain him, but not so tight that involuntary movement could strain or sprain any muscles.
The TENS Unit
The TENS unit is an entirely different affair than the violet wand. The TENS unit has one-time-use pads that adhere to his body. The TENS unit does not generate anything mild like a carpet shock; it generates a genuine electrical shock of the kind used in real torture. Of course, the most fun place to stick these cute little pads is on his genitals. I prefer to use the unit on his scrotal sack because I find that to be the most effective. The pads on the TENS unit have wires that lead to a small, hand-sized control box. Turning the knobs on the box will start the current flowing—and the fun. You can build up slowly, give it to him in shocks, or keep the flow at a constant level, then "spike" it.
When you are using the TENS unit, or a similar item, never allow any electric current near the heart. That means no contact points on the heart, nipples, or chest, and I mean that very seriously. If he has a heart condition, he should never play any electrical games. In regard to the violet wand, it should never be inserted into any orifice, and it has been known to cause sunburn on some fair-skinned individuals.
The Violet Wand and Fire-Play
I saw this technique at a Dom/Sub Friends demonstration in New York and fell so in love with it that I incorporated it into my repertoire. Although the description is short and sweet, the impact from this on him is huge. This combines the fire technique with the use of the violet wand. Here's how to do it: Start with your careful alcohol application, drawing what you will. Take your violet wand and put in the long thin prod provided in most sets. Then, instead of using a cigarette lighter, pass the violet wand over his skin and use that as your match. The effect is absolutely amazing to watch and his reaction is even better. This is much more intense than either the wand or fire alone, but it is over fairly quickly, usually before he is done screaming and yelling.