Discipline, humilation and punishment ideas for him
articles and tutorials
Theory and practice of female domination
Pain, punishment and torment in BDSM
When we think of "discipline," corporal punishment is naturally the first thing that springs to mind. But we know there is more to discipline than punishing the body, because sometimes even the best, or the worst, beatings have no impact. Why? Who knows? Maybe he is a little dense, has a thick hide, doesn't care about being beaten, or is just trying to manipulate you into giving him beatings by misbehaving. So, we need to step a little further behind the veil and include in discipline actions that are not corporal as a means to punish him to get our point across. We need to get creative and think of things that would have the same effect as a beating. So even though at first blush this chapter may seem short for such a large subject as discipline, you will find that since it discusses only noncorporal punishments, it is sufficient to give you your own ideas, and there are enough ideas here that you can use them exactly as I have written them. And I enjoyed every minute I spent thinking them up, recalling them, and then writing them down to share with you.
And even if a beating continues to be an effective means of discipline, perhaps you would like to use these ideas to broaden your repertoire of punishments because you get bored just beating him. Alternating the little tricks below with traditional corporal punishment, or using them as inspiration to make up your own, is a great way to give your whip arm a rest, and keep him guessing as to what delightfully exotic torture your erotic mind will dream up next.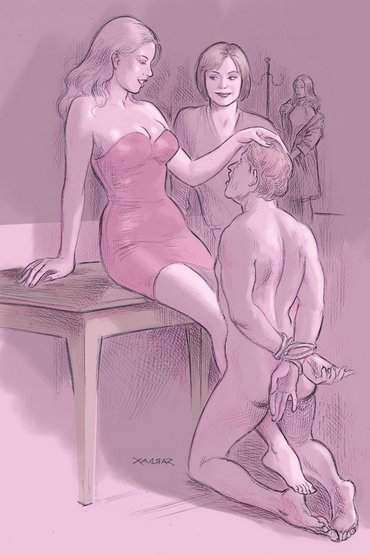 Say Good-bye
To his idea of a bathroom. Our male creatures have a nasty habit of leaving the toilet seat up, as well as splashing urine all over the toilet bowl and other places. As women, we find this to be ugh! just repulsive. Does he constantly leave the seat up? Is his aim so bad that his stream runs down the front of the bowl? Are there smelly drops of urine on the floor? Does he have a nose? A tongue? A toothbrush? Does commanding him, beating him, depriving him of your presence or attention just to get him to put the seat down and to aim his stream into the toilet bowl have no effect on him at all? Yes to all seven questions? Good! Instant punishment.
This is how you get your point across: inspect the bathroom while he is still in it. If the seat is up, order him to get down on all fours and put the seat down using only his nose. If he is into this kind of humiliation, and there are splashes of his urine dripping down the front of the bowl, on the floor, or on the seat, order him onto all fours, and command him lick it up. Or, make him get his toothbrush and use it to thoroughly remove the offensive urine. Then make him brush his teeth with the same toothbrush. For milder disciplinary humiliation, order him to sit down like a "girl" every time he wants to relieve himself. Then stand in the doorway and watch him.
Courtesy of the Nuns
This was a popular punishment when I was in elementary school. Run by Catholic nuns, the nuns were not allowed to administer corporal punishment but, jeez! were they creative when it came to other ways to punish us naughty students. Throwing the chalk and/or the blackboard eraser were popular with the nuns but are not appropriate for our purposes. But this one was a favorite of theirs, and it can be used for our purposes for any infraction. Sort of an all-purpose punishment, combined with humiliation.
Remember the gray or beige metal trash cans that used to be in each classroom? You'll need one of those, or something like it that is large enough for him to stand in. Then you'll need a tall conical cap (pick up a witch's hat at a Halloween store), and use your computer to print out "the" word. The word could be dummy, clumsy, bad boy, dunce, whatever word fits the crime, and paste the word onto the cap. Put the trash can in the corner, place the cap on his head, and make him stand in the trash can, facing the wall, until you feel he has learned his lesson.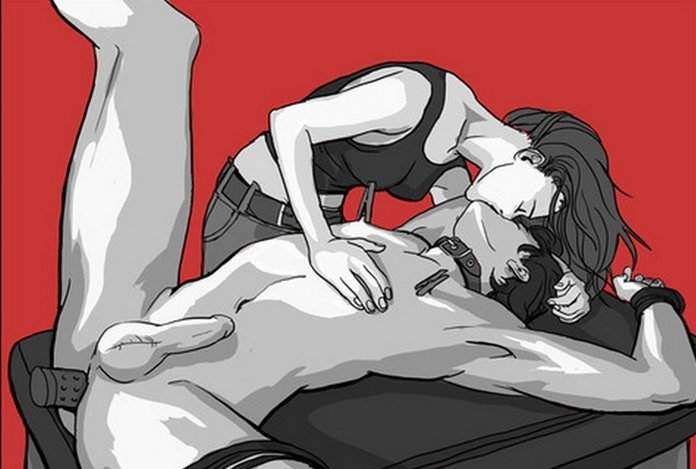 You! Off My Planet!
Or at least out of my way. At some time, everyone "vants to be alone." Or at least be left alone. This would definitely include us. We have so much to do to remain the glamourous, mysterious femme fatales that we are. In The Art of Sensual Female Dominance I explained a technique called "Parking Him." This next is similar to parking him, except invisible ropes, or mental bondage, is what keeps him still and in place. That, combined with the fear of punishment. So you send him to a corner, one where you can keep an eye on him to ensure his good behavior. Order him to curl up into the smallest ball he can, with his head facing the corner. Tuck him in more tightly than he has tucked himself, and command him to stay that way. Then proceed with your own concerns as if he were just another piece of furniture, or perhaps weren't even there at all.
Fetch
As in "fetch that dildo, boy!" An all-time favorite of mine, this punishment is humiliating and reinforces your control over him. I sit in my chair and throw the dildo across the room. The dildo is a very large and realistic black one with a base, and it is quite intimidating. He is to bring it back to me in his teeth, without using his hands. He goes loping off on all fours to retrieve it but balks at picking it up with his mouth. Of course, this disobedience is unacceptable. In a controlled "rage," I stride across the room, pick the thing up, and use it to beat him. Then I drop it on the floor, return to my chair, and repeat the command. The slave is humiliated at having been beaten with a dildo, and after that he usually complies with my order. Alternatively, if he is into anal play, as punishment for his disobedience, I would make him hold a position that gave me access to his ass and shove the thing straight up it. Then I would order him to crawl back to my chair on his knees while holding it in with his hands, and then I would make him sit on it while I have a nice smoke and a beverage, maybe even call a girlfriend and tell her in a most amusing way what I have just done.