Tie yourself in sequence...
The gag at (6) should be a simple between the teeth gag do that it won't
restrict breathing.
The body-arm coil at (7) is prepared in advance. Pretie a coil of 4, 6, or 8
loops so that it is a struggle to get it over your head and down over your arms.
It should be pretty snug. Have the loops below your boobs will hold it in place.
If you lie on your side you can get your wrists into the wrist coil and cinch
noose. Draw your wrists and ankles together by pulling the "pull cord" of the
special ring device.
This hog tie can be augmented using two additional cinch nooses on the body-arm
coil. These are placed under each arm pit between the arms and the chest.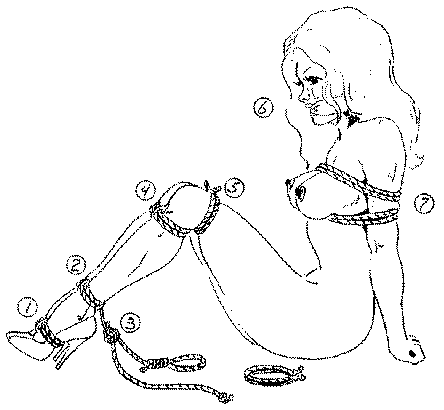 Some things about Marina are just excellent. She is a pain slut, through and through, which means PD can beat her senseless and she will come bouncing back for more. She loves pleasuring him with all of her holes, so every time his cock gets hard she is ready and willing to take it inside of her. Even when he is slamming her pussy with Mr. Pogo he wants to make sure it is soft and wet. He tenderizes it with whips and canes before he buries his dick-on-a-stick in her, all the way up to the handle. Marina orgasms until she squirts, then PD has her lick up the mess she made.