Tie yourself in sequence...
The gag at (6) should be a simple between the teeth gag do that it won't
restrict breathing.
The body-arm coil at (7) is prepared in advance. Pretie a coil of 4, 6, or 8
loops so that it is a struggle to get it over your head and down over your arms.
It should be pretty snug. Have the loops below your boobs will hold it in place.
If you lie on your side you can get your wrists into the wrist coil and cinch
noose. Draw your wrists and ankles together by pulling the "pull cord" of the
special ring device.
This hog tie can be augmented using two additional cinch nooses on the body-arm
coil. These are placed under each arm pit between the arms and the chest.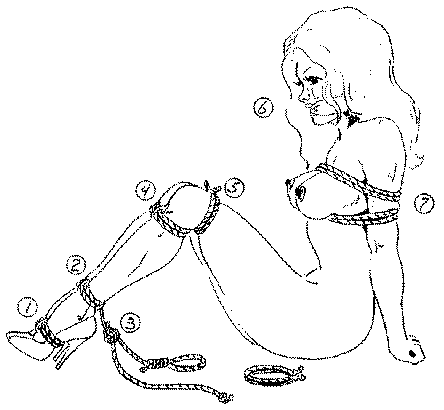 Welcome back Katie Jordin. This beautiful girl is as sexy as sexy comes. She looks so innocent but her mind is sexually twisted.

When we get tough models in we do tough bondage. This is something you don't see every day: a vertical hogtie to a beam. We start with some hard floggings and some serious foot caning. Soon the bondage becomes the real torture here. With her elbows bound behind her, and her hands twisted and cinched to her back, Katie is beginning to sweat.

Then we turn the corner and up the ante to category 5. We pull her head painfully back with a hair tie and and pull her legs up into a severe painful back arch. Katie is truly suffering now. We don't stop there: we tie off her big nipples and pull her forward. Now the predicament begins. She must try and pull forward to relieve the pain on her nipples, but when she does, she stresses out her neck and back and it makes it almost impossible to breathe.