Tie yourself in sequence...
The gag at (6) should be a simple between the teeth gag do that it won't
restrict breathing.
The body-arm coil at (7) is prepared in advance. Pretie a coil of 4, 6, or 8
loops so that it is a struggle to get it over your head and down over your arms.
It should be pretty snug. Have the loops below your boobs will hold it in place.
If you lie on your side you can get your wrists into the wrist coil and cinch
noose. Draw your wrists and ankles together by pulling the "pull cord" of the
special ring device.
This hog tie can be augmented using two additional cinch nooses on the body-arm
coil. These are placed under each arm pit between the arms and the chest.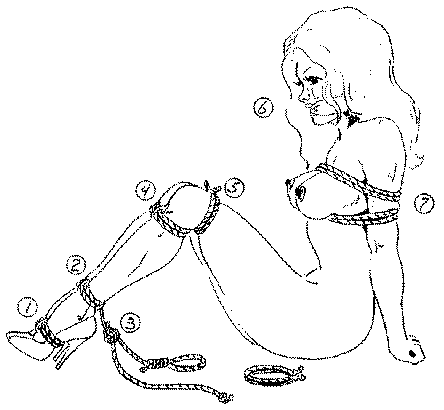 Charlotte Vale has this delusion that if she suffers enough it will earn her something from Cyd Black. That is not the way it works. Maybe if he finds her pain hot enough she will get the chance to take his cock into one of her holes. If he decides he wants to see her cum then he will make it happen, but a sadist like Cyd is much more interested in making her cry.

Inside the barn he canes her to tears. He spreads her cunt with a rubber cock and slathers her clit with icy-hot. She spends some time in the great outdoors, kneeling naked on the bare ground. The rocks embedded in the dirt work their way into her shins and knees. She longs for him to come back and release her but it does not work out the way she wants. When he returns he does not bring the promise of freedom, just painful clips to pinch all over her body.