Tie yourself in sequence...
The gag at (6) should be a simple between the teeth gag do that it won't
restrict breathing.
The body-arm coil at (7) is prepared in advance. Pretie a coil of 4, 6, or 8
loops so that it is a struggle to get it over your head and down over your arms.
It should be pretty snug. Have the loops below your boobs will hold it in place.
If you lie on your side you can get your wrists into the wrist coil and cinch
noose. Draw your wrists and ankles together by pulling the "pull cord" of the
special ring device.
This hog tie can be augmented using two additional cinch nooses on the body-arm
coil. These are placed under each arm pit between the arms and the chest.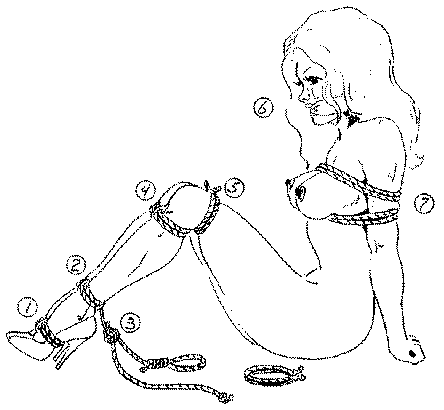 Sure we've seen Lorelei Lee sub before but it's been a long time. Lorelei's getting comfortable in her dominant position and let's face it she's been getting really good at it. But, before it goes to her head, Maitresse Madeline gets Lorelei on her knees for a day of lesbian BDSM and punishment. This is just to remind her that at The Armory everyone is fair game and Lorelei is reduced to a common whore. Heavy flogging, nipple clamps, caning, sex in bondage, ass licking, humiliation and ass fucking are all included.