Tie yourself in sequence...
The gag at (6) should be a simple between the teeth gag do that it won't
restrict breathing.
The body-arm coil at (7) is prepared in advance. Pretie a coil of 4, 6, or 8
loops so that it is a struggle to get it over your head and down over your arms.
It should be pretty snug. Have the loops below your boobs will hold it in place.
If you lie on your side you can get your wrists into the wrist coil and cinch
noose. Draw your wrists and ankles together by pulling the "pull cord" of the
special ring device.
This hog tie can be augmented using two additional cinch nooses on the body-arm
coil. These are placed under each arm pit between the arms and the chest.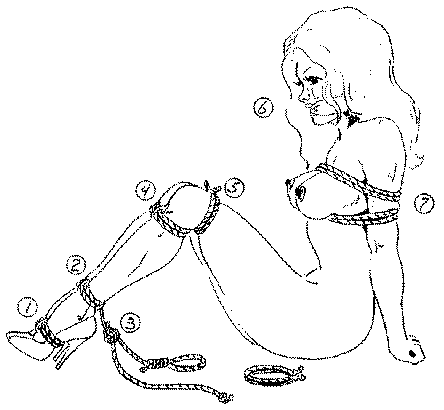 Darling returns for a revival installment of wet, tight bondage. This single element induces shock and pleasure for the submissive subject.

Her wet body bound and strung up onto one leg. Doused and soaked, her titties drip while she struggles to maintain her balance. The stream of water jets blast her into exhaustion before being vibed and denied.

Her limbs tied and pulled spread as her neck is tied and attached to a bucket soon to weighted with water. She splashes around to avoid the hosing only to tighten the rope around her neck. Her breathes are shorten by blasts of water at her face and pussy. Then she is made to cum and thrash around as clothespins bite into her skin.

Darling challenges herself to be hogtied and submerged. One dunk at a time, she increases the duration. She is finger fucked and made to cum, experiencing an underwater orgasm for the first time.