Self bondage pictures gallery, female selfbondage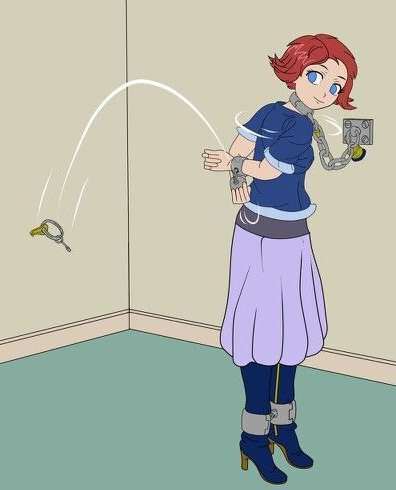 Gagged selfies, self gagged girls
Girl and boys self bondage, handcuffs and tape
Girls in self bondage pictures
She planned her self bondage carefully.
But she hadn't planned on dropping the key to the small lock that held her leather cuffs together.
She tried pulling down on the metal pipe but it was no use...she was stuck.
Self bondage drawings, art and hentai pictures
The then taped the whole bottom of her face but left a hole for her mouth for one last deep breath before she taped over the hole. She then turned the vibrator to full intensity and secured her hands behind her back in a pair of handcuffs that were secured to the back of the chair. The key was tied to her wrist so she couldn't lose it.
Jasmine Sinclair self bondage pictures gallery
The large pink ball felt totally alien as she held it to her lips.

But she had no choice...

...and she tugged on the straps until the ball popped behind her teeth.

"buckle it securely" the instructions said.

And therefore securely it had to be buckled.

"Finally place your wrists in the cuffs and lock them. Should I find any of your bonds to be inadequately secure, you will be severely punished."

First she clicked the cuff shut on her left wrist...
Self bondage spread-eagle pony girl pictures
Angel does rope self bondage illustrated story
Angel relaxed against her bonds, began to realise just how tight she had bound herself.
She tried to bend her legs back towards her bottom but realised she couldn't. The rope pulled on her wrists. She groaned at the strain.
She had hordly had time to enjoy herself when panic began to set in.
Self bondage pictures of Eve Ellis
Bound Fun for girls comics
Girls play self bondage with cuffs pictures
Jennifer figured she'd get In a quick self-bondage session, and be done with it...
She set up her handcuffs tied to a rope that went up and over the half-wall separating the kitchen from the living room. The other end went to a 5-gallon bucket of paint on the work table in the kitchen. She figured it would be the best thing to tie the rope to since they were getting their kitchen remodeled. This way. she would enjoy being anchored to something.
Female self bondage photos
But she hadn't told her new boyfriend about her love of self bondage.
...So after dressing up in something nice, and taping her mouth shut, she attached the ankle cuffs to her high-heeled feet and sat back in his favorite chair and slipped on her handcuffs.
Red straps self bondage pics
Cleo Nicoles self-bondage gallery
Garter belt, stockings, high heels, ball-gag, tits straps and dildo.
Self bondage with cuffs in trunk pictures
Shackles, steel colalr and red ball gag self bondage gallery
Naked girl handcuffs herself
Self bondage problem in jeans shorts pictures
Bare feet, shackles, tape gag and thumbcuffs self bondage hogtie
Underwear self bondage pictures story, helpless tied gagged and chained
The lovely Girl really had a taste for Selfbondage. The last time she was bound helpless for 3 hours before she was able to free herself again...

First, she had shaved her pussy, then she had put on some nice underwear, and then she started.

First a collar, to get the feeling of being a real slave girl.
Female self bondage hogtie
Lingerie girl Eve Ellis elbows self cuffed, nipple clamps and bit gag pictures
Crotchrope and cuffs
Latex, chains and posture collar self bondage gallery
Thumbcuffs hogtie
Self bondage confidential comics
Nipple clamp, spreader bar and crotchrope complement the self bondage composition
She now fastens her mouth gag in place. A wide leather strap pulls the metal bit of the gag past her teeth and far into her mouth. The buckle behind her head that secures the strap will be far out of her reach once she has handcuffed herself; she will be unable to speak, scream, or even beg for help
Girls in selfbondage short picture stories
She pushed the ballgag past her teeth as far as it would go and secured it behind her head, pulling her hair out so it wouldn't tangle. But to make it interesting, she slipped on 2 clothespins on her hard nipples. She winced a bit, but they felt good quickly.