Self Bondage Hog-Tie Technique
Having looked through you excellent site...may I suggest a self-hogtie method that really works

With this you MUST have a knife handy...there's no way out otherwise

You need to create a full body rope harness... in whatever manner pleases you best.
The final knot of the harness has to be high up your back, between your shoulderblades so it can't move in any direction,
You create a wrist tie, with a coil of rope, just big enough to squeeze your hand in from either side, a bit like a hand muff so you have 6 or 8 turns of rope, neatly coiled.
You attach a thinner cord to this coil...in the middle, in the form of a small noose, so that when you close the noose, the wrist coil forms into a "Figure 8" the free end from the small noose should be about 5ft long.
Attach the free end to something firm... slip your wrists in the coil hand entering the coil from opposite directions... and jerk it tight practice this with hands in front..till you've got the size and tension of the coil just right

Then practice it with hands behind...till you can snap it tight in a second or two

Now


Welcome back Katie Jordin. This beautiful girl is as sexy as sexy comes. She looks so innocent but her mind is sexually twisted.

When we get tough models in we do tough bondage. This is something you don't see every day: a vertical hogtie to a beam. We start with some hard floggings and some serious foot caning. Soon the bondage becomes the real torture here. With her elbows bound behind her, and her hands twisted and cinched to her back, Katie is beginning to sweat.

Then we turn the corner and up the ante to category 5. We pull her head painfully back with a hair tie and and pull her legs up into a severe painful back arch. Katie is truly suffering now. We don't stop there: we tie off her big nipples and pull her forward. Now the predicament begins. She must try and pull forward to relieve the pain on her nipples, but when she does, she stresses out her neck and back and it makes it almost impossible to breathe.


You get on the bed or floor, and you tie your legs together... any way you want.

You kneel, then sit back... thighs pressing down on your calves

You take the wrist coil of ropes, with the running noose attached, and feed the loose end of the running noose UP around the anchor point you made in the body harness ropes---between your shoulder blades.
You then pass that loose end back down to your ankles, pulling the wrist coil up towards your shoulders.
The idea is to have it as high as possible, and still be able to get your wrists into it

Make sure it moves freely

Tie the loose end to your ankle ropes. The length of cord between your shoulder knot and your ankles should be as short as possible

With the wrist loops as high as you can manage, slip your wrists in the coil, make sure they're right in and snug

All you to do now is fall forward

Your leg muscles will spring out and jerk your wrists high up your back---and tighten the noose.

You can't get loose because you can't get back to your original position with you ankles relative to your wrists, your muscle tension won't let you.

You need a craft knife handy....because there's no way out of it.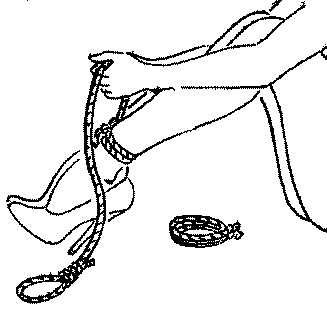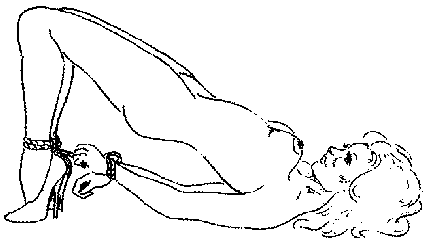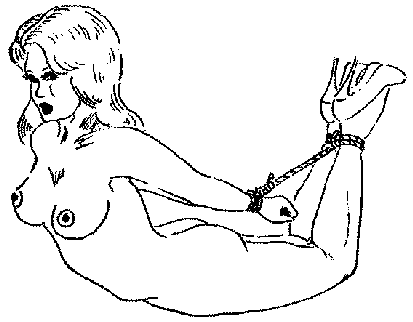 20 year old Amai Liu gets bullied and sexually humiliated by Amber Rayne. Amai takes a good spanking and a huge dildo up her pussy while bound. Then she gets strapon fucked in her tight little ass for your pleasure.