Self Bondage Hog-Tie Technique
Having looked through you excellent site...may I suggest a self-hogtie method that really works

With this you MUST have a knife handy...there's no way out otherwise

You need to create a full body rope harness... in whatever manner pleases you best.
The final knot of the harness has to be high up your back, between your shoulderblades so it can't move in any direction,
You create a wrist tie, with a coil of rope, just big enough to squeeze your hand in from either side, a bit like a hand muff so you have 6 or 8 turns of rope, neatly coiled.
You attach a thinner cord to this coil...in the middle, in the form of a small noose, so that when you close the noose, the wrist coil forms into a "Figure 8" the free end from the small noose should be about 5ft long.
Attach the free end to something firm... slip your wrists in the coil hand entering the coil from opposite directions... and jerk it tight practice this with hands in front..till you've got the size and tension of the coil just right

Then practice it with hands behind...till you can snap it tight in a second or two

Now




A new sex slave has been delivered to Master Lockwood's lair and he must now go and evaluate her ability to take pain, her oral skills and of course her ability to be fucked in both the pussy and ass while in strict bondage. The gorgeous blonde and busty Carly Parker is extremely nervous about this test as she has her clothes ripped from her body and a ball gag stuffed deep in her mouth. With her hands above her head and a leg raised, Carly's wet pussy does not lie. She may look scared but once the bondage sex starts it's forced orgasms all the way. Master Lockwood expertly switches the action from pleasure to pain and then back again with intense flogging, anal fucking, blowjob training and tight rope bondage. In the end, after cumming all over Carly's pretty face, it is decided she is not tough enough for him. Left hogtied in the back of the van Carly is sent back to where she came from

bondage gallery 1

bondage gallery 2

bondage gallery 3

bondage gallery 4

You get on the bed or floor, and you tie your legs together... any way you want.

You kneel, then sit back... thighs pressing down on your calves

You take the wrist coil of ropes, with the running noose attached, and feed the loose end of the running noose UP around the anchor point you made in the body harness ropes---between your shoulder blades.
You then pass that loose end back down to your ankles, pulling the wrist coil up towards your shoulders.
The idea is to have it as high as possible, and still be able to get your wrists into it

Make sure it moves freely

Tie the loose end to your ankle ropes. The length of cord between your shoulder knot and your ankles should be as short as possible

With the wrist loops as high as you can manage, slip your wrists in the coil, make sure they're right in and snug

All you to do now is fall forward

Your leg muscles will spring out and jerk your wrists high up your back---and tighten the noose.

You can't get loose because you can't get back to your original position with you ankles relative to your wrists, your muscle tension won't let you.

You need a craft knife handy....because there's no way out of it.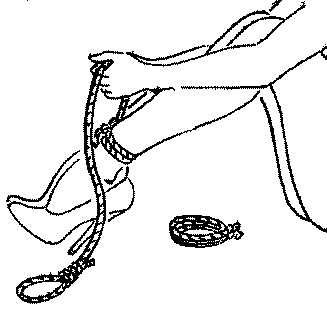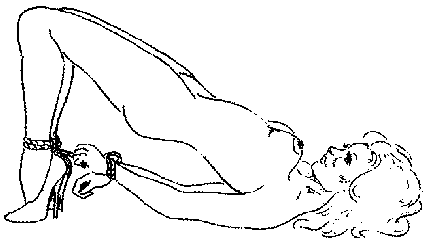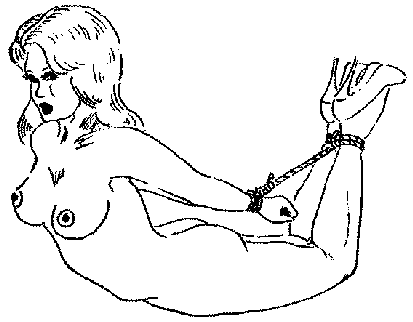 New girl Ashley Coda gets turned into a little lesbian pain slut by Nika Noire. At first she is confused and doesn't know how to react to pain or domination. Nika's fierce flogging and spanking puts an end to Ashley's confusion and she learns to submit. Used like a sex toy, she worships Nika's large breasts and ass. Put into bondage for the first time ever, Ashley gets strapon fucked and made to come hard!