Self Bondage HogTie Technique.
Having looked through you excellent site...may I suggest a self-hogtie method that really works

With this you MUST have a knife handy...there's no way out otherwise

You need to create a full body rope harness... in whatever manner pleases you best.
The final knot of the harness has to be high up your back, between your shoulderblades so it can't move in any direction,
You create a wrist tie, with a coil of rope, just big enough to squeeze your hand in from either side, a bit like a hand muff so you have 6 or 8 turns of rope, neatly coiled.
You attach a thinner cord to this coil...in the middle, in the form of a small noose, so that when you close the noose, the wrist coil forms into a "Figure 8" the free end from the small noose should be about 5ft long.
Attach the free end to something firm... slip your wrists in the coil hand entering the coil from opposite directions... and jerk it tight practice this with hands in front..till you've got the size and tension of the coil just right

Then practice it with hands behind...till you can snap it tight in a second or two

Now


| | |
| --- | --- |
| bondage gallery 1 | bondage gallery 2 |
| "Matt" has sent in pics of his girlfriend to share. Thanks! This bondage slut is shackled and tied before being made to eat like a dog. She is then bound to the bed, having her nipples tied tightly and fucked long and hard. | Out last update with bondage queen Tiana prooved VERY popular so we have added another to keep up with demand! Here Tiana is tightly bound to a chair before being gagged with tape and hooded. With no posibility of escape and eager to please her Master Tiana submits utterly. |
You get on the bed or floor, and you tie your legs together... any way you want.
You kneel, then sit back... thighs pressing down on your calves
You take the wrist coil of ropes, with the running noose attached, and feed the loose end of the running noose UP around the anchor point you made in the body harness ropes---between your shoulder blades.
You then pass that loose end back down to your ankles, pulling the wrist coil up towards your shoulders.
The idea is to have it as high as possible, and still be able to get your wrists into it
Make sure it moves freely
Tie the loose end to your ankle ropes. The length of cord between your shoulder knot and your ankles should be as short as possible
With the wrist loops as high as you can manage, slip your wrists in the coil, make sure they're right in and snug
All you to do now is fall forward
Your leg muscles will spring out and jerk your wrists high up your back---and tighten the noose.
You can't get loose because you can't get back to your original position with you ankles relative to your wrists, your muscle tension won't let you.
You need a craft knife handy....because there's no way out of it.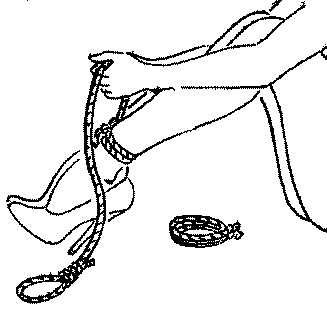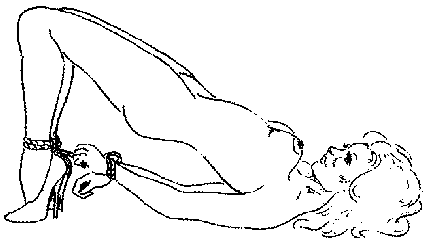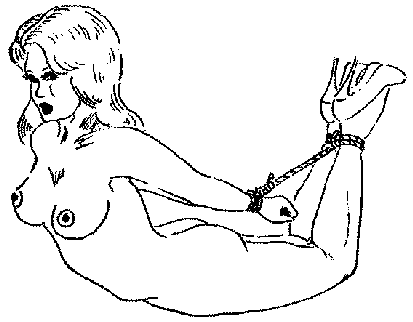 Lindy Lane is so fucking adorable it hurts. And what makes her even more adorable than her 20 year old body is just how scared she is of Princess Donna and all her electrical toys! She is literally shaking and screaming each time a new toy comes out, but has more intense and crazier orgasms with every scene. While tied down in pile driver she has one of the most intense orgasms of her life from an acrylic plug stuffed in her pussy and sticky pads stimulating her ass cheeks while one of the world's most intense vibrators is held on her clit until she is begging for the pleasure and orgasms to stop. This is a classic Wiredpussy update with hot girl/girl bondage, lesbian domination, strap-on sex, intense electro-orgasms, and more. Don't miss it.