Self Bondage Hog-Tie Technique
Having looked through you excellent site...may I suggest a self-hogtie method that really works

With this you MUST have a knife handy...there's no way out otherwise

You need to create a full body rope harness... in whatever manner pleases you best.
The final knot of the harness has to be high up your back, between your shoulderblades so it can't move in any direction,
You create a wrist tie, with a coil of rope, just big enough to squeeze your hand in from either side, a bit like a hand muff so you have 6 or 8 turns of rope, neatly coiled.
You attach a thinner cord to this coil...in the middle, in the form of a small noose, so that when you close the noose, the wrist coil forms into a "Figure 8" the free end from the small noose should be about 5ft long.
Attach the free end to something firm... slip your wrists in the coil hand entering the coil from opposite directions... and jerk it tight practice this with hands in front..till you've got the size and tension of the coil just right

Then practice it with hands behind...till you can snap it tight in a second or two

Now




Lifestyle submissive Charlotte Vale enjoys being flogged, manhandled and fucked hard while in tight bondage so TJ breaks out the rope and we give her exactly that. Her round ass is whipped and spanked increasingly hard until bright red. Charlotte begs to be able to please her Master and obediently sucks cock when on her knees. Bound on her back with legs spread and her arms in a choke position she is displayed perfectly to be fucked. TJ swaps between pleasuring Charlotte's pussy and slapping it. Her screams are a mixture of agony and ecstasy. In doggy position, Charlotte is taken from behind. She begs for TJ's cum so he gags her and shoots a hot load all over her face.

bondage gallery 1

bondage gallery 2

bondage gallery 3

bondage gallery 4

You get on the bed or floor, and you tie your legs together... any way you want.

You kneel, then sit back... thighs pressing down on your calves

You take the wrist coil of ropes, with the running noose attached, and feed the loose end of the running noose UP around the anchor point you made in the body harness ropes---between your shoulder blades.
You then pass that loose end back down to your ankles, pulling the wrist coil up towards your shoulders.
The idea is to have it as high as possible, and still be able to get your wrists into it

Make sure it moves freely

Tie the loose end to your ankle ropes. The length of cord between your shoulder knot and your ankles should be as short as possible

With the wrist loops as high as you can manage, slip your wrists in the coil, make sure they're right in and snug

All you to do now is fall forward

Your leg muscles will spring out and jerk your wrists high up your back---and tighten the noose.

You can't get loose because you can't get back to your original position with you ankles relative to your wrists, your muscle tension won't let you.

You need a craft knife handy....because there's no way out of it.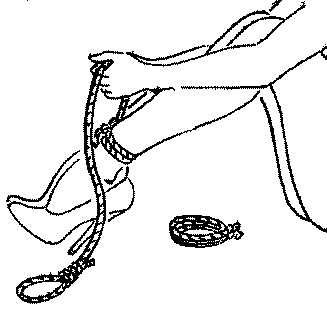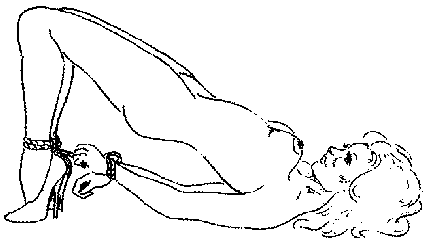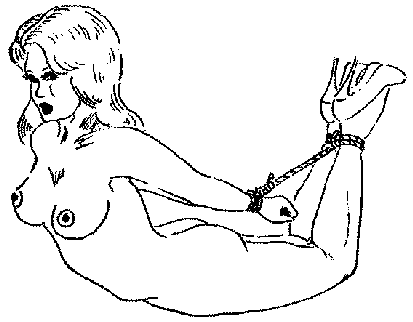 Felony has captured two promiscuous sluts and is storing them in the pit of her basement for fucking around with her boyfriend. Felony rips their clothes off and flogs their flesh to a perfect pink. They are made to squat over dildos and ride them simultaneously while Felony commands orgasms out of their wet pussies while worshiping feet. She sits on their faces making them eat her cunt and ass then bends them over and fucks the hell out of both their little twats. This update includes, foot fetish, strap-on fucking, ass worship, bondage, flogging, verbal humiliation and more!