Self Bondage Hog-Tie Technique
Having looked through you excellent site...may I suggest a self-hogtie method that really works

With this you MUST have a knife handy...there's no way out otherwise

You need to create a full body rope harness... in whatever manner pleases you best.
The final knot of the harness has to be high up your back, between your shoulderblades so it can't move in any direction,
You create a wrist tie, with a coil of rope, just big enough to squeeze your hand in from either side, a bit like a hand muff so you have 6 or 8 turns of rope, neatly coiled.
You attach a thinner cord to this coil...in the middle, in the form of a small noose, so that when you close the noose, the wrist coil forms into a "Figure 8" the free end from the small noose should be about 5ft long.
Attach the free end to something firm... slip your wrists in the coil hand entering the coil from opposite directions... and jerk it tight practice this with hands in front..till you've got the size and tension of the coil just right

Then practice it with hands behind...till you can snap it tight in a second or two

Now


Live Show Mondays brings you the conclusion of the July live show that featured Tara Lynn Foxx and sexy co-top Isis Love.

Tara has suffered through some brutal bondage and orgasms and now we plan on tapping any energy reserves she has left. It is the final scene and Tara has not had any breaks; we have pushed her from one scene to the next. These live show can be brutal.

We ad lib a tie using her hair, and put her in the ultimate fuck me position. Isis Love straps it on and gives Tara a good hard fucking. There is no one better then Isis when it comes to giving someone a dick down. Not happy with just sticking her dick in Tara, Isis takes her fist and fucks Tara until she is a sloppy mess. We love helpless screaming orgasms, the louder the better…


You get on the bed or floor, and you tie your legs together... any way you want.

You kneel, then sit back... thighs pressing down on your calves

You take the wrist coil of ropes, with the running noose attached, and feed the loose end of the running noose UP around the anchor point you made in the body harness ropes---between your shoulder blades.
You then pass that loose end back down to your ankles, pulling the wrist coil up towards your shoulders.
The idea is to have it as high as possible, and still be able to get your wrists into it

Make sure it moves freely

Tie the loose end to your ankle ropes. The length of cord between your shoulder knot and your ankles should be as short as possible

With the wrist loops as high as you can manage, slip your wrists in the coil, make sure they're right in and snug

All you to do now is fall forward

Your leg muscles will spring out and jerk your wrists high up your back---and tighten the noose.

You can't get loose because you can't get back to your original position with you ankles relative to your wrists, your muscle tension won't let you.

You need a craft knife handy....because there's no way out of it.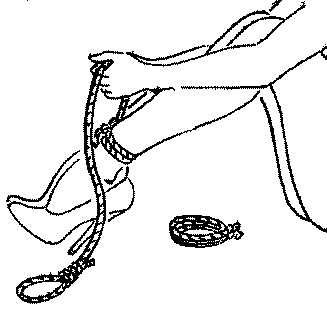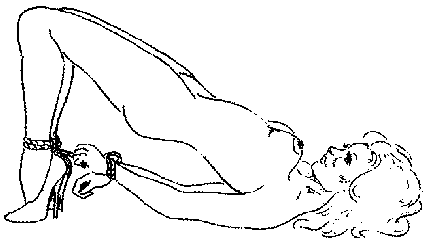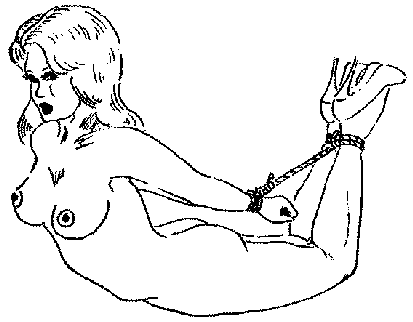 Corruption in the sinful city of San Francisco has never looked so sexy. The bad boys of law enforcement raid the house of two stoner chicks Charley Chase and Jade Indica looking for drugs. Not finding exactly what they were looking for, the cops frame the girls and use scare tactics to have their way with them. These horny babes fuck and suck their way out of the slammer with three cops in complete control. After tying them up and fucking all of their holes, they are thrown in the trunk of a cop car and brought to a secluded location. More bondage, humiliation and hardcore fucking transform these once innocent girls into willing sex slaves.