Self Bondage HogTie Technique.
Having looked through you excellent site...may I suggest a self-hogtie method that really works

With this you MUST have a knife handy...there's no way out otherwise

You need to create a full body rope harness... in whatever manner pleases you best.
The final knot of the harness has to be high up your back, between your shoulderblades so it can't move in any direction,
You create a wrist tie, with a coil of rope, just big enough to squeeze your hand in from either side, a bit like a hand muff so you have 6 or 8 turns of rope, neatly coiled.
You attach a thinner cord to this coil...in the middle, in the form of a small noose, so that when you close the noose, the wrist coil forms into a "Figure 8" the free end from the small noose should be about 5ft long.
Attach the free end to something firm... slip your wrists in the coil hand entering the coil from opposite directions... and jerk it tight practice this with hands in front..till you've got the size and tension of the coil just right

Then practice it with hands behind...till you can snap it tight in a second or two

Now


| | |
| --- | --- |
| bondage gallery 1 | bondage gallery 2 |
| This amateur submissive slave is forced to wait upon her masters every desire. Today whilst fulfilling his French Maid fantasy she accidently breaks a china cup. Her master displeased by her actions forces her to grovel at her feet before having her whipped and then bound to the chair to be punished further and think about what she has done.... | This horny young slut has her mouth gagged with tape and her sweet teenage titties tied until they swell. She feels pleasure in the tape covering her mouth forcing her breathing to slow. One tied and gagged she submits utterly to her master, allowing him to use her in anyway and for as long as he chooses.... |
You get on the bed or floor, and you tie your legs together... any way you want.
You kneel, then sit back... thighs pressing down on your calves
You take the wrist coil of ropes, with the running noose attached, and feed the loose end of the running noose UP around the anchor point you made in the body harness ropes---between your shoulder blades.
You then pass that loose end back down to your ankles, pulling the wrist coil up towards your shoulders.
The idea is to have it as high as possible, and still be able to get your wrists into it
Make sure it moves freely
Tie the loose end to your ankle ropes. The length of cord between your shoulder knot and your ankles should be as short as possible
With the wrist loops as high as you can manage, slip your wrists in the coil, make sure they're right in and snug
All you to do now is fall forward
Your leg muscles will spring out and jerk your wrists high up your back---and tighten the noose.
You can't get loose because you can't get back to your original position with you ankles relative to your wrists, your muscle tension won't let you.
You need a craft knife handy....because there's no way out of it.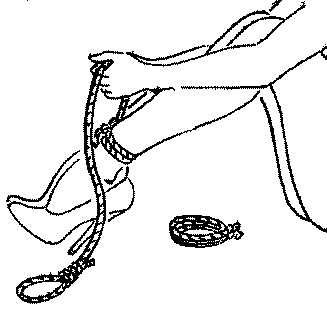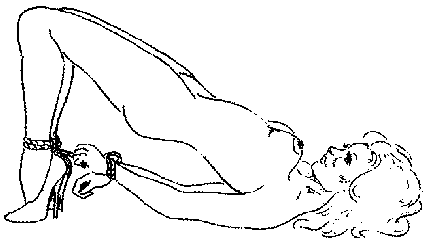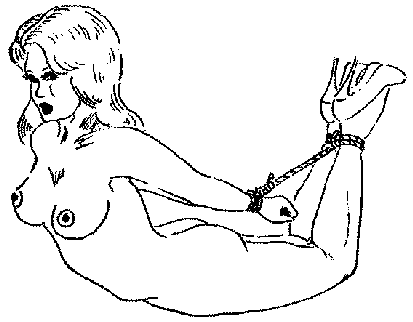 Lots of energy and lots of pain games. Catherine dives recklessly into her headspace, dropping headlong into the eye of a storm. Pd manhandles her. He attaches the hoist to the rope that ties her wrists to her neck and punches her in the stomach. He kicks her. He pummels her with Mr. Pogo. Catherine eats it up.

A metal gag goes deep into the back of Catherine's mouth, pressing down the tongue. Drool runs everywhere. PD hoists her onto her toes with the gag. He's relentless, locking her head and wrists in stocks. A cane, singletail, a pussy whip. As time goes on, there isn't much PD doesn't hurt her with. He clamps her labia to Mr. Pogo then gets her off. But Catherine forgot to ask permission.

Her ass hangs down through a hole. She's hooded and locked in place. She's caned, smothered, and caned again as wire hooks twist her face into a freaky clownish grin. Mr. Pogo desecrates her ass, held in place by labia clamps again. She's vibrated as he canes her labia. She comes big. Then she's upside down with her ass up in the air. He canes her with a vengeance. I'm sorry, she screams over and over. I'm sorry, sorry, sorry.