Wet Panty - self bondage scenario
articles and tutorials
self-bondage pictures
selfbondage gone wrong stories
self bondage scenarios
Warning! This scenario might contain activities that might not be suitable in selfbondage. Please play safe.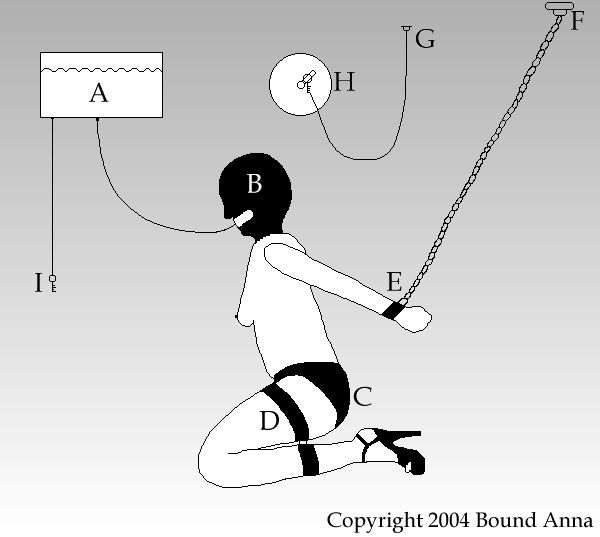 A: This is a watercontainer, it contains the water that you will have to drink in order to be free. It is connected to object "B" with a hose. Make sure that the hose is hard enough so it can't stick together and thereby stop water from passing through.
B: This is latex hood with built in penis gag that will force you to drink all the water that is fed in through the hose from object "A".
C: This is a normal panty, choose a pair that you like. This is also where the water will leave your body. If you can not hold in all the water that you drink then you will have to wet yourself.
D: This is your thigh cuffs. They are locked together with your anklecuffs with a padlock.
E: This is the handcuffs on your arms. The handcuffs are locked to a chain with a padlock.
F: This is the hook where the chain hangs.
G: This is the hook where the key string hangs.
H: This is THE key. The key is hanging on the hour arm of the clock. The key should fall off when the clock reaches four or five. When the key falls it falls down to your waiting arms. Make sure that the keystring is long enough.
I: This is the keys to all other locks. You will be able to get them when you are free from the handcuffs.
Additional Information.
The waiting can be made more exiting with the use of some additional toys. Nippleclamps for the breasts, dildo for the vagina and buttplug for the anal cavity. Use your imagination and the things that you have.
Make sure that the clocks minute arm does not touch the key. If it does it will get stuck and the time will stop. Remove all arms except the hour arm from the clock to be safe.
www.boundanna.com