Dishevelment in Japanese-style rope bondage
articles and tutorials
shibari and Japanese Bondage
Traditional Japanese rope bondage
One of the themes in Japanese-style rope bondage is dishevelment and distress. In pornography, you will often see images of women with kimonos pulled open, pantyhose partially pulled down on one side, or hair tousled and out of place. Polka-dotted dish rags get used as gags or blindfolds, enema rigs are hanging nearby, and looks of anguish and shame are shown for a titillating effect.
An option to create an air of dishevelment begins with a perfectly pristine woman (or man). Bind her, then expose her flesh after she is tied, leaving her hair pulled out of place and her body on display "against" her wishes. Remember, this is about desire, fun, and role-play, not about actually taking anyone against their will... but the effect can be delicious.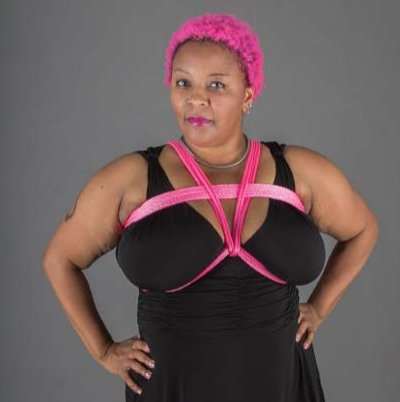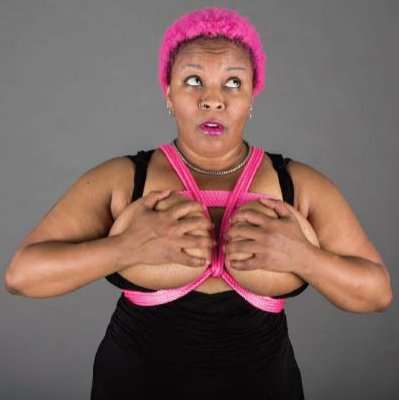 Have your Bottom wear a robe, button-down shirt, a loose shirt or dress... or perhaps an item of clothing that you can destroy. In this case, I chose to have my Bottom wear a loose dress. I tied a variation on a Basic Chest Harness over her clothed torso. Once she was tied, I then began to pull her top down while whispering in her ear what I longed to do to her. I pulled the fabric away to expose each breast in turn.
Her reaction was more playful, but for Bottoms who are new to rope, or who long to feel consensually degraded, it can be embarrassing, humbling, or arousing. Remember that classical Shibari draws its erotic degradation from the iconography of its own culture. Look around at your own culture for inspiration. Look at what is in your own kitchen, bathroom and garage for ideas!