Free bondage stories - rubber and leather





free rope bondage Gerda bondage stories VOL #1 Gerda bondage stories VOL #2

Rubber maid slave - The bondage story of Gerda part 39
... She climbed into the outfit which Maria had laid out. First, the heavy latex pants with large, hard, front and rear insertions, well greased. Then her tight black latex overall suit with feet and gloves attached. Then, curiously, an English riding outfit. Thick beige rubber breeches, a smart black wigan riding jacket and black polished boots, the only difference being that they were high heeled. She dressed in them quickly, and as she bent to pull on the boots she murmured, "Whatever will the Master of Hounds say ? Maybe he'll get turned on !" ...

Tightly gagged bondage slave, gags, leather and Master - The bondage story of Gerda part 40
... In moments Gerda was viciously gagged with a huge gag mask, a choking big rubber ball held in place by a criss-cross of straps over her face and secures tightly behind her head. The whip was taken from her, and her wrists were forced behind her back and handcuffed. Then the Baron hauled her across to the centre of the floor and strapped a wide leather collar around her neck, attaching it to the chains and pulley from which Yvette had earlier been suspended. He crossed to the winch and turned it until the chains tightened and she was desperately trying to keep her balance on the tips of her boots, her breath heaving and the gag choking her ...

Fetish and BDSM, gagged in leatehr corset - The bondage story of Gerda part 41
... When Gerda returned a few minutes later, Cheryl was holding out a very stiff brown leather corset with short legs. At a nod from Karl, she climbed into it, finding it lined with heavy rubber sheeting. Her arms slid into sleeves attached to the inside of the corset, rendering them helpless. Under the Baron's watchful eye, Cheryl laced it agonisingly tight up to the high boned collar so that Gerda was unable to move her torso or her head. "You'll love this," said Yvette cheerfully, "I've spent some happy nights in it, especially if you're greased and rodded !" Gerda watched with misgivings as Karl attached four chains to the reinforced belt of the corset, feeling acutely her own implacable rods and grease. She heard the soft click of the winch ratchet and next moment the chains and corset tightened and she was lifted off her feet, thrusting her greased insertions ruthlessly inside her ...

Rubber and latex female domination - The bondage story of Gerda part 42
... With difficulty Maria brought across heavy booted chest waders in gleaming white rubber. The heels were four inches high, and when Gerda struggled into the weighty but well fitting waders, which came up to her arm pits, she found it difficult to balance, her struggles reactivating the wonderful, horrible grease. Maria attached the straps over her shoulders to keep them tightly in position and then turned back to the case ...

Slave in rubber bondage - The bondage story of Gerda part 43
... Gerda felt amazingly happy as she strode along the corridor, the long latex cape swishing sexily, her arms pinioned horribly tightly behind her and further encased in the white rubber jacket. With every step she could feel her rod and dildo move inside her, the grease heightening the sexual arousal, fucking her every inch of the way. If this is a severe punishment, she thought, hell must be overcrowded. She reported to the main punishment room, barely conscious of her surroundings, distracted by the feelings of her tortured, aroused body. She registered the presence of the Executioner, two Instructors, two serving maids and the Doctor. Her heart lurched as she saw Laura dressed in full rubber operating whites. Her face was concealed by a white latex hood, with a hole on the back to allow long blonde hair to cascade down in a ponytail ...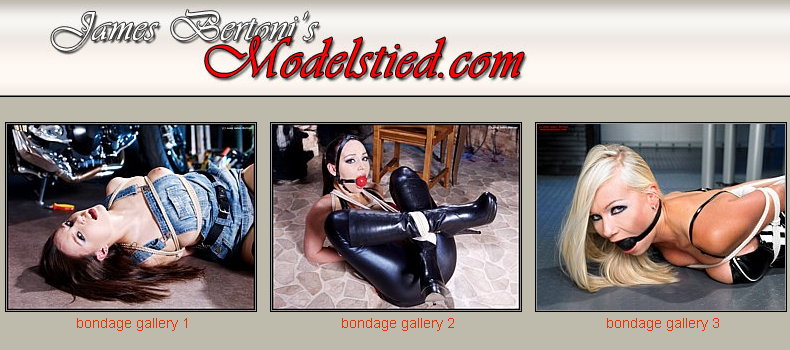 Chains, rubber and pain - The bondage story of Gerda part 44
... Gerda was in a wonderful dream world. Every defence mechanism she had erected had been crushed and flattened by the insidious gas. Her mind was clear, fully able to experience the incredible feelings sweeping through her tortured body. The pain in her intestines was now a wonderful dull aching pleasure, and she deliberately hung on her chains to force her rod and dildo deeper into her. screaming in delight as the grease macked at squelched inside her thick shorts. She loved the heat building up inside the bag, feeling her inner suit wet and dripping and her latexed feet full of liquid perspiration. She felt so good she wanted to shout it out to the world ...

Tied in heavy corset and pussy clamps - The bondage story of Gerda part 45
... Her masked head was held proudly high by the wide white collar, her bearing regally erect enforced by the corset which Gerda had insisted on being extra tight for her wedding day. The perfectly fitting laced hood was demurely covered in front by the latex yashmak, leaving only her eyes visible through the leather mask. There was no gag, allowing her to speak freely through the veil.
"It is fabulous !" Gerda breathed, subtly moving her body to hear the gown rustle against her. She was aware of the delicious imprisoning sensation of the corset and tightly laced boots coming to the very top of her thighs. She walked about the roonm, the huge rod reminding her with every step that she was still a slave ...

Orgasms from latex and bondage - The bondage story of Gerda part 46
... She replaced the yashmak over her nose. As Le Compte opened the door and conversation died away, all heads turned towards them. She stood inside the room, proud and beautiful in her white rubber, demurely clad, her eyes sparkling through the leather mask. "Ladies, Gentlemen, slaves and maids," Le Compte began, "I am happy to announce that my slave Gerda has agreed to take the Oath of Slavery. Therefore she will now become my wedded slave. She will continue her training, but she will no longer be available to any other Master ...

Marriage ceremony in rubber and latex - The bondage story of Gerda part 47
... But most of the men in her life were confirmed masochist, and inferior. Then one day while out shopping she met Alice. Both of them were wearing identical black rubber trench coats.
They became lovers and disciples of rubber and bondage, sharing there masochistic male slaves. From Alice she had learnt the incredible pain and suffering a male could withstand. Years later, Alice had married a rich American slave, and Laura had been lying in hospital when Guy's offer of employment on the island had arrived ...

Rubber slave nipples clamps punished - The bondage story of Gerda part 48
... The Machine was starting to have its' inevitable effects on Gerda's composure. In her bemused state, her hips began writhing against the bonds as the vibrations flowed sensuously through her.
"No...yes !...I fear and need your punishments, Mistress Laura.... but it would not be proper to touch you..."
"But supposing I allowed it ? Supposing I ordered it ? Let us suppose you were giver the choice of going down on me and giving me pleasure, or suffering four hundred strokes of the whip ?" ...

Bondage slave Annabelle - The bondage story of Gerda part 49
... The feet and gloves were attached, as was the hood.. Maria had eased her into the top of the suit, which had only a small flanged zip to allow entry. The mask had been pulled up over her face, zipped down the back, and then a wide flange laced over the zip drawing it tightly to her face. There were two tiny glass eyes, and the only means of obtaining air were through two nostril tubes which were pushed firmly up her nose. Finally, Maria had strapped a blindfold over her eyes ...

Rubber bondage suit - The bondage story of Gerda part 50
... She felt herself being guided over, then gasped as the wave of heat hit her, and she breathed it in through her tubes. She was pressed down onto the chair, which was uncomfortably hot even through her suit. Her arms were pulled behind her and handcuffed, a strap passed around her waist and her ankles tied to the legs of the chair. Dimly she heard the door thudded shut.
Although she knew there was a serving maid present, she also knew the large glass panel in the cell would allow everyone to see how she was doing and watch her every move. She turned her head slighly and mouthed against the hoods "Are you there ? Can you speak ?"
She heard a faint rustle of rubber, then a single grunt. The maid was still gagged ...


Slave chained in corset - The bondage story of Gerda part 51
... She almost physically shook herself. She must concentrate on the test ! She became aware of the short chain locked around her ankles, and the long heavy corset which was being cruelly laced over her tight latex suit. Her double gloved hands were now connected by a twelve inch chain, and her neck tightly encased in a wide leather posture collar. A head harness held a huge ball gag tightly in her mouth, and a chain from the steel ring and the top of the harness was pulled down and padlocked to her waist, pulling her head viciously back ...

Katrina gagged woman in bondage - The bondage story of Gerda part 52
... It was the fourth woman who interested Gerda. She was dressed in a 'normal' suit of polished brown leather, long latex gloves and a thin rubber half mask, the rear of which hung down to her shoulders, nun style. Gerda guessed she was in her fifties by the lower face and strong chin. It was Laura herself who gave her the clue. She had been explaining to the woman the finer points of a particularly unpleasant new punishment which Le Compte had agreed to try out as a permanent item ...

Bondage helmet and hood - The bondage story of Gerda part 53
... Maria smoothed the brown leather helmet around her Mistress's hooded face. It had only a one inch aperture in front to allow the breathing tubes to poke through. She made sure they were in position, then started to lace the helmet down the back of her head. She pulled them as tight as possible, knowing that any failure or lassitude on her part would only result in her Mistress being punished and demerits for herself. The Executioner always examined every costume and tested every lace and strap.

Gerda felt as if her head was in a vice. The new helmet seemed to constrict every part of her face except her tubed nose. Her mouth was now held immovably closed, her eyelids pressed tightly shut, and even her hearing now deadened by the three hoods ...

Tied in layers of rubber and leather - The bondage story of Gerda part 54
... Dimly Gerda was aware of the thick tight leather sheath being slid onto her, and her arms being forced into the enclosed sleeves, then the familiar tightening of the laces from the feet to the neck until she was a rigid piece of humanity, totally incapable of moving or crying out. Her fear of claustrophobia flooded back. It was quite one thing to be in helpless meditation secured to an operating table or bed, quite another to be nailed into a heavy coffin. She tried to protest, to ask them to wait, to reason that this was too much. Only muffled grunts emerged from under the strict hoods.
Effortlessly two of the Instructors lifted her up, then lowered her slowly into the wooden coffin lying on top of the operating table. It was a tight fit, and they had to push her body into it. She felt the rigid wooden sides, curving in to hold her thighs and legs equally closely, her arms and hands and fingers useless inside their layers of rubber and leather. She tried to scream in protest, but her mouth was too tightly closed by the rigidly laced hood ...