Girls Figure Training BDSM Academy 6
Free bondage photo blog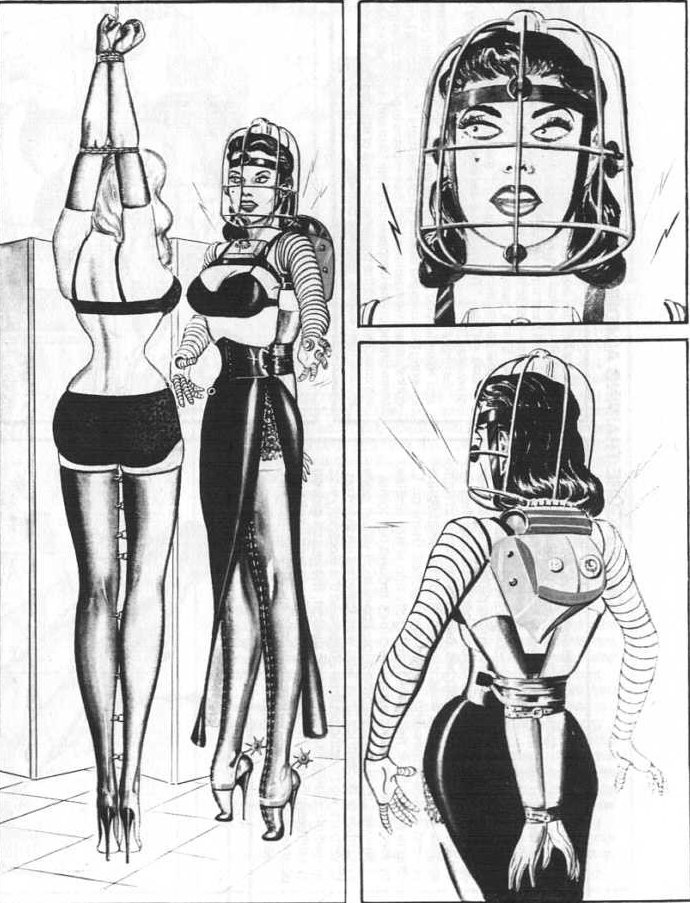 After spending another hour in the discipline gymnasium. Mrs. Stringent was satisfied with her pupils' progress and told Hilda to release them. As she did, Madame invited the girls up to her office to try on some new clothes and corsets she had just received.
The first article was a pair of long leather boots that ran up as far as the hips. Hilda had never seen such long boots and was eager to try them on. Mrs. Stringent indicated she could and Hilda removed her corset and stood in her bra and panties ready to fit them on.
The boots were made from soft leather, highly polished to they shone and glistened. The inside was lined with smooth, padded satin. Hilda laced the boots up, and after careful adjustment it fitted without a wrinkle.
Now that she had them on, Hilda could appreciate the art that had gone into making them, for if she tried to sit while wearing them she would wrinkle and crease the smooth leather.
There was another interesting item in these boots, a line of split rings sewn into the inside of each leg, reaching from thigh to ankle. Mrs. Stringent clipped these rings together to demonstrate their purpose and Hilda was thus in the position of having her legs tightly bound together. As Madame pointed out, this was an ideal footwear to have with a large crinoline skirt, for it would be invisible.
Mrs. Stringent then tied Hilda's wrists together and strung her up by her arms to a hook in the ceiling to make sure she didn't move around the room too much.
The next costume was especially made for Madame herself. This costume was entirely made of black, shiny beads and sequins—a brief bra and a long, flowing skirt slit from waist to ankle to reveal her firmly booted and spurred legs and feet. A tight belt was fastened about her waist and chest, which secured her arms behind her so they were helplessly caught. An additional strap at the wrists rendered them completely useless. However, a small motor strapped across her shoulder controlled two flexible metal arms that moved out and carried out all the purposes of real ones, and this was controlled by a diverse collection of knobs and levers which surrounded her head in a light steel cage. She could move these levers by moving her head in different directions.
high heels bondage
leather boots
lesbian bondage
bondage training
corset
Similar bondage
Mary Jane hogtied maid
Mary Jane maid in bondage
Reconnection part 3
Reconnection part 2
Reconnection part 1
Emily Marilyn singleglove and latex
Jenni Lee - Straps and a Singleglove - to stay please
Alysha Catnapped again