Girls Figure Training BDSM Academy 10

Free bondage photo blog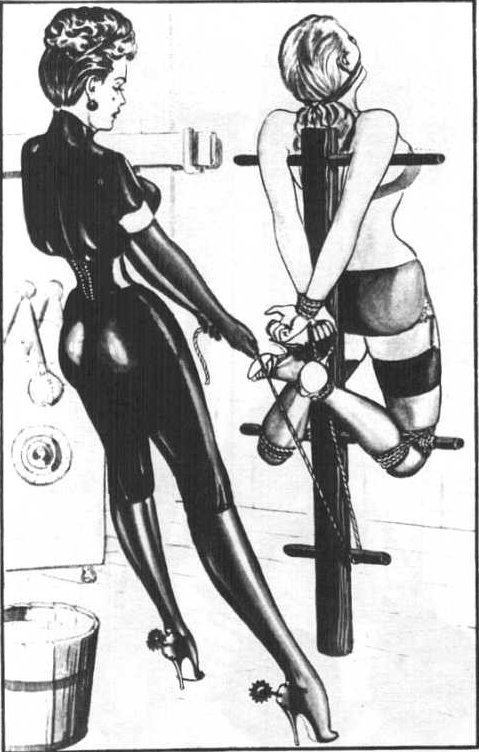 Gloria was made to stand with her arms over a wooden stake so that it ran under her armpits and across the center of her shoulders. A thin piece of cord fastened her shoulders to it and a similar shaft of wood was passed through a hole set low down on the stake. This length of wood reached exactly level with the backs of her knees, which were bent around backwards behind it and tied there with more cords. In this way, gloria was supported against the post by means of two rods passing under her arms and behind her knees. Her wrists and ankles were now secured together behind her so she was firmly fastened to the stake. Madame went to a piece of apparatus consisting of two steel claws motivated by an electric motor, whose claws reached out with a small electric contact at the tip, which touched Gloria's quivering flesh. The tip caused a current to run through the arms and gave her a sharp shock.
Gloria was taken from the stake and tied to a large chair, her arms lashed tightly to two long levers on either side. Madame gave her the torn gown and told her to start sewing up the tears. The levers to which her arms were tied also worked claws, so that as she sewed up the holes in the dress the claws tore fresh ones. The claws were connected to two clamping jaws that closed over Gloria's waist with a firm grip, crushing her with its action. By moving her arms to sew, she set off the claws that ripped the dress and actuated the clamps at her waist, but if only she could sew the rents firmly and quickly enough, the claws wouldn't be able to tear the material again. Gloria worked as fast as she could.
Mrs. Stringent left her tied to the chair for an hour and the girl worked with rapid fingers to repair the rents in the material, until finally Madame told the girls to release the naughty pupil.
"I hope this will teach you not to tear your clothes again, Gloria." she told the weary girl.
"No, Madame," replied Gloria. "I promise to be careful next time."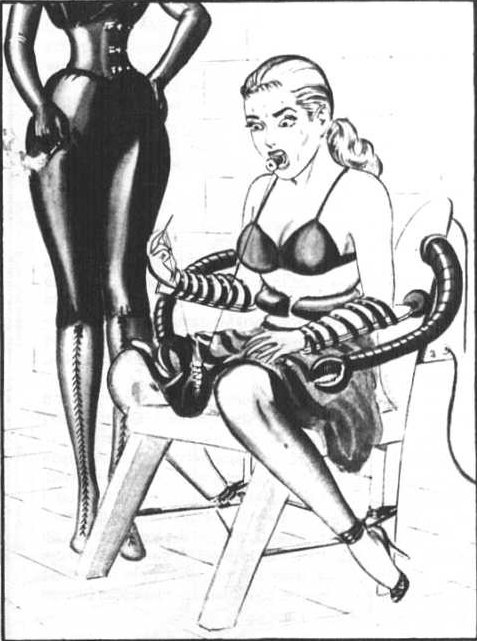 high heels bondage
corset
bondage training
Similar bondage
Mary Jane hogtied maid
Mary Jane maid in bondage
Reconnection part 3
Reconnection part 2
Reconnection part 1
Emily Marilyn singleglove and latex
Jenni Lee - Straps and a Singleglove - to stay please
Alysha Catnapped again