Girls Figure Training BDSM Academy 14
Free bondage photo blog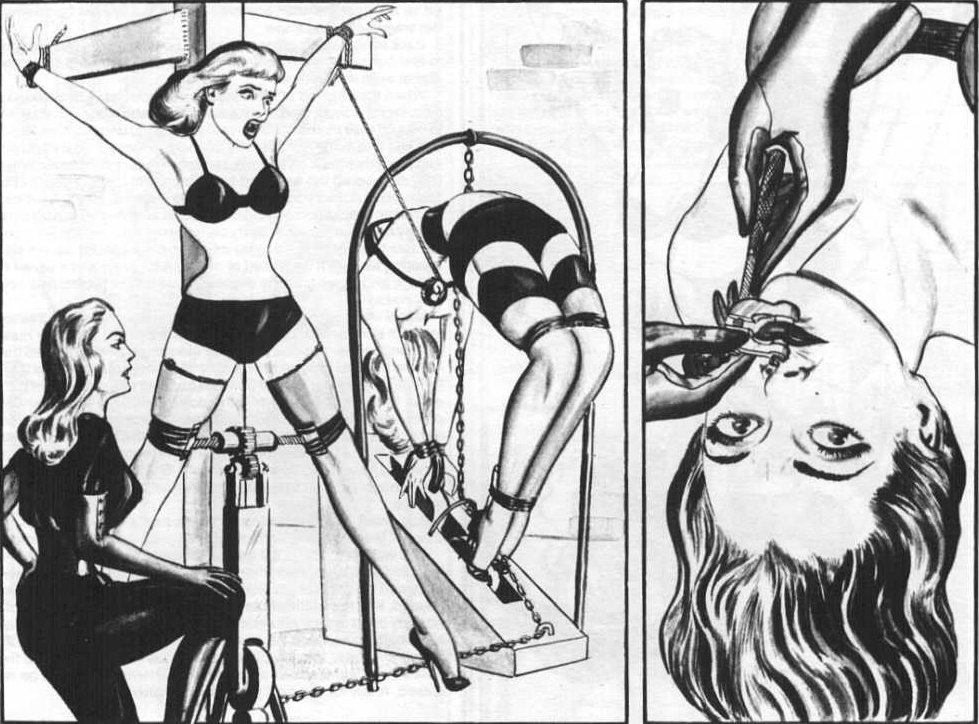 Hilda was dragged out of the pit by the Countess' masked helpers and taken to a large wooden cross. This cross didn't appear to be out of the ordinary, but the Countess had devised some interesting angles to it. In addition, she had so contrived it that the cross acted as an accessory of another small piece of apparatus standing to one side, the apparatus to which Mabel was shortly to be bound.
Hilda was placed against the cross, then lifted with her arms spread apart and held while an attendant roped her wrists and elbows to the crosspiece, pulled the rope tightly and knotted it carefully, leaving the unfortunate model hanging down from the wooden frame by her arms only. Having secured Hilda, the Countess produced an item designed to stress Hilda's powers of resistance even further. This was a screw-threaded bar shaped at both ends, which worked on a worm and pinion principle contained in a long metal tube. This tube was stood on its base on the ground, working from a central arrangement of cogs exactly level with her knees. The pieces at either end were fitted against her knees on the inside and strapped firmly in place.
It was now MabeTs turn and she was hung in a right arched position by means of a strap about her waist which ran from a rope secured to a curved metal stand on the right of the cross. Her feet and ankles were strapped tightly to hydraulic rams controlled from a large compressed air cylinder and when switched on, they moved towards each other and forced Mabel's feet and hands closer together, thus arching her body more sharply. As her body was forced into a tighter arch so her midriff and waist arched higher into the air allowing the belt around her body to rise as well and as this belt was connected by means of a chain to the machinery which controlled the worm and pinion device, as Mabel's body tautened, the crosspieces between Hilda's legs widened and forced her legs further apart. Just as the uttermost point had been reached, the two arms of the cross suddenly began to hinge backwards and a chain connected to one arm of the cross was dragged taut by the action. This chain ran across and connected up to a small wheel which worked a special control at the back of Mabel's specially designed bra. As a result, as the cross arms hinged back, the chains grew tauter, pulled at the mechanism of the bra so that the adjustable steel cups grew tighter and tighter, crushing the poor girl who was wearing it.
In this manner, each girl was causing the major part of her friend's ordeal. So they could not talk to each other, the grim Countess had ordered them to be gagged. The gags themselves, like everything else in the mysterious castle, were most unusual.
Hilda's consisted of an imitation opened mouth, which was inserted into her own mouth and it contained the fangs of a tiger, which gave her a most fearsome expression. Mabel's gag was less kind to the wearer and consisted of the simple expedient of clamping her lips together with a normal carpenter's clamp of the type used to clamp two bits of wood together. Screwed up tightly with Mabel's lips pulled between its tightly screwed jaws, it served as a most effective gag.
high heels bondage
corset
bondage training
lesbian bondage
Similar bondage
Mary Jane hogtied maid
Mary Jane maid in bondage
Reconnection part 3
Reconnection part 2
Reconnection part 1
Emily Marilyn singleglove and latex
Jenni Lee - Straps and a Singleglove - to stay please
Alysha Catnapped again