Girls Figure Training BDSM Academy 15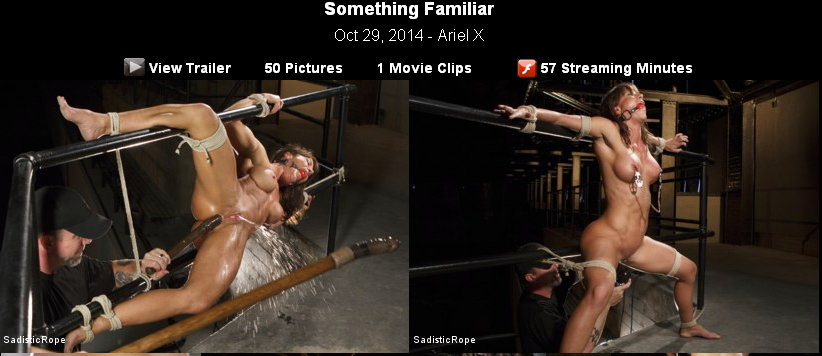 Free bondage photo blog
Back at Madame Stringent's office, another booking had been received. This time from an artist who required a model for her painting. The only girl available at the time was the new pupil, Gloria. After giving her a final lecture on discipline and obedience, Madame Stringent dispatched her in a car to the artist's studio in Greenwich Village.
The artist's studio proved to be high up on the roof of a tenement builting with an attic between the studio and the top floor. It was thus effectively soundproofed and would have soon warned ore experienced models to be on their guard. But Gloria was a novice in the business and didn't know what would await her in the large soundproofed studiol
The artist, a Bohemian type, leather booted and firmly corseted, told the nervous Gloria why she found it difficult to get models. "You see," she said, "I am a very painstaking worker. I like very detail minutely correct and it is therefore necessary for my models to remain still in one position for several hours. The positions are extremely arduous and the models tend to fidget, so I simply tie them up in the position I desire and can then paint undisturbed."
The first pose was for a painting entitled 'Ecstasy1 and it depicted a girl throwing her arms up in abandon, standing on one leg. To get this pose correct, Gloria had to stand on a small platform and lift one leg high in the air, bent slightly at the knee.
Manuella tied a rope around the knee itself and took this rope across to the wall where it was tied to a ringbolt set in the wall. There were so many of these ringbolts screwed into the walls at all heights and levels, Manuella had no trouble fixing her heights to get the model in the correct pose. Then she passed a strap around the ankle of the leg on which Gloria was standing and buckled it tightly to a bracket in the floor, securing her there. Next, she raised Gloria's arms in a joyful, expressive attitude and, having set them at the exact angle she wanted, she tied each wrist with ropes which she passed up to pulleys in the roof and secured them so the model could not move. To complete the pose it was necessary for the model to lean slightly forward above the waist and back below the waist. This was accomplished by passing a rope around Gloria's back and dragging it one way, while the other rope was knotted about her hips and drawn into a taut line in the opposite direction before securing her to a wall bracket. Last, she wanted Gloria's head thrown back in an abandoned manner with her hair streaming out as if blown by the wind. To get this effect, she tied lengths of string to Gloria's wavy hair and dragged the strings to the floor, tying them to a large ringbolt. She then set about painting for several hours.
Having completed the picture, she said to Gloria, "I could do with a rest," and she set about untying her limp body from the ropes. Gloria thought she too was to have a short rest period, and she needed it, but Manuella was referring to herself only. She untied Gloria merely because she intended to use the model for a chair.
Doubling the girl's body into an uncomfortable position, she secured her limbs with ropes so that Gloria was arched in a circle, then she used the bent body of the girl as a soft stool on which she was able to relax and smoke a cigarette. It didn't provide much rest for poor Gloria and only strained her cramped limbs and muscles even more.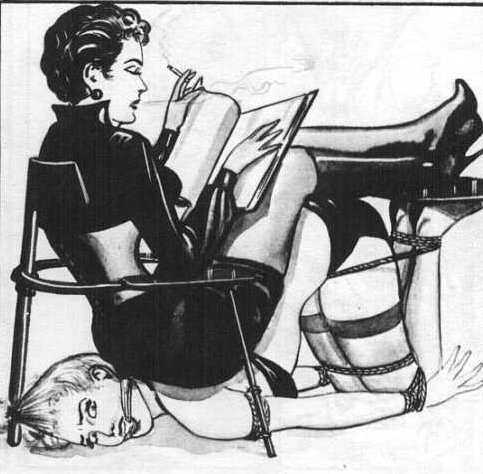 high heels bondage
corset
bondage training
lesbian bondage
gagged
Similar bondage
Mary Jane hogtied maid
Mary Jane maid in bondage
Reconnection part 3
Reconnection part 2
Reconnection part 1
Emily Marilyn singleglove and latex
Jenni Lee - Straps and a Singleglove - to stay please
Alysha Catnapped again