Girls Figure Training BDSM Academy 16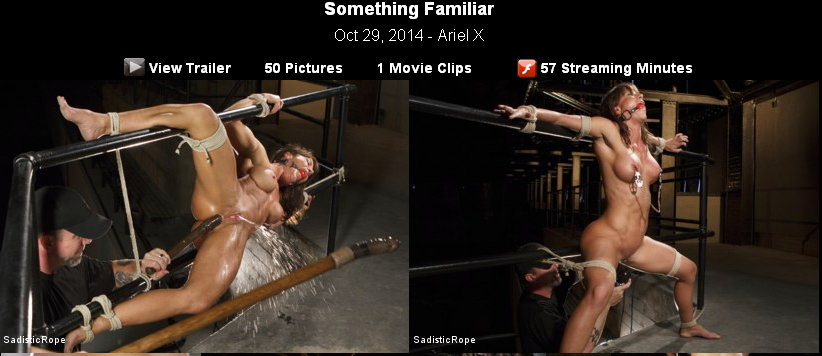 Free bondage photo blog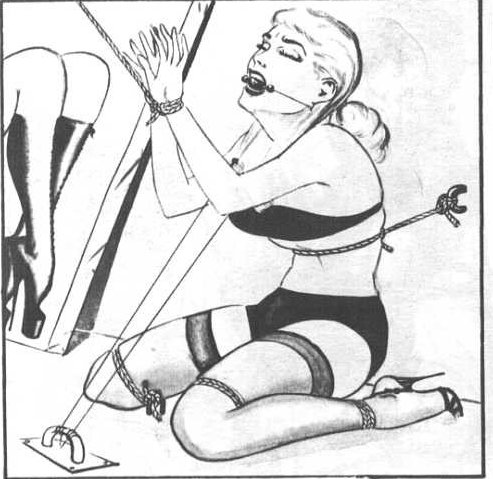 After her rest, now refreshed and anxious to work again, Manuella got up. released Gloria and began to set her up ready for the next of her paintings. This painting was entitled 'Plea' and for this Gloria had to adopt a pose of submission and supplication. This pose called for the model to be kneeling with bowed back and uplifted arms.
Manuella told Gloria to kneel on the floor and once the model had done so, she tied her legs down to the floor by means of ropes at knees and ankles. The next stage was to lift her arms up in the air in a gesture of supplication. Manuella got around the problem by linking Gloria's wrists together with a thin cord, then raising them slowly over her head with a pulley. Then she knotted the rope in position.
The bowed back presented a minor problem, for Gloria was beginning to rebel against the harsh discipline or the artist by twisting her body in a contrary way to what Manuella wanted. But Manuella was accustomed to taming disobedient models.
She ran a running noose around Gloria's midriff and eased the tight, chafing rope down a few inches until it fit tightly under the edge of the model's rib cage, jerking her body sharply back. The artist pulled the rope back until it was taut, then tied it to a wall bracket so Gloria's body was bent in a gentle curve, her spine following the pattern of the arched back of a pleading slave. Manuella noted this and completed the pose by drawing her head forward in a gesture of despair. This was done by ropes tied into her hair and brought to the floor where they were knotted into a steel ring.
Manuella, oblivious to Gloria's plight, painted for several hours but failed to achieve the precise picture she wanted. In a flash of creative genius, she shouted at Gloria, 'There is only one way to do it! I must paint a living picture. A living model on a painted canvas. What a sensation it will cause!"
Without more ado, she unfastened Gloria's bonds with rapid, twisting fingers and helped the weary model to stand up.
She then produced a large canvas which was backed by a solid oak board. Seizing a box and nails and a hammer, she began to fasten steel bracelets and staples attached to chains to the canvas so the nails pierced right through and sank firmly into the oak board at the back. When all was done, she lifted the canvas on to the floor and laid it down, ordering Gloria to lie on it. The model obeyed. Manuella pushed Gloria's limbs at various angles on the board and twisted her body to suit her ideas.
Gloria found her arms and legs in the steel clamps and bracelets that Manuella had nailed into the canvas, and before she could withdraw them, the artist had clipped them shut and locked each joint with a small key, imprisoning poor Gloria helplessly to the unpainted picture. Next, she arranged the angles of her body by twisting chains around her waist, hips and chest and running them across to the corners of the frame where she screwed them in tightly by means of staples until Gloria was no more than a living model, bound helplessly to form an integral part of the picture.
Having done this, Manuella began to daub on the paint, putting in the background of her masterpiece and she completed the work by actually painting Gloria herself so she looked like a painted figure on the canvas. Only the movement of her chest as she breathed indicated the reclining figure in the picture was a living girl!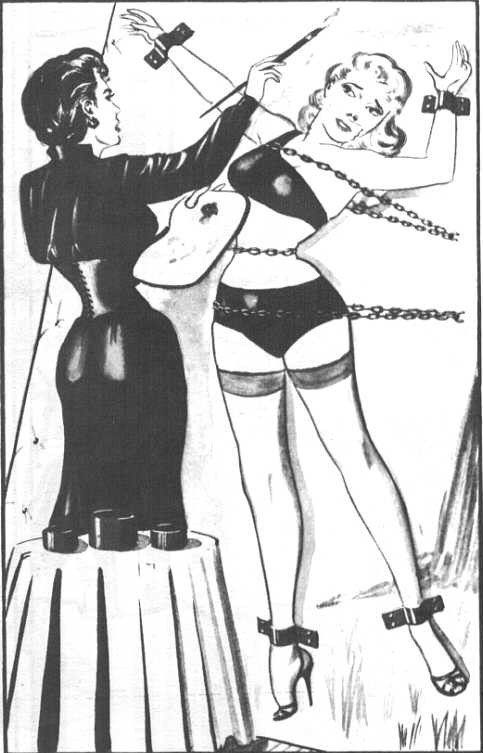 high heels bondage
corset
bondage training
lesbian bondage
gagged
Similar bondage
Mary Jane hogtied maid
Mary Jane maid in bondage
Reconnection part 3
Reconnection part 2
Reconnection part 1
Emily Marilyn singleglove and latex
Jenni Lee - Straps and a Singleglove - to stay please
Alysha Catnapped again