Girls Figure Training BDSM Academy 17
Free bondage photo blog
While the unfortunate Gloria was tied helplessly into Manuella's living masterpiece, Madame Stringent had received another inquiry at her agency from an Oriental Princess paying a visit to New York. She (Princess Rezegh) wanted Madame to supply her with a personal maid for her use during her stay. The only girl who was available was Madam's star model. Catherine. She phoned her and told her to report to the Princess' house immediately.
Catherine drove straight to the house and, on entering, was told to change into a costume more suitable to a Princess' maid. Rather bewildered, she obeyed and took off her smart costume and undies and dressed herself in the brief satin panties and bra which were provided for her use. Next she was given a short-skirted black maid's uniform designed in the French style, then she put on long, black stockings and a fancy garter belt and ultra high, black patent shoes. She looked a very smart maid when she finished dressing.
However, the Princess was not content for her maid to be merely smartly dressed. It was necessary for her to be well corseted and severely disciplined as well, so poor Catherine was strapped up by her wrists to a bar in the ceiling, while a tight, laced-back corset was fastened around her slim waist over the black dress. The corset was very well designed and extremely tight fitting. A chain, fastened to a ring, was attached to another short length of chain, joining steel bracelets were locked around each wrist so Catherine's arm movements were restricted. Another chain was connected to the back and this ran up the center of her back and hooked on to two other chains attached to the ends of a steel bit which was pushed between Catherine's teeth. Then the controlling chain was tightened so that she had no alternative but to stand very upright for the chain dragged at the bit, pulling at the corners of her mouth. Dressed in this manner, poor Catherine began to carry out her new duties as the Princess' maid.
It wasn't long before she incurred her Mistress' wrath. Catherine was taken to a special punishment room and fastened to a neat piece of apparatus. The girl to be punished could be fastened to this apparatus, then left in the room while her captor went away to do something else.
The machine consisted of a wooden frame surrounding a small treadwheel which was connected to a paddle mounted on a revolving axle. It was thus possible for the unfortunate victim to spank herself by her own efforts, saving her tormentor the trouble. An angle-shaped wooden post stood over the treadwheel and a rope was passed over this, one end of which was tied to Catherine's wrists, the other end being fastened to her hair. Thus, each time she pulled her arms down, the rope ran over the angle post and dragged her hair up. A rope around her waist, secured to the two sides of the framework held her upright and her feet had to keep moving on the treadwheel. making it turn quicker and quicker. As it revolved it moved some cogs which in turn twisted the axle to which was fastened the paddle and, the faster her legs moved, the faster and harder the paddle descended A small hook fastened to a string hanging down from the angle post was hooked into her skirt, pulling it up so the action of the paddle wasn't impeded in any way. Catherine was left on the machine for several hours, then, when she was sufficiently chastened, she was released and told to go to the Princess' room and help her mistress.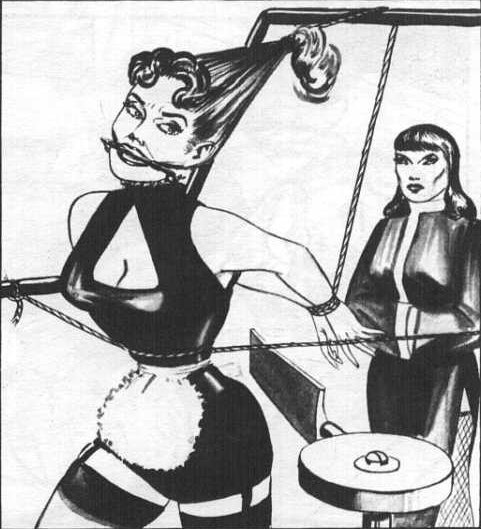 high heels bondage
corset
bondage training
lesbian bondage
gagged
maid
hair bondage
Similar bondage
Mary Jane hogtied maid
Mary Jane maid in bondage
Reconnection part 3
Reconnection part 2
Reconnection part 1
Emily Marilyn singleglove and latex
Jenni Lee - Straps and a Singleglove - to stay please
Alysha Catnapped again