Sailor, Beware! - 1 - illustrated gay bondage story
Free bondage photos blog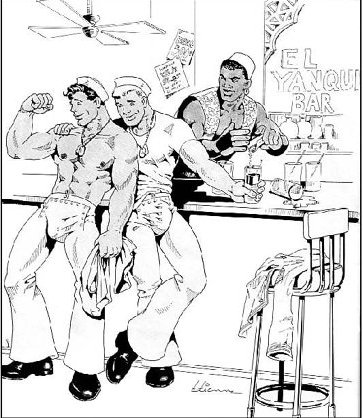 You can't be too careful in a place like Oman. But by the time their ship docked in the isolated port city of Salalah, Jake and Cal were so homy from their long stretch of enforced celibacy at sea that the}'threw caulion lo the winds and decided lo go ashore lo prowl for some native pussy.
Their tour of exotic bars eventually led them to the.fi/ Yanqai, the sleaziest and most notorious of the waterfront dives Perhaps the two young sailor; hadn't been warned of the place's questionable reputation; perhaps they didn'l see the signs posted outside identifying the bar as off-limits to U.S military personnel. More likely the two buddies were so drunk on unfamiliar native liquor by the time they reached El Yanqai thai it wouldn't have made any difference anyway.
Had their powers of observation been a little less clouded by the alcohol they might have noticed the way Iheir bartender, a huge muscular brute named Ahmed, studied them so intently through narrowed eyes, mentally undressing them. They might have wondered at the expression on his face, so like the appraising look of a horse trader who is evaluating and examining horseflesh at market. They might even have gotten suspicious when Ahmed surreptitiously sprinkled some strange-looking powder into their drinks.
Unfortunately, they noticed none of these things, so that when the drugged drinks finally took effect. Jake and Cal didn't know what hit them.
As soon as the two Americans succumbed to the powerful drag, Ahmed shooed out his only other customers, a few evil-looking natives who obligingly departed, gnmiing conspiratonally, obviously well aware of Ahmed's intentions. One even went so far as to comments as he went out the door, "You'll get a good price for this pair, Ahmed."
After locking the door, the muscular bartender bound the drugged swabbies with sturdy ropes and ga Ihem wilh slrips lorn from flieii own T-sliirts.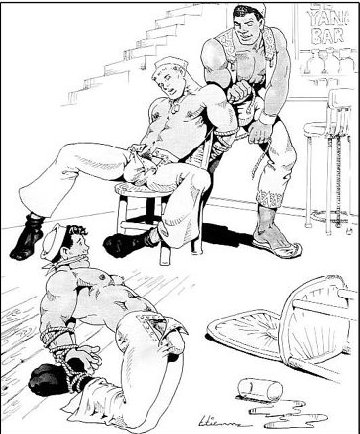 bondage stories
bdsm stories
gay bondage
Similar bondage
Danielle and Rachel bondage games with tight gags, part 2
Danielle and Rachel bondage games with tight gags, part 1
Sailor, Beware! - 9 - illustrated gay bondage story
Sailor, Beware! - 8 - illustrated gay bondage story
Sailor, Beware! - 7 - illustrated gay bondage story
Sailor, Beware! - 6 - illustrated gay bondage story
Sailor, Beware! - 5 - illustrated gay bondage story
Sailor, Beware! - 4 - illustrated gay bondage story