Bringing home the bacon! - bondage photos
Free bondage photos blog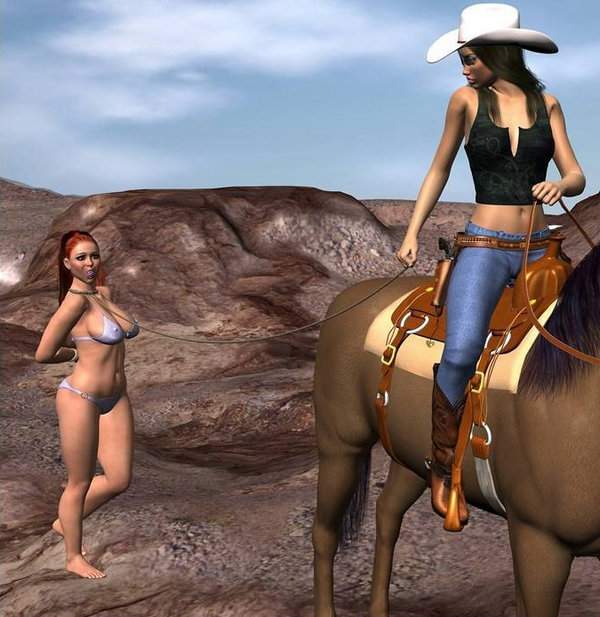 "As soon as the men in the mining camp found out that YOU were being sold for back debt, they went wild! They remember how badly you treated them the last time that they were in town... how you teased them and then left them with nothing to put their cocks into but their own hands! They paid me a right tidy sum to buy you, anonymously, and then bring you to them. Their camp is just over the next hill. Stay still while I get you ready..."
"I'm gonna cut off that pretty underwear you got on and bring you into camp stark NAKED! They're gonna go crazy knowing that they can paw your big floppy titties to their heart's content from now on, and that each one of them can fuck you in either or both of your bottom holes as much as they want to, every day! I tell you, Miss Wainwright, that chunky little body of yours is gonna get a hell of a workout from those men every single day from now on!"
"Hmm... Maybe it'd be funnier if I had you CRAWL naked into camp, with that big fat sunburned ass sticking up in the air for them to laugh at! Now I think that's just one HELLUVA good idea! After all, you weren't real nice to ME either last time I was in town! Hahahahah!"
slavegirl
collar
femdom
gagged
bondage stories
public bondage
Similar bondage
Bullying the maid
Frequently strip-searched
Allison spread wide, tied
Wonder Girl gets captured, again!
Please forgive me!
The pose she needed to keep for the next hour
George and Lenny